Medisana UHW + Hygrometer
In the version

: With hygrometer
In the version

: With hygrometer
Be the first to know when this product is in stock
---
Product information
Pros and cons
According to our humidifier expert
You're always aware of the humidity in the house, thanks to the supplied hygrometer.

The water tank is removable and you can easily refill it under the faucet.

This humidifier is light, so it's easy to move.

This is a humidifier, this product doesn't clean the air.

Pets are sensitive to the sound of an ultrasonic humidifier.

This humidifier can splash a little, so it's less suitable for placing on wooden surfaces.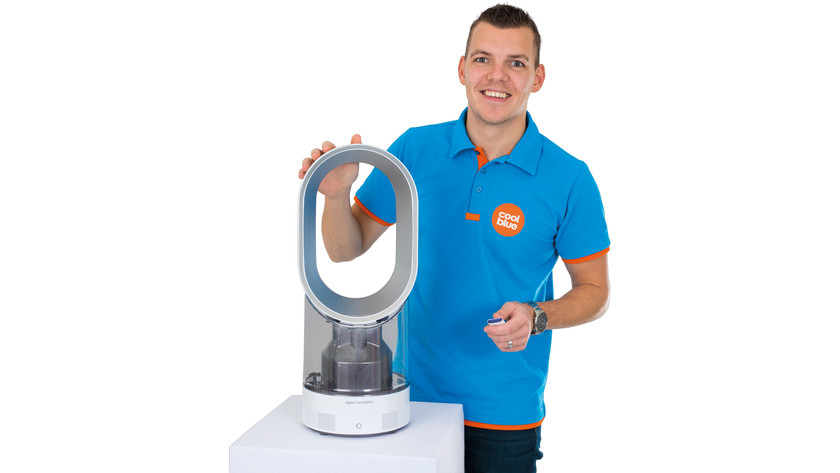 ---
Product description
The combination of the Medisana UHW + Hygrometer allows you to always be aware of the humidity in your home. This is useful, because you can keep a close eye on the performance of your humidifier. The humidifier is suitable for rooms up to 30m2 and humidifies the air with visible mist. You can set the intensity of the mist by turning the dial on the device. Is the humidity in the house very low? Set the humidifier to the highest setting, so the humidity level rises faster. Regular cleaning is recommended to enjoy the humidifier as long as possible. You'll receive a cleaning brush with the UHW to help you with this. The cleaning brush is hidden under the water tank.
Note: only use fresh drinking water or filtered water. Use a mild descaling agent, like citric acid, to remove limescale residues.
---
Reviews
| | | | |
| --- | --- | --- | --- |
| 5 stars | | | |
| 4 stars | | | |
| 3 stars | | | |
| 2 stars | | | |
| 1 star | | | |
Most helpful reviews
Nice product

Jonathas | 23 February 2019 | In the version: Without hygrometer

Nice product per a cheap price

Jonathas | 23 February 2019 | In the version: Without hygrometer

nice

R. | 2 April 2020 | In the version: Without hygrometer

it is very useful for whole family to keep a nice humidity.

R. | 2 April 2020 | In the version: Without hygrometer

The Medisana is the humidifier you didn't know you needd

Ari Snow | 24 November 2020 | In the version: Without hygrometer

I've only had the Medisana UHW for a week now but it has almost immediately improved the air quality of my room. Before purchasing this I was mainly interested in getting the Medisana for my plants, however after using it I quickly noticed how much it was helping me as well. My room feels more balanced, cleaner and much easier to breathe in. It is very easy to use, with almost no noise and I only need to refill it once a day.

Ari Snow | 24 November 2020 | In the version: Without hygrometer

Blij mee voor die prijs!

Weinig geluid, soms wat geborrel en geklop maar dat vind ik wel iets gezelligs hebben

Regelknop om hem harder of zachter te zetten

Schoonmaken kan nogal een ding zijn

De tank eraf halen en bijvullen is wat onhandig en gaat met nogal veel water morsten.

Ik vind hem qua uiterlijk wat lelijk maar als hij het maar doet..

Het bijvullen en schoonmaken vind ik niet handig gedaan. Het dopje waar de stoom uit komt kan je niet verschuiven of anders richten, je moet dan het hele apparaat verzetten. Dit is jammer.
Verder erg blij en tevreden.

Yvette Taal | 16 April 2020 | In the version: Without hygrometer

Really good

I was looking for a humidifier for use in our baby room. This I've serves the purpose. It works like a charm and is really easy to setup. I'd also like to point out the excellent recommendation provided at the Coolblue store that helped me choose this product.

Pushan Banerjee | 17 February 2020 | In the version: Without hygrometer

Pretty good for ots price

it's a bit noisy, every now and then it makes a bubbling noise that sounds like someone is tapping on the floor. Maybe not ideal for light sleepers

it splashes quite a bit when it's on a high level

Pretty good for its price! But can be a bit noisy and splashy

Jose Ruiz | 19 December 2019 | In the version: Without hygrometer

Great Value for money !!!

good price: Value for Money

autocut feature is water is empty

big tank with 2 liters alone you can manage the whole night

cannot dim the blue light, can become irritating at night

dont have warm steam option

360 degree rotation of steam nozel

Initially I was bit confused with too many option in market when it come to choosing a Humidifiers but this Medisana is complete value for money with combination of cool Blue who offers a 30 days return policy if you don't like the product.

Win-Win for Consumer

It has all the basic things you need
+ Low noise
+ auto cut feature if water is empty in the Tank
+ Big Tank to cater large duration's
+ Control the amount of steam dispersed

unless you are looking for fancy features like 360 degree rotation / remote / warm and cold steam

Medisina is pure value for money.

Gurpreet Singh | 12 April 2019 | In the version: Without hygrometer

Great mid-priced product - not cheap but not expensive

Doesn't stand out in bedroom

You can turn off the light for sensitive kids sleeping

Can cope with a large bedroom by itself

Happy with the purchase!

Cian Mac Eochaidh | 1 April 2020 | In the version: Without hygrometer

Good item to buy. Price vs ease of use

Funky design... Space age vibe

Its operation is straight forward. Not complicated.

Exactly what I needed. Easy of use.

Michael Flynn | 30 December 2020 | In the version: Without hygrometer

Good price-quality ration

Very easy to use. Worth the money I spent on it.

Nice design and easy to use

Malina Doynova | 27 January 2019 | In the version: Without hygrometer
Specifications
Product
Product number

399516
Manufacturer code

679.15
Brand

Beurer
Warranty

3 years
Warranty type

Carry-in warranty
Old product returned for free
General properties
Type of weather station

Digital
Measures the indoor temperature
Measures the indoor humidity level
Measures the indoor air pressure
Measures the air quality
Indoor thermometer
Indoor hygrometer
Indoor barometer
CO2 meter
Measures the outdoor temperature
Measures the outdoor humidity level
Measures the outdoor air pressure
Measures the amount of precipitation
Measures the wind direction
Measures the wind force
Measures the level of UV radiation
Outdoor thermometer
Outdoor hygrometer
Outdoor barometer
Rain gauge
Anemometer
UV radiation meter
Radio controlled
DCF-controlled clock
Moon phase indicator
Sunrise indicator
Alarm function
Controls
Smartphone app for Android
Smartphone app for iOS
Smartphone app for Windows
Physical properties
Height

9,9 cm
Width

8,1 cm
Depth

1,1 cm
Weight

0,7 kg
Color

Silver, White
Power supply
Power supply type

Battery, Battery
Power source
Product
Product number

354722
Manufacturer code

60065
Brand

Medisana
Warranty

3 years
Warranty type

Carry-in warranty
Old product returned for free
General properties
Type of humidifier

Ultrasonic humidifier
Minimum adjustable humidity

0 %
Maximum adjustable humidity

0 %
Minimum noise level

30 dB
Maximum noise level

33,9 dB
Hygrometer
Humidistat
Capacity
Maximum humidifiable surface

30 m2
Maximum humidifiable space

75 m³
User-friendliness
Ionization function
Suitable for fragrance oils
Display
Mobile
Replaceable filter
Auto shut-off
Compatible with smartphone / apps
Programs
Timer
Night mode
Automated descaling program
Overheating protection
Water tank properties
Removable water tank
Clean water tank indicator
Water level indicator
Capacity

4,2 l
Air purification properties
Power supply
Power supply type

Grid current
Connection voltage

220 V
Physical properties
Width

33 cm
Depth

20 cm
Height

26,5 cm
Weight

2,13 kg
Color

Silver
Material

Plastic
---