Makita BO4565K + Makita VC2512L
In the version
Without sandpaper - With construction vacuum
Be the first to know when this product is in stock
---
Product information
Pros and cons
According to our sander expert
Thanks to the interchangeable pads, you can use the multi-sander for all kinds of different surfaces.

Thanks to the low vibration value of 4m/s, you'll hardly feel the vibrations in your arm.

You can collect sawdust with the included construction vacuum, so you'll have to clean less afterwards.

If you sand for a long time, the high noise level of the sander can be annoying.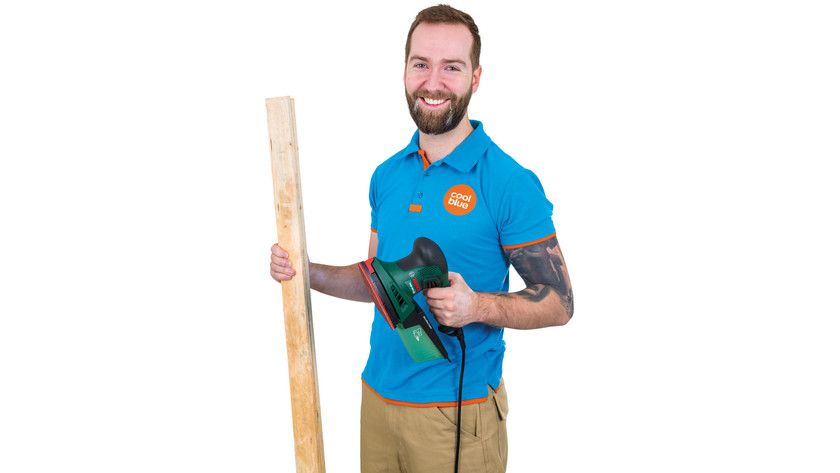 ---
Product description
DIYing is particularly pleasant with the Makita BO4565K, because you can sand flat surfaces or hard-to-reach places and collect the sawdust right away with the Makita VC2512L construction vacuum. Now that is working efficiently. You can connect the sander to the construction vacuum, so the vacuum switches on automatically when you start sanding. The BO4565K makes no less than 28,000 oscillations per minute. And thanks to the triangular shape, you won't miss a spot. In addition, the vibrations are limited, which is nice when you're working for a long time.
---
Reviews
| | | | |
| --- | --- | --- | --- |
| 5 stars | | | |
| 4 stars | | | |
| 3 stars | | | |
| 2 stars | | | |
| 1 star | | | |
Most helpful reviews
Sanding faster with an eye for details

Sander Boel | 4 January 2016 | In the version: Without sandpaper | Automatically translated from Dutch

Double-sided sanding surface

I bought this sander to prepare old doors for a new coat of varnish. These doors contain a lot of small corners, details and hard-to-reach places, but thanks to the triangle in the sanding sole, this is no problem. With the large zones, you use the large rectangular part more, so that you can finish sanding in no time. The double-sided front also ensures that you can effortlessly sand things at the bottom. What used to mean sanding all day, I now do in about 2 o'clock. A breath of fresh air!

Although the Makita BO4565K absorbs just about all the sanding dust from the rectangle, this does not apply to the triangle in front. This is because it works double-sided, which in my view is an acceptable sacrifice. 100% dust-free sanding is impossible.
You can replace the sanding pad, because like any sanding pad, this one is also highly susceptible to damage if you are not careful.

By the way, the device feels great in the hand, but I would rather have had the option to operate it with 2 hands, for more precision work (now I just hold it to the dust bag). I also recommend ordering hearing protection immediately, because after a few hours of sanding you will feel it on your ears.

Sander Boel | 4 January 2016 | In the version: Without sandpaper | Automatically translated from Dutch

great job done

Rony Slock | 30 March 2015 | In the version: Without sandpaper | Automatically translated from Dutch

Purchased for sanding in sharp and obtuse angles (steps of stairs with a 90° bending step). Perfectly done

Rony Slock | 30 March 2015 | In the version: Without sandpaper | Automatically translated from Dutch

Two for the price of one

Ruben | 24 August 2017 | In the version: Without sandpaper | Automatically translated from Dutch

Flat and Delta combination

The drip tray does not work for a meter

Bought this sander for sanding and refurbishing 2 old stairs (1940s) in our house.

After a mid-week of intense sanding and sweating, my first stage is bare and ready for the paint primer.

I am very satisfied with the purchase and would recommend it to anyone looking for an affordable sander that can tackle medium-sized surfaces and annoying corners effortlessly.

The only drawback I find myself is that the sanding-collection container might as well not have been attached because my room was full of dust time and time again. So make sure you wear a mouth cap and have a good vacuum cleaner ready.

When in doubt? To do!

Ruben | 24 August 2017 | In the version: Without sandpaper | Automatically translated from Dutch

Recommended

Sanding a large surface in a short time is a breeze

Light weight also easy to handle vertically.

Fits easily in the hand, is fast and pleasant to use for all kinds of surfaces.

Tom van Bakel | 1 July 2016 | In the version: Without sandpaper | Automatically translated from Dutch

Sturdy and good at his job

Type of sandpaper not standard for sale in hardware store

Solid and strong and good dust removal. When you put it on for the first time you just hear that it is different from eg Black & Decker. I find it stable and the sanding sole is sturdy and keeps its shape well. If only I had bought it sooner....

Robin | 30 July 2017 | In the version: Without sandpaper | Automatically translated from Dutch

Great purchase!

Does exactly what I expected it to do.

Bavo Pierre | 22 January 2018 | In the version: Without sandpaper | Automatically translated from Dutch

I am satisfied with my purchase.

combination of rectangular orbital sanding section and point

Length can be a nuisance.

I used the sander to sand down windows. It is a solid and smooth working device. The sandpaper consists of 2 parts, which is good, but does not fit together nicely. This leaves a very small part of the foot uncovered.

Diane Van Rijsselberghe | 29 November 2017 | In the version: Without sandpaper | Automatically translated from Dutch

Good

Easy to handle

Kevin Quinten | 16 January 2017 | In the version: Without sandpaper | Automatically translated from Dutch

Works properly

Fits well in the hand

wim schaap | 1 August 2017 | In the version: Without sandpaper | Automatically translated from Dutch

Recommended

It works perfectly

Michiels Ria | 1 May 2018 | In the version: Without sandpaper | Automatically translated from Dutch
Specifications
Product
Product number

816648
Manufacturer code

VC2512L
Brand

Makita
Warranty

3 years
Warranty type

Carry-in warranty
Old product returned for free
Properties
Dust collection type

With bag or bagless
Adjustable suction power
Dust collector capacity

18 l
Vacuums liquids
Water filter
Water tank capacity

18 l
Vacuums ash
TNO-certified dust extraction
Maximum noise level

64 dB
Dust class

L
Under pressure

210 bar
Maximum air volume

3600 l/m
Hose included
Vacuum cleaner hose length

350 cm
Socket integrated
Automatic filter cleaning
Washable filter
Portable (mobile use)
Type DIYer

Professional
Physical properties
Width

39 cm
Depth

53 cm
Height

37,5 cm
Weight

7 kg
Power supply
Power supply type

Grid current
Cable length

5 m
Connection voltage

230 V
Power

1100 W
Product
Product number

174364
Manufacturer code

BO4565K
Brand

Makita
Warranty

3 years
Warranty type

Carry-in warranty
Old product returned for free
Sanding characteristics
Type of sander

Delta sander, Multi-sander, Sheet sander
Connection for vacuum
Type of dust extraction

Dust bag/cup
Palm grip sander
Constant speed
Variable speed (sanders)
Suitable for (sanders)

Corners and edges, Ladders, Window frames
Sanding pad shape

Rectangle, Triangle
Sandpaper attachment method

Velcro
Sanding pads

Delta sanding pad, Flat sanding pad
Clamp fastening sandpaper
Velcro fastening sandpaper
Sandpaper velcro width

114 mm
Sandpaper velcro length

102 mm
Delta sandpaper dimensions (LxLxL)

93x93x93mm
Vibration values

4 m/s
Type DIYer

Professional
Sandpaper sheets included
Oscillation

Oscillating
Number of oscillations

28000
Sanding circle diameter

1,5 mm
Abrasive speed

Normal
User comfort

Basic
Power supply
Power supply type

Grid current
Connection voltage

220 - 240 V
Cable length

2 m
---
This is the one