Apple TV 4K 64GB + BlueBuilt HDMI Cable Nylon 1.5 Meter Black + 90° Adapter
Version
: Ultra HD (4K)
|
64 GB
|
HDMI cable
Choose the version of your product
---
Product information
Pros and cons
According to our media player expert
With this bundle, you can immediately get started with your Apple TV and start watching your favorite movies and series on the Apple TV.

Supports 4K HDR, so you can watch Apple TV+ series or Netflix movies and photos from your phone in ultra high definition.

Via AirPlay, you can easily stream the contents of your iPhone or iPad, for example photos and music, to your Apple TV.

You can only enjoy the high 4K resolution and HDR if you have a television that supports HDR10 and Dolby Vision.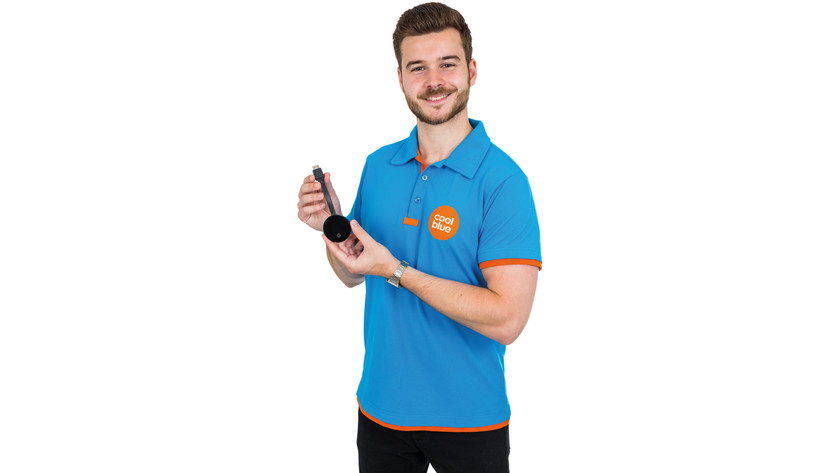 ---
Product description
The Apple TV 4K 64GB + BlueBuilt HDMI Cable Nylon 1.5 Meter Black + 90° Adapter bundle has everything you need to get started with the Apple TV right away. Watch all your favorite movies and series in razor-sharp 4K HDR resolution. You can also use the included Siri Remote as game console thanks to the touchpad. This way, you'll blaze through the Apple Arcade game platform in no time. Siri helps you to find that one podcast or your favorite sitcom from the 1980s. Ask Siri via the included Siri Remote and Siri will look it up for you. With a 64GB storage capacity, you can effortlessly download all your favorite apps, movies. ad playlists on the Apple TV.
Included by default
Apple TV 4K 64GB
BlueBuilt Hdmi Cable Nylon 1.5 Meter Black + 90 ° Adapter
Tips for using this product
Read our tips and find out all about how to set up your product and use it the right way.

---
Reviews
| | | | |
| --- | --- | --- | --- |
| 5 stars | | | |
| 4 stars | | | |
| 3 stars | | | |
| 2 stars | | | |
| 1 star | | | |
Most helpful reviews
Our expert review

Apple TV: handy media player with many applications

Robyn. Apple TV specialist. | 9 March 2020 | In the version: Ultra HD (4K) | 32 GB | No accessories | Automatically translated from Dutch

Easily watch photos & videos on TV

Siri finds the right movie for me

Very wide range of apps, movies and series

Cabinet looks nice in my interior

4K resolution really razor sharp

An HDMI cable is not included

Not necessary with TV with Apple TV on it

HD image less sharp than 4K

I think Apple TV is a valuable addition if you don't already have a smart TV with Apple TV. I show my holiday photos to my family easily and razor-sharp with AirPlay.

Beautiful design for a smart home
I have tried Apple TV HD and 4K. The look caught my eye first. This media player is compact and beautifully finished and can be seen. The included Siri Remote also looks sleek. Apple TV also works as a HomeKit hub. So you control all your smart lamps and devices via your Apple devices.

Razor-sharp image
The resolution of movies and series on Apple TV 4K shines on my 4K television. I see all the details of my favorite series even sharper and the colors also splash off the screen. With Apple TV HD I don't have that high resolution and so I see images 'below the level' of my television.

Thanks to AirPlay, I can view my vacation photos on a big screen
AirPlay is the biggest advantage of Apple TV for me. Thanks to this function, I can easily view my photos and videos on my television wirelessly. Very useful when I want to show my holiday photos to family and friends. When I want to explain to my grandmother how to install an app on her iPhone, I mirror my screen to Apple TV so she can watch me on the big screen.

Wide range of apps, games, movies and series
After installing Apple TV, I search for interesting apps and movies and series on Apple TV. In the App Store I find a lot of apps that I can install: from news apps to games and streaming services like Netflix. For games I can also go to Apple Arcade, the gaming platform of Apple itself. This app is automatically on Apple TV. I don't use many apps myself, so 32GB is enough storage for me. If you plan to download a lot of apps or store your entire Apple Music library on Apple TV, you might want to choose Apple TV 4K 64 GB.

Siri as a personal assistant
When I come home in the evening after a busy day, I feel like watching a movie that is easy to watch. I ask Siri for a fun comedy movie from the 80s and Siri collects all the movies from that era for me, both from Netflix and Apple TV itself.

Robyn. Apple TV specialist. | 9 March 2020 | In the version: Ultra HD (4K) | 32 GB | No accessories | Automatically translated from Dutch

Overall a great product for a great price.

Collin Borgans | 13 November 2015 | In the version: Full HD (1080p) | 32 GB | No accessories | Automatically translated from Dutch

Speed

Simplicity

Look and feel

Remote is GREAT!

Only 1 apple ID (no multiple users)

Too bad there is no Siri in NL (update)?

Device and Interface
Apple can deliver a beautiful product like no other. The Apple TV 4 is considerably heavier and somewhat higher than its predecessor. I don't really find this a problem myself, rather it's nice because it gives strength and you can also keep your cable management clean in this way.

I think the remote control is genius, it's really nice to swipe through everything. T feels just like any other apple product with a touchscreen t just works flawlessly.. Although I have to say that when you use it for the first time you have to get used to it.

I don't know yet whether the light remote allows the more serious games to be operated properly. At Asphalt I thought it was very "weird" that I had such a light thing in my hands that I had to tilt to steer. But that too is a matter of getting used to?

I think the interface is very nice, everything is clean and tidy and especially the eye candy, just wonderful that everything has an "effect". And as you are used to, you can force close apps (double home), like in the iOS multitasker. Moving apps again has been kept simple. (just hold the touchpad and you can swipe the app to the place you want).

Features
The features of the out-of-the-box Apple TV are bare. Personally, I really like this, you can immediately start setting up your own media player! and don't have to throw off 10 apps because they use up space and you're never going to use them anyway.
The Appstore.app is of course also present here you will find the useful apps that you want. And everyone also recognized: Youtube, Netflix, Airbnb and last but not least Plex! Heerlijn in combination with my Synology NAS !
The amount of apps is good for now but I can't wait for the apps they can make to get the most out of this Apple TV.
Incidentally, you can access via Siri in English, but that's only a "half" solution, there will definitely be an update? Not? Let's hope so..

Then don't forget Apple Music, of course, and that looks good. There is no option for taking music offline.
Switching between two Apple IDs is not useful in combination with Apple Music. The library has to be downloaded first and before you can play a song you are really 4 minutes further... too bad but who knows what the future will bring us.

You can search, in iTunes Movies and Apps. I didn't see results from Netflix like this. This only works with Siri Search unfortunately.
Hopefully, Apple will make the API available to apps soon. For example, if Plex will use this, you will be able to find your own movies faster.

The screensavers are beautiful and just like the sound of the moving cursor in the menu (which also 'moves' through the speakers from left to right and vice versa. Nice Apple touches.

In some cases, you can use your iPhone as a game controller. This doesn't seem to be an option anywhere, but it's implemented very well (Apple's way). If a game can use the iPhone as a controller, you install the corresponding app and you can connect via WiFi via your iPhone. Karaoke by Smule, for example, works fine (except for my fake voice xD).

All in all a top device and certainly not a bad buy!

Collin Borgans | 13 November 2015 | In the version: Full HD (1080p) | 32 GB | No accessories | Automatically translated from Dutch

Great Product!

Dury Duckers | 31 January 2018 | In the version: Ultra HD (4K) | 32 GB | No accessories | Automatically translated from Dutch

beautiful image

Fast

Works well with other Apple products

Fairly pricey

I first used the Media Box from ziggo, (netflix and videoland) but it kept crashing or was it so slow...
Now with the Apple TV 4K, everything runs a lot faster.
Can be operated via my iPhone.
Beautiful image in combination with my 4K TV.
Also received a funny card with delivery that made me laugh! XD

Dury Duckers | 31 January 2018 | In the version: Ultra HD (4K) | 32 GB | No accessories | Automatically translated from Dutch

Great media player.

Convenience of Apple

Sound and Vision

sleek design

Still limited apps

I ordered late yesterday and arrived this morning. Really fast from Coolblue.
Spent a few days reading forums about the best media player for my area. I have a Synology 412+ which unfortunately cannot decode 1080p movies with plex. So I was looking for a device that could decode the movies itself if needed. Don't want to convert all movies to a certain format first. Device must be able to play MKV, DIVX, MP4, M4V, AVI etc, including AC3, AAC, DTS-HD etc.
There are 3 devices I ran into. The NUC, this is more expensive than an ATV and you have to tinker with it yourself. Putting OS on it etc. HTPC, is even more expensive