Google Nest Mini Gray + Google Chromecast V3
Version
: Gray
|
Google Chromecast V3
Available for pickup even sooner
---
Product information
Pros and cons
According to our smart home hub expert
The voice control allows you to control the hub without using your smartphone or tablet.

You connect the speaker directly to the Chromecast, so you can use voice control to stream videos to your television via the speaker.

Thanks to 5GHz WiFi, you can stream videos to your TV with a higher resolution and with less distortion.

You need a Google account to use all the features, such as calendar management.

The Chromecast doesn't support 4K resolution. Check out the Google Chromecast Ultra for that.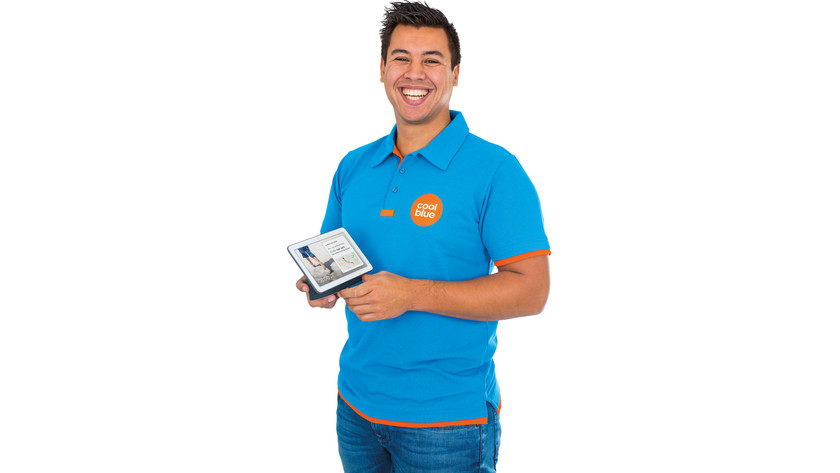 ---
Product description
With the Google Nest Mini and Chromecast, you can use voice control to operate your TV like a smart television. The integrated speech assistant of the Nest Mini is your help around the house. Since you give direct voice commands, you don't need a phone anymore. You use your voice to control the apps directly on the Chromecast, such as Netflix, YouTube, or Spotify. The Google Chromecast supports WiFi on the 5GHz frequency. As such, you can stream videos to your TV in high resolution without interruptions. You also control other smart devices with the Nest Mini. Dim your smart lights or set your smart thermostat to a pleasant temperature, for example. No need to get up or use your phone.
Included by default
Google Nest Mini Gray
Manual
Power cable
Power adapter
Google Chromecast V3
Tips for using this product
Read our tips and find out all about how to set up your product and use it the right way.

---
Reviews
| | | | |
| --- | --- | --- | --- |
| 5 stars | | | |
| 4 stars | | | |
| 3 stars | | | |
| 2 stars | | | |
| 1 star | | | |
Most helpful reviews
Google Nest Hub: more possibilities thanks to the display

Dylan. Smart home specialist. | 6 March 2020 | Automatically translated from Dutch

Integration with Google Photos

The screen offers additional options

Your photos really look like photos

Google Assistant responds quickly and works well

No built-in camera for video calling

Dutch Google Assistant does not support Routines

At first glance, the Google Nest Hub is smaller than I thought. It is a smart home hub with a sleek and stylish design, but few immediately eye-catching features. Of course, the built-in screen does stand out, a feature that other Google Assistant speakers do not have.

Neutral and stylish design
I think the Nest Hub is beautifully designed. The wide base is made of fabric, giving the speaker a modern and stylish look. I think it's a shame that it isn't available in more colors, because I prefer a black version. The design of the Nest Hub is otherwise neutral, in the good sense of the word. The Hub has no striking features that you will get bored of over time. So it fits well into any interior. Moreover, the sleek design makes it less kitschy than comparable hubs, which, for example, have a wood print or plastic housing.

Built-in screen offers more possibilities
The Nest Hub not only answers my questions, but also shows things on the screen. I think this is a very nice addition. For example, I can watch cooking videos, but I can also immediately see who is at the door via my Nest Hello doorbell. Thanks to the touch control, I can easily dim my lamps to the desired brightness than with just my voice. That is an advantage compared to smart speakers without a screen. It is possible to make video calls, but the Nest Hub does not have its own camera. As a result, I can see the person I'm calling on the screen, but that person doesn't see me.

Photos actually look like photos
I think the integration with Google Photos is a big plus. Because of this, the hub shows the photos that I like. For example, I select facial recognition via live albums, after which the hub searches for these people between my photos. Photos that I have often shared or viewed also appear alternately on the screen. I have had the Nest Hub for a while and often see nice photos. Thanks to the Ambient EQ sensor, the screen adjusts its color and light based on the environment. As a result, the screen is never annoyingly bright and your photos really look like photos.

Google Assistant sometimes works differently
I notice that the Google Assistant sometimes works a little differently with the Google Nest Hub, because it takes the screen into account. For example, if I ask to set the television to channel 19, it will search for "channel 19" to show on its own screen. Furthermore, the hub responds in the same way as other Google Assistant speakers. He responds quickly and almost always does exactly what I want. What I find a pity is that there are slightly fewer options in Dutch than with the English speech assistant. For example, I can't set routines in Dutch yet, that's a shame.

Dylan. Smart home specialist. | 6 March 2020 | Automatically translated from Dutch

New technology with a serious future

G.R. Bouma | 19 June 2019 | Automatically translated from Dutch

After recently purchasing a Google Home Mini, we decided it would be useful to have a Nest Hub in the living room so that the Mini could go to the bedroom. When ordering the Nest Hub from Coolblue, I was surprised that I also got a free Mini. It comes in the nursery.

The unit ensures that many things that previously required manual operations no longer require. It is a kitchen timer, translator, converter, shopping list, agenda, radio, etc. And the development continues, especially as more and more people start using this technology. You put your casserole in the oven, and at the same time you ask the Hub to set an alarm. The Nest Hub shows the alarm clock on the screen. At rest, it is a very nice photo frame, where you can easily put your own photos in via Google Photos. You can ask the Nest Hub to remember things for you, look up recipes, put appointments in your agenda, read your agenda for you, you can use it to control other devices in your house, bluetooth, and other Google devices, you can use it to say things to your children in other rooms, without having to 'yell' around the house.

And most importantly, the units learn who you are. They recognize your voice, so you can use your own Spotify preferences, place your own agenda items, everything on the person. And every other resident/sharer can also do this for his/her business. Meanwhile, we have three Google Homes here. One Nest Hub, two Minis, there's a ChromeCast, an old Android mobile that serves as a surveillance camera, and we're now looking at expanding it with a doorbell/camera, and an option to connect a baby monitor solution. The possibilities are great, and will soon become much larger.

G.R. Bouma | 19 June 2019 | Automatically translated from Dutch

Can do much more than expected, a real winner!

Harry Harder | 4 June 2019 | Automatically translated from Dutch

Handy questions are displayed visibly

Automatically the latest news every morning

This beautiful device only showed English after installation. A quick call with Coolblue gave a quick solution, reset, by holding down the volume button harder and softer for 10 seconds. After restart everything ok!
Set up the Nest Hub further via the app, sit down for a while and then okay.
After yelling "Okay Google" in the morning and saying good morning, you will automatically see and hear the weather and the latest news from three radio stations, top! Afterwards, my set photos will automatically pass by!
You also have a radio that you can put on any station by calling out. Buy this device and you too will be enthusiastic about even more possibilities that are possible with voice control.

Harry Harder | 4 June 2019 | Automatically translated from Dutch

Be smart, make smart, buy smart. Very cool thing

Easy to link with other Google Nest devices

Also functions as a photo frame

Doesn't really have good bass

Cannot be paired with TV without chromecast

Started with just a google mini speaker and a chrome cast. Now I have these and the answers and everything have become visible. Because I have connected the smart devices and have now placed the speaker in the bedroom, I can send a message from downstairs to the bedroom by means of 'broadcasters' to kick the woman out of bed. You can even send messages while you are at work. You can make video calls with it which is just funny. And so much more.. This device is not a bad buy.

Dylan Ruiter | 5 June 2020 | Automatically translated from Dutch

Handy to answer your questions and your favorite music

If you hold it too hard, it won't respond at all

The bass is disappointing

I like it, questions what you would normally look for is now just looked up for you

Tinus | 27 May 2020 | In the version: White | Nothing included | Automatically translated from Dutch

Super nice product and surprisingly useful!

I thought it would be a nice gadget, but in practice it is nice and more useful than I thought. The whole family is now actively using it. Setting timers for cooking, Reinders, operating lamps and every now and then surprisingly good answers to important questions.

Ronald | 3 December 2019 | In the version: Gray | Nothing included | Automatically translated from Dutch

A great device!

Does what it has to do. Operate the lights. Plays my music with a super nice sound!

martin ramaker | 7 November 2019 | In the version: Gray | Nothing included | Automatically translated from Dutch

Easy to use device. Good Christmas present!

Hardware button to turn off the microphone.

Connects to many different services.

Connecting was not as smooth as in the manual.

Handy device, listens well to commands and connects to many services.

Esther | 27 December 2019 | In the version: Gray | Nothing included | Automatically translated from Dutch

Great device! Definitely recommended

great product. Better than the Google home mini.

Valerie | 22 December 2019 | In the version: Gray | Nothing included | Automatically translated from Dutch

A super product again from google

Responds better than the home mini

Bright screen with light sensor

It's a step forward after all. Not in terms of sound but especially the screen. Very handy while cooking or just checking the weather for several days.

Rafael Van Amerongen | 3 June 2019 | Automatically translated from Dutch