Tefal Easy Fry Precision EY4018 + Tefal Easy Fry XA1120 - Accessory Set
---
Product information
Pros and cons
According to our deep fryer expert
With the automatic baking programs, you don't have to think about the right temperature and time.

The odor filter largely blocks the frying air, so your house won't smell like food as much.

You can easily clean the individual parts and accessories in the dishwasher.

This set doesn't include a recipe book for inspiration.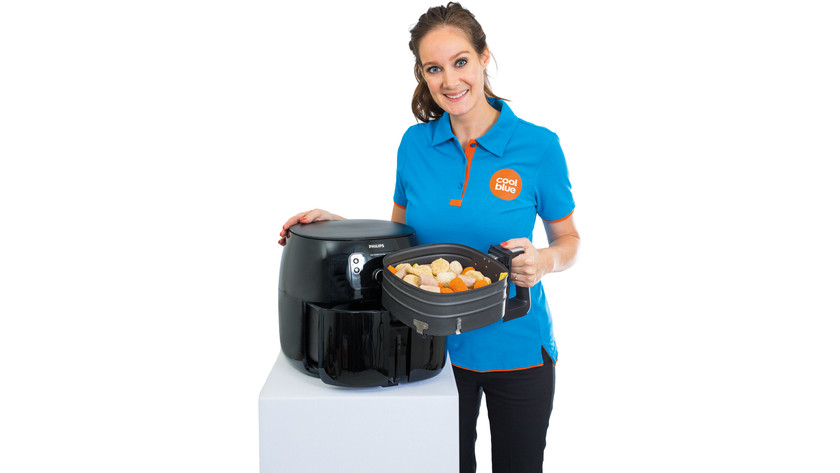 ---
Product description
With the Tefal Easy Fry Precision EY4018 + Tefal Easy Fry XA1120 - Accessory Set, you don't have to think about the right settings. This is useful, because you can set the right temperature and time right away. You place your meat, fish, cake, and other ingredients in the included accessories. All you have to do is select the right temperature and the correct time and place the ingredients in the baking pans. The odor filter blocks unpleasant odors during use, so you can safely use the fryer indoors. The 3D Air Pulse technology ensures the hot air rotates through the pan while it's frying. This makes your fries turn golden brown all around and it gives them a nice, crispy crust. The fryer has a 1.2kg load capacity. This means you can make fries for 3 to 4 people at the same time.
Included by default
Tefal Easy Fry Precision EY4018
Tefal Easy Fry XA1120 - Accessory Set
Rack for satay
Grid for different types of meat/fish
Pizza pan
Baking pan
---
Reviews
| | | | |
| --- | --- | --- | --- |
| 5 stars | | | |
| 4 stars | | | |
| 3 stars | | | |
| 2 stars | | | |
| 1 star | | | |
Most helpful reviews
I m hooked .. got pintrest page for air fryer!

Timurtas Orcan | 23 December 2019 | In de uitvoering: EY4018

You can cook one person dinner all together or cook separately but cook the french fries last as they dont taste nice if you keep them in the oven .

Timurtas Orcan | 23 December 2019 | In de uitvoering: EY4018

Worth the price.

Thiago F Munck | 8 September 2019 | In de uitvoering: EY4018

External material is average quality

Really easy to operate with the predefined functions. No concerns regarding the equipment.

Thiago F Munck | 8 September 2019 | In de uitvoering: EY4018

fine product with small down points

Ping | 2 December 2020 | In de uitvoering: EY4018

do what an airfry shall do

fine product with small down points

Ping | 2 December 2020 | In de uitvoering: EY4018

Very good

Takes always longer as indicated

You have to find the best products for treatment

Always turn/shake halfwas (not always indicated)

Easy and quality result with efficient power input use

Rob Bastiaans | 9 September 2019 | In de uitvoering: EY4018

Good product good built quality

Works good with good results

Temperature maximum only 200 degrees

Have been good with good results

Krishna Neupane | 26 December 2020 | In de uitvoering: EY4018

Good to have uit

Ease of use, fying result is good. Very useful and helpful. Can cook many types of food.

Wendy | 10 October 2020 | In de uitvoering: EY4018

Good value for money

Bundle with accessories can be found at good price

Cannot empty the tray but turning it upside down

Does not feel as sturdy as the Philips ones (no one hand loading)

It's a good value for money, noise is OK, speed is OK, loading/unloading is less convenient than with the Philips but makes it easier to clean.
I would just have liked the base to be on suction cups or heavier so that I can load the tray with one hand. It does not convey an impression of quality even if I'm sure it's totally fine.

JBR | 8 February 2021 | In de uitvoering: EY4018

Recommended air fryer!

This is a great product, easy to use, cooks quickly and evenly and can be cleaned easily. Only downside is that despite being a big thing, the actual capacity isn't very big.

Chris Brewer | 19 June 2020 | In de uitvoering: EY4018

Good quality and price

Easy to use and not noisy

In 20 minutes you have a chicken ready and well done cooked

You don't need to use oil

There is no a manual to use

You can not fill the basket with french fries because they are not going to be done

It is very easy to use even though, it doesn't have the manual instructions inside. I am very happy with this purchase.

Lorena | 17 October 2020 | In de uitvoering: EY4018

Easy to use

Easy to use

Tom Inze | 8 April 2021 | In de uitvoering: EY4018
Specifications
Product
Product number

816340
Manufacturer code

EY4018
Brand

Tefal
Warranty

2 years
Warranty type

Carry-in warranty
Old product returned for free
Physical properties
Power

1500 W
Frying system

Hot air
Airfryer technology

3D Air Pulse
Load capacity

1,2 kg
Capacity expressed in number of people

3 to 4 people
Material

Plastic
Plastic type

Plastic
Handle material

Plastic
Weight

4,5 kg
Capacity

4,2 l
Height

33,3 cm
Shape

Round
Finish

Glossy
Color

Black
Functions
Maximum temperature

200 °C
Adjustable temperature
Separate temperature settings

200 °C
Automatic baking programs
Pre-programmed baking programs

Cake, Chop, Fish, French fries, Frying, Grilling, Pizza, Shrimps