Ring Video Doorbell 3 + Chime Pro Gen. 2
Version
: 3
|
Silver
|
Doorbell chime
---
Product information
Pros and cons
According to our Doorbell expert
With the included chime, you hear a signal from a fixed location in the house when someone rings the doorbell and you strengthen the WiFi reception.

You get a notification via the app if movement is detected at a distance of 1.5 up to 9m, even in the dark.

Thanks to dual-band WiFi, the chances of issues with the internet connection are very small.

You'll need a strong WiFi signal near your front door to use this doorbell. A WiFi extender can be useful to create a strong WiFi network.

It's only possible to use the additional options when you're signed up for a subscription.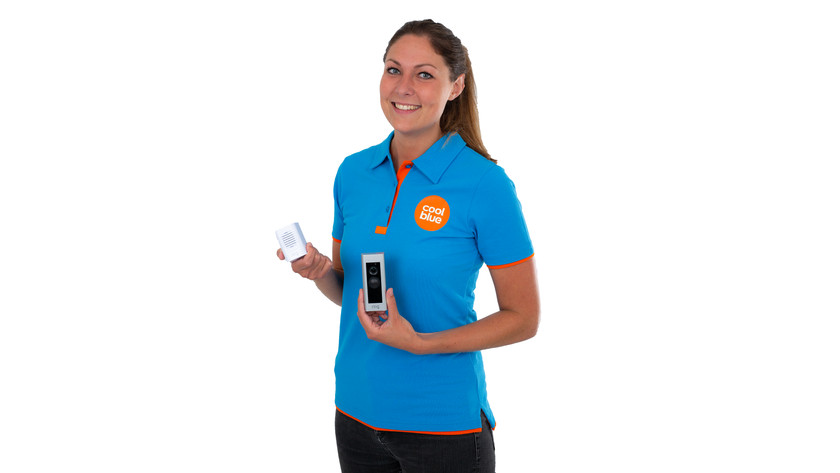 ---
Product description
Note: you need a Ring Protect subscription to use all options, for example if you want to store and share footage. After a 30-day trial, the subscription costs € 3 per month.
With this Ring Video Doorbell 3 package, you can be in live contact with visitors standing at your door from any location and hear the doorbell signal in your home. In addition to the Ring 3, the package also includes a Ring Chime Pro (second generation). This emits a signal that you hear in the house if you don't have your phone at hand. The Chime Pro also amplifies the WiFi signal from the place where you install it. The close-up motion sensor of the Ring 3 can be set up to 1.5m in front of your door. Since the doorbell uses dual-band WiFi, the connection is less likely to be dropped compared to other Ring doorbells. Thanks to the Full HD image quality with night vision, you can always see what goes on at your doorstep. And with the 2 included fronts, you can choose the look that suits you most.
Included by default
Ring Chime Pro Gen. 2 (2020)
Ring Video Doorbell 3
Manual

(755.83 KB)

Rechargeable battery
Charging cable
Silver + bronze Front
Mounting bracket
Corner mount
Angle mount
Installation material
Tools
Window decal
Tips for using this product
Read our tips and find out all about how to set up your product and use it the right way.

---
Reviews
| | | | |
| --- | --- | --- | --- |
| 5 stars | | | |
| 4 stars | | | |
| 3 stars | | | |
| 2 stars | | | |
| 1 star | | | |
Most helpful reviews
Better motion alerts, even if you don't have a front yard

Uhro | 27 May 2020 | In the version: 3 | Silver | Nothing included | Automatically translated from Dutch

Better motion alerts, even if you don't have a front yard

Easy to install and operate

You really need a chime if you want to hear the bell all the time

With the Ring Video Doorbell 3, Ring promises several improvements compared to the Ring 2. For example, it should be easier to determine which movements you receive a notification about. That is useful for me. I don't have a front yard and don't want notifications about every pedestrian or cyclist.

Fortunately, in the Ring app you can set how strongly the motion detection reacts in 4 ways. You first choose the distance, which is now adjustable from 1.5 meters instead of 5 meters with the Ring 2. A huge improvement with a footpath in front of the door. Then you choose which corners the Ring 3 monitors and which not. You also set the sensitivity and determine how long and often the doorbell rings. I'm very happy with that. That way I don't get notifications from every passerby.

What I liked most about the Ring 3 is the installation. Because the doorbell is completely wireless, you don't have to do anything difficult with cables. Charging the battery, drilling 2 screws into the wall and then attaching the Ring is all it takes. Setting up the Ring in the app is also very easy. A child can do the laundry.

I used the Ring without Chime at first. You will then receive a notification on your smartphone, but there will be some delay. If you stop your phone for a while, you won't even hear anything. The Ring 3 has a direct link with the new Chime. As a result, you can hear it immediately when someone rings the doorbell. A telephone that is on silent is therefore no longer an excuse to leave someone in front of a closed door. An accessory you can hardly live without.

Uhro | 27 May 2020 | In the version: 3 | Silver | Nothing included | Automatically translated from Dutch

What is this for that money.

Andre Hasselmeijer | 1 October 2020 | Automatically translated from Dutch

Paid membership to watch videos

Many problems with the Ring server

Installation was fine. Unfortunately many connection problems. Delayed notifications, which sometimes hang on the server and then your bell rings at midnight, or a notification that someone is in your front yard. Drama. Do not buy this product, for this money there are really much better options. Owned for 3 weeks now, what a regret.

Andre Hasselmeijer | 1 October 2020 | Automatically translated from Dutch

Simple and easy.

Marc Ballast | 24 July 2020 | In the version: 1 | Bronze | Nothing included | Automatically translated from Dutch

Sometimes not everything comes in