Sony A7 III + FE 35mm f/1.8
---
Product information
Pros and cons
According to our system camera expert
This bundle is cheaper than buying these products separately.

The image stabilization, the high ISO value up to 204,800, and the noise reduction allow you to take detailed handheld photos with little grain in low light.

When traveling, you can easily take the compact and lightweight lens with you to capture all kinds of different subjects.

The screen isn't fully tiltable forward.

A memory card isn't included.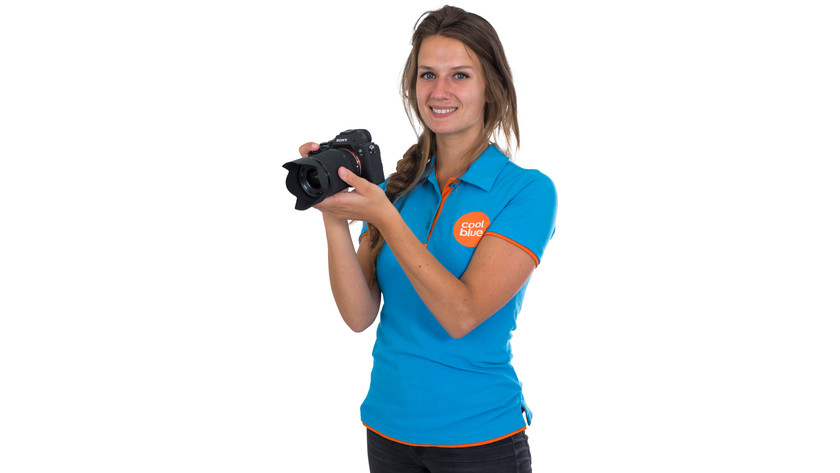 ---
Product description
When traveling, you can take professional photos with the Sony A7 III + FE 35mm f/1.8 mirrorless camera. The lens is compact and lightweight, so you can easily take it anywhere with you. The fixed focal length of 35mm is suitable for various types of photography, such as landscape, portrait, product, and documentary photography. Since the full-frame sensor of the A7III is light sensitive, you can take sharp and clear photos and videos. The sensor is also backlit so images are processed at a high resolution fast.
Take photos in dark surroundings
Thanks to the high ISO value, which is expandable up to 204.800, you can make detailed photos in dark locations or low-light situations. The area-specific noise reduction technology prevents noise with high ISO values. In addition, the camera has image stabilization to reduce motion blur. This means you can use shutter speeds that are 5 stops slower.
Focus
The A7III has a focus system with 693 focus points that cover 93% of the screen. This way, the camera focuses accurately and you can take photos of moving objects. The Real Time Eye AF automatically focuses on the eyes, both in the case of people as well as with animals.
Lens
The lens has a large maximum aperture of f/1.8. This means you can take photos in dark situations, like during a sunset. Such an aperture also allows you to create a bokeh effect. The aspheric lens elements reduce optical aberrations, so your photos are clear up to the very edge of the image.
Video
You can use the Alpha A7 III to record videos at a resolution up to 4K (Ultra HD). This resolution allows you to record at 30 frames per second. You can also record videos at 120 frames in Full HD, so your footage will consist of smoothly moving images. The Interval Shooting function allows you to make time-lapse videos. This is a useful function if you want to capture traffic in a city, for example.
Tips for using this product
Read our tips and find out all about how to set up your product and use it the right way.

---
Reviews
| | | | |
| --- | --- | --- | --- |
| 5 stars | | | |
| 4 stars | | | |
| 3 stars | | | |
| 2 stars | | | |
| 1 star | | | |
Most helpful reviews
Super versatile camera that can do everything very well

Gary | 18 September 2018 | In the version: Body | Automatically translated from Dutch

more than just beautiful pictures

A bit too complicated for a beginner

may be a little too small for some

The Sony A7III is a versatile camera that can do everything very well and you don't even pay the top price for it. If you are a pro or an advanced amateur, you really can't go wrong with this camera. Just make sure you have a good lens to get the most out of the sensor. This is a camera that fits the current times.

Gary | 18 September 2018 | In the version: Body | Automatically translated from Dutch

Beautiful device

Alexander V. | 20 July 2019 | In the version: Body + FE 24 - 105mm OSS | Automatically translated from Dutch

Limited touch capabilities

We bought this as an upgrade over our A7 mark I. This is an improvement on every level. Faster startup. Two the card slots for security. Better sensor that is stabilized in the nody. Unfortunately, one slot is not an uhs ii which creates a bottleneck if you write to the two cards at the same time. The Sony menus remain a disaster, but you can of course put together your own menu these days and program shortcuts how you want. Unfortunately, this device still has a recording limit, which the a6400 for example no longer has. Overall very satisfied with purchase.

Alexander V. | 20 July 2019 | In the version: Body + FE 24 - 105mm OSS | Automatically translated from Dutch

Recommended!

Meds | 28 September 2020 | In the version: Body | Automatically translated from Dutch

Eye focus that works well

Menu is a bit tricky, but no stumbling block

A hefty investment, but I won't regret it...! So happy with it!!

Meds | 28 September 2020 | In the version: Body | Automatically translated from Dutch

Beautiful robust and professional camera

No separate battery charger

The moment you hold the camera you know it. Quality and performance. Perfect!

Danny Hoek | 1 February 2020 | In the version: Body | Automatically translated from Dutch

Still a beast in 2020!

Very strong in low light conditions

More compact than DSLR camera

Very strong for both video and photo

Compared to Canon, the menus are less user-friendly

Coming from a Canon 70d DSLR camera, this mirrorless is a big step forward! Even if you buy this in 2020, it will certainly still be relevant at least for a few more years, at least for the average hybrid user. Mirrorless cameras are the future!

Pablo | 17 November 2020 | In the version: Body | Automatically translated from Dutch

Very nice camera

The Sony A7ii is simply highly recommended

Jitske | 31 May 2021 | In the version: Body | Automatically translated from Dutch

After my minolta time for renewal and am more than very t

Lots of options in terms of settings

Handy, not too large body, fits nicely in the hand

Extra battery options, two cards possible and set them up for photo and film

Maybe a little too extensive for a beginner, but you get a lot of tips

Super

Myriam Arends | 8 July 2021 | In the version: Body | Automatically translated from Dutch

5 asses.

Hybrid camera, making 4K 120FPS recording possible.

Sleek design, beautifully designed and therefore fits comfortably in the hand.

High ISO range without too much noise, ISO 10,000 still delivers good photos.

Menu is not for a beginner..

No full touchscreen capabilities.

What's better than my old Apsc camera.. It is rightfully one of the better mirrorless cameras on the market. I am impressed and by no means exhausted by all possibilities.

Samm Dijks | 21 December 2018 | In the version: Body + FE 28 - 70mm OSS | Automatically translated from Dutch

For the price it is a nice complete package.

Can be used while charging

Has a flip up and down screen for easier viewing when the camera is not in front of your face

Many buttons is the functionality of to customize

Fantastic autofocus for portraits

Can hold two SD cards at the same time.

Menu is not always very logical

Touchscreen is limited in use

Fold-out screen cannot be folded forward

There is no external charger in the box to charge the battery separately.

The app that can be used with it is not very convenient to use.

This is my first interchangeable lens camera. So for me there are 1000 extra possibilities than I am used to. And certain negatives don't bother me either because it's not work for me. So there is no money at stake. Every day I learn a little more about this camera and how best to take a picture.

Jis van Overschot | 3 May 2020 | In the version: Body | Automatically translated from Dutch

Fantastic camera

I have the Sony A7 III as an upgrade from the Sony a6000. What a difference! Not only the brightness but also how sharp the camera is. I took some comparative photos and the A7 III is a lot sharper than the a6000, while I also found it very sharp. Focusing on the A7 III is incredibly fast and the camera is bright. I use the camera in combination with the Sigma Art 24-70 f2.8. This makes the camera a lot heavier, but the results are fantastic.

Ilse Nollen | 12 November 2020 | In the version: Body | Automatically translated from Dutch