Seagate Expansion Portable 4TB 4-pack
Be the first to know when this product is in stock
---
Product information
Pros and cons
According to our HDD external hard drive expert
'sEasy to carry with you thanks to its 2.5-inch size.

Features USB 3.0 for fast file transfer.

No network adapter required, as it's powered via the USB port.

To use the drives with Mac, you have to reformat them.

These drives don't have hardware encryption with password protection.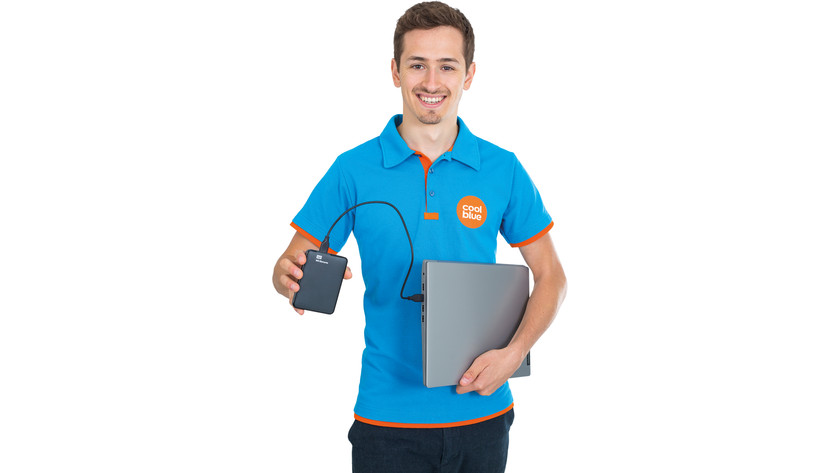 ---
Product description
With the Seagate Expansion Portable 4TB 4-pack, you get 4 external hard drives. One for your partner, one for your parents, one for your aunt, and one for your neighbor, for example. Or keep the 4 drives yourself and add a total of 16TB of storage capacity to your laptops, PCs, or NAS. You can transfer 1GB files in just 10 seconds via the fast USB 3.0 connection. You can also easily take these drives with you, thanks to the weight of 170g. This is about the same weight as your smartphone. The drives are powered via the USB port of your PC or laptop, so you don't need a separate AC adapter. Thanks to plug and play, the Seagate Expansion Portable works with Windows right out of the box.
---
Visit one of our stores, also by appointment
Get advice from an expert

We have stores in Almere, Amsterdam, Arnhem, The Hague, Eindhoven, Groningen, Haarlem, Leiden, Rotterdam, Rotterdam Alexandrium, Tilburg, and Utrecht
---
Reviews
| | | | |
| --- | --- | --- | --- |
| 5 stars | | | |
| 4 stars | | | |
| 3 stars | | | |
| 2 stars | | | |
| 1 star | | | |
Most helpful reviews
Definitely recommended if you have a lot of data.

Luc Weyers | 25 August 2016 | In the version: 1x4TB | Automatically translated from Dutch

Bought only for my music and very satisfied as usual with Coolblue purchases.

Luc Weyers | 25 August 2016 | In the version: 1x4TB | Automatically translated from Dutch

Great as a backup, I should have bought much earlier

Claude | 21 September 2018 | In the version: 1x4TB | Automatically translated from Dutch

3x faster than my previous external HDD

Don't make a sound and don't get scalding hot

Is compact and easy to store

Is equipped with USB 3 and still compatible with my old Vista PC.

Claude | 21 September 2018 | In the version: 1x4TB | Automatically translated from Dutch

Very good external hard drive for a decent price.

Rolf | 12 July 2018 | In the version: 1x4TB | Automatically translated from Dutch

Affordable External Drive

Ideal to expand your Playstation 4 storage

The supplied USB 3.0 cable is short

What a super hard drive. I bought this to expand my PS4's storage as I don't feel like screwing open the PS4 to make my storage bigger.

As far as I can find, this is the only 4TB drive right now that costs under $100. Super price Coolblue!

Moreover, you can upgrade the internal HDD of your PS4 to a maximum of 2TB and 4TB is really a lot.

I myself used a much longer USB cable that I had lying around from another external USB 3.0 hard drive, because the supplied cable is quite short. But that's a detail.

I am a happy egg.

Rolf | 12 July 2018 | In the version: 1x4TB | Automatically translated from Dutch

Fantastic product, Fantastic service

No external power required

I bought this Seagate External Hard Drive to make extra backups. I already had this same drive in 2TB version, and was very pleased with it. Only a USB connection and yet a lot of storage at high speed.

Coolblue's service is also fantastic. Something went wrong with the shipment, which happened very quickly. Something went wrong with the post, so my package was sent back to Coolblue. Coolblue provided a compensation and made sure it was re-sent to me right away.

Fantastic service and a fantastic product. Definitely recommended at Coolblue!

Bram Luyten | 11 May 2016 | In the version: 1x4TB | Automatically translated from Dutch

Small handy and fast.

Receive, unpack, connect and go. Small device, large storage without external power and quiet as a mouse. Sorry about the short cord.

Bert Teeuwen | 18 August 2017 | In the version: 1x4TB | Automatically translated from Dutch

Always and everywhere your files at hand.

Nowadays 2T storage is no longer sufficient. This Seagate offers double the space and so I can move forward again.
Great convenience. Always and everywhere your files at hand.

Paul Siteur | 4 September 2017 | In the version: 1x4TB | Automatically translated from Dutch

Good buy for extra memory on PS 4

Extra storage so installed

PS4 is a bit slower but otherwise good

Now have extra storage and therefore don't have to delete games all the time

peter de ruiter | 2 April 2018 | In the version: 1x4TB | Automatically translated from Dutch

A must have

It's plug and play... due to the 3.0 USB input there is a super fast transfer and you don't have to find a connection for power because this is enough via USB.
Ideal to work with, a must have for anyone who needs more space for work, games, films or series.

Chris Borgelt | 9 April 2018 | In the version: 1x4TB | Automatically translated from Dutch

Great little drive with xbox one compatibility

Works well with my xbox one

Haven't found any issues with the drive yet, and it works fine with my xbox one

joram pater | 18 March 2018 | In the version: 1x4TB | Automatically translated from Dutch

storing more and more in 4K makes 4TB recommended

I like the product in all areas

Gilbert Penneman | 13 August 2018 | In the version: 1x4TB | Automatically translated from Dutch
Specifications
Product
Product number

699358
Manufacturer code

STEA4000400
Brand

Seagate
Warranty

2 years
Warranty type

Carry-in warranty
Old product returned for free
Memory properties
Total storage capacity

4 TB
Cache memory

16 MB
Hard drive type

2.5-inch
HDD's RPM

5400 rpm
Formatted for operating system

Windows
Safety class

Basic
Maximum write speed

100 MB/s
Maximum read speed

100 MB/s
Functions
Shockproof
Dustproof
On/off switch
Backup feature
Protected memory (USB)
Recommended for use

Save photos and videos
Physical properties
Width

8 cm
Depth

11,7 cm
Height

2,1 cm
Weight

238 g
Color

Black
Material

Plastic
Build quality

Basic
Other properties
Energy-efficient
Power supply type

Via a different product
Connectors and connections
FireWire
Thunderbolt connector
SATA connector type

S-ATA
Type of USB port

Micro USB-A
USB port
---
This is the one