Garmin Fenix 6S Pro - White - 42mm + Just in Case Garmin Fenix 6S Pro 42mm Screen Protecto
In the version
Pro - White - With screen protector
Available for pickup even sooner
---
Product information
Pros and cons
According to our smartwatch expert
Protect your smartwatch directly from scratches, thanks to the tempered glass screen protector.

The watch uses data from other Garmin users for popular routes on roads and nature trails.

With PacePro, you can achieve your pace goals, even when you go uphill and downhill.

Due to the advanced readings and functions, the watch is less suitable if you work out occasionally.

Garmin isn't compatible with all Huawei smartphones.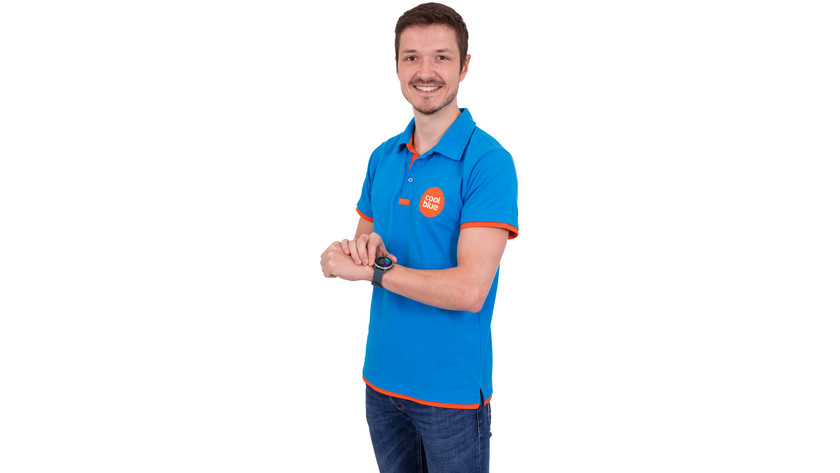 ---
Product description
With the Garmin Fenix 6S Pro - White - 42mm + Just in Case Garmin Fenix 6S Pro 42mm Screen Protector Glass bundle, you protect your smart watch against scratches. The tempered glass of the screen protector offers better protection than a plastic screen protector. Thanks to the uploaded maps in the Fenix 6S Pro, you can navigate throughout Europe. This allows you to see the watch navigating on a map, instead of just seeing a line. Thanks to the PacePro function, you can also achieve your pace goals when you're going uphill or downhill. You can learn new routes thanks to the Trendline Popularity Routing function. The Fenix 6S Pro uses data from other Garmin users to determine popular routes.
Note: a charger adapter isn't included. Do you want to charge the watch from a socket? Order a charger adapter.
Included by default
Garmin Fenix 6S Pro - White - 42mm
Manual

(3.77 MB)

USB-A charging cable (excluding adapter)
Watch strap (wrist circumference 10.8 - 18.2cm)
Just in Case Garmin Fenix 6S/PRO 42mm Screen Protector Glass Duo Pack
Tips for using this product
Read our tips and find out all about how to set up your product and use it the right way.

---
Reviews
| | | | |
| --- | --- | --- | --- |
| 5 stars | | | |
| 4 stars | | | |
| 3 stars | | | |
| 2 stars | | | |
| 1 star | | | |
Most helpful reviews
Fantastic sports watch (so not an office smartwatch)

Thomas Coenen | 14 November 2019 | In the version: Pro - Black | Automatically translated from Dutch

The possibilities are practically endless

Build your own workouts/workouts

Amount of available data (incl. analysis in G Connect)

Software intelligence, workout customizations and training frameworks as heart rate zones

Accuracy of GPS and sensors is great

A smartwatch, but above all a sports watch (spotify integration, for example, is not about anything)

Understanding everything is a formidable job

Cheaper watches have similar functionality

If the strap is tight, itching / skin irritation quickly

Not always clear which workouts relate to precise training goals

The difference between the Samsung Health/Samsung Gear Sport and Garmin Connect/Fenix 6S Pro combinations is day and night. To be clear, I was happy with my Gear Sport until I knew it was night compared to all of this watch's capabilities.

If you take running (or sports) seriously, and really want to explore where you can improve, then this is a fantastic brand. Several Garmin watches also unlock different analyzes in Garmin Connect and the Fenix 6S Pro has (for me) powerful analysis capabilities that have never been seen before.

I am lyrically satisfied.

Thomas Coenen | 14 November 2019 | In the version: Pro - Black | Automatically translated from Dutch

Ideal watch for running and more

Tim | 9 September 2019 | In the version: Pro - Black | Automatically translated from Dutch

good cards

User friendly

good app

Today I ran for the first time, had set the watch to search for a route of 15 km, after less than a minute there were 3 route options. While running it is very easy to follow the route and I did not encounter any traffic lights on the entire route (which is quite nice in the Utrecht area) and I did not go wrong once. After 1 hour and 15 minutes of exercise, the battery is still 70% while the navigation, heart rate monitor and music via bluetooth were on. You can also walk through friends' strava routes or create your own route. The watch is also easy to connect to your phone, after which you can set anything and everything. It is also nice that you can set different watch faces, so that you can set exactly what you want to see on your first screen.

Tim | 9 September 2019 | In the version: Pro - Black | Automatically translated from Dutch

The Rolls Royce of TRI watches

Dominique Cleeren | 9 February 2020 | In the version: Black | Automatically translated from Dutch

Heart rate monitor now also while swimming

No

Very complete TRI watch, nice finish, the 6S weighs 58g, light to wear.

Dominique Cleeren | 9 February 2020 | In the version: Black | Automatically translated from Dutch

Super watch!

Have had the watch for over a week and only had to charge it once

Fits very well on the wrist

Beautiful design

Good watch, fits well on the wrist, bought due to long battery need at triathlon and it does the job very well!

Thalion | 16 January 2021 | In the version: Black | Automatically translated from Dutch

Super sports watch

Battery life

Tracking data

Clear screen in full sunlight

Training options

Bluetooth range limited

Couldn't find an open strength training workout

No ECG function like Apple Watch

The huge long battery life is great! The Garmin Fenix 6s Pro can also track a lot of data, such as: sleep, stress level, how tired you are and extensive sports statistics. However, the Bluetooth range between the watch and phone is limited. An Apple Watch does this better.

M. Kruis | 28 June 2021 | In the version: Pro - White | Automatically translated from Dutch

Versatile sports watch, very pleasant to use

Navigation options with map

workout / workouts

fast GPS connection

pulse oximeter

closure less pleasant than eg garmin vivo-active 3

Very complete watch, perhaps overcomplete with all the options/possibilities it has! Navigating with map is a big plus!

Martin Wink | 20 January 2021 | In the version: Pro - White | Automatically translated from Dutch

Top sports watch with many possibilities!

clear clockwork

no touch screen, prevents accidental changes

GPS with map material/navigation

super versatile

the closure is less pleasant on the skin (my vicoactive HR fitted much more comfortably)

A very versatile watch that is pleasant to wear. Lots of functions, so not getting to know the watch in this short time.

Martin Wink | 20 January 2021 | In the version: Pro - Black | Automatically translated from Dutch