Dyson V11 Absolute Extra + Dyson Extension Hose
In the version

: With extension hose
In the version

: With extension hose
Be the first to know when this product is in stock
---
Product information
Coolblue's Choice
This product is our choice for a top-notch upright vacuum.
---
Pros and cons
According to our vacuum expert
With the Dyson Extension Hose, you can vacuum even the most difficult-to-reach places.

Via the LCD screen, you directly receive information about the suction setting, the remaining battery life, and potential error messages, including instructions.

Thanks to the long battery life of 60 minutes, you can finish the job without interruptions.

With a noise level of 82 decibels, this stick vacuum is relatively noisy.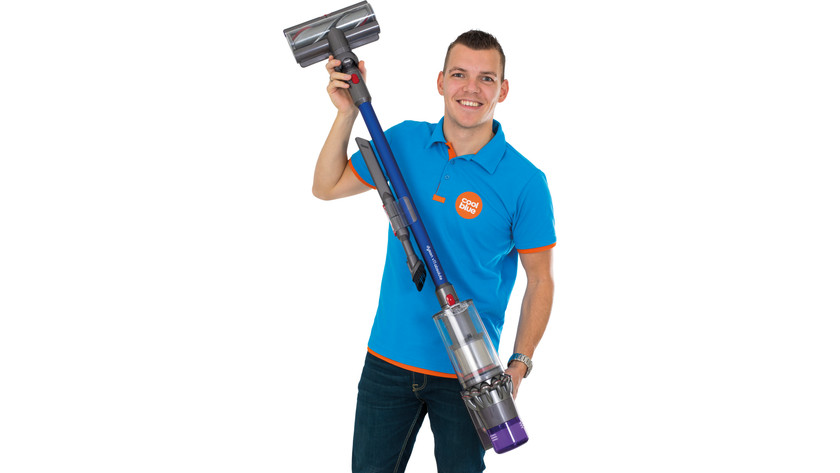 ---
Product description
With the Dyson V11 Absolute Extra, you have a powerful cordless stick vacuum with a flexible attachment piece at home. Thanks to its length and flexibility, this attachment piece is ideal for vacuuming difficult-to-reach spots like narrow crevices behind the fridge and the space between your car seat and the car door. With a high suction power, this Dyson is suitable for thorough cleaning of your home. You can use this Dyson for up to 60 minutes in one go, without charging the battery in between. The torque floor attachment makes this Dyson suitable for any floor type. Because the battery of the V11 is replaceable, you can also use this V11 Absolute for larger household tasks. Via the LCD screen, you can see real-time information about the status and battery life of the vacuum, but you can also see error messages. When the 0.76-liter container is full, it doesn't lose suction power.
Removable battery
The Dyson V11 Absolute Extra already lasts an hour on a full battery, but thanks to the removable battery you can double its battery life. Simply exchange the batteries with the click system. This is ideal for larger households or for a big cleaning.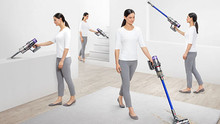 Automatic floor attachment
The Torque Drive is a motorized, intelligent vacuum brush that adjusts the suction power and rotation speed to the surface you're cleaning. That means the suction power increases when you vacuum a carpet and decreases when you move onto a smooth surface. This way, you'll never be short on suction power.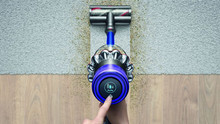 Real-time notifications
You receive real time notifications on the LCD screen of the Dyson V11 Absolute Extra. For example, you get notified when the vacuum hose is blocked or when it's time to clean the filter. It also displays the remaining battery life while you vacuum, so you're never faced with an inconvenient surprise.
---
Included by default
Dyson V11 Absolute Extra
Multi-surface tool
Crevice tool
Motorized mini brush
Soft dusting brush
Hard dirt brush
Wall clip
Dyson Extension Hose
---
Visit one of our stores by appointment
Get advice from an expert

Discover the latest products in the stores

We have stores in Amsterdam, Arnhem, The Hague, Eindhoven, Groningen, Haarlem, Leiden, Rotterdam, Tilburg, and Utrecht
---
Reviews
| | | | |
| --- | --- | --- | --- |
| 5 stars | | | |
| 4 stars | | | |
| 3 stars | | | |
| 2 stars | | | |
| 1 star | | | |
Most helpful reviews
Niet twijfelen

Jean | 30 December 2019 | In the version: Suitable for pets

Op boost niveau luid, maar eigenlijk wel logisch

Stofzuigen zonder kabel is de max, je zoeft zo door het huis.

Jean | 30 December 2019 | In the version: Suitable for pets

De uitgave is het gewoon waard.

Lisette | 7 April 2020 | In the version: Basic model

Geschikt harde vloeren en tapijt ondergrond

Makkelijke bediening en registratie Dyson

Prijs die je betaalt voor kwaliteit. Maar dan heb je wel de Rolls Royce van de stofzuigers

Grandioos.

Lisette | 7 April 2020 | In the version: Basic model

Dit apparaat zuigt, hard!

Reitse Eskens | 10 December 2019 | In the version: Basic model

Stof heeft geen schijn van kans

De eerste keer lijkt het of je een maand achterloopt met schoonmaken

Je wilt niet meer stoppen

Onze vorige stofzuiger had de levensduur wel een beetje gehad, tijd voor wat nieuws. De kabel van de stofzuiger was ook structureel te kort, onhandig en werd tussendoor wel als sprinttouw gebruikt. Kortom onhandig.
Na veel kijken en vergelijken voor deze zuigmachine gekozen.
Met alle hulpstukken krijg je zonder al te veel moeite je hele huis schoon. Het stof en alle andere zaken die je meeneemt komen netjes in een bak terecht waar je nog een laatste check op Lego kan doen voordat je alles wegkiepert.
De batterijduur is prima. Op de midden- en hoge stand kan je een huis aardig schoon krijgen, op alleen de turbostand gaat je dat niet lukken. Al heb je die stand ook weinig nodig.
Mist er ook wat? Ja. Een riem om alle hulpstukken mee te nemen onderweg. Want het zijn er veel en allemaal te leuk om niet te gebruiken. Zachte borstel voor je pc, laptop, toetstenbord of piano. Borstels voor plinten, parket of juist vloerbedekking en een smalle variant voor de trap.
Dennennaalden in de auto vanwege je kerstboom? Geen probleem, worden zo meegenomen.
Als je de investering wilt doen, je gaat er geen spijt van krijgen!

Reitse Eskens | 10 December 2019 | In the version: Basic model

Our house has never been cleaner.

The motor heads are amazing

The different heads for all surfaces are so useful

The mount has to be wall-mounted

The wand length is not adjustable

It's easy to pick up the vacuum and simply start vacuuming throughout the house instead of the old routine: first locate a power strip, then unplug one of the plugs, and plug in the vacuum, and then realize the cord is not long enough to reach the other side, begrudgingly unplug it again to find another power strip.

It's perfect for a small or crammed space, where a cabled canister vacuum cleaner might have difficulty reaching.

The accessories are amazing, you can reserve each head for a specific surface. The motor heads will clean EVERYTHING off of hard surface, carpet, fabric.

On to the cons,

It is quite heavy and the wand length is not adjustable, so if you are short, say under 165 cm, you might find the weight falls a lot on your wrist while using it instead of on your whole arm.

But if you do a lot of quick and short cleanups multiple times a day to pick up pet hairs, scattered litter, or just long human hair, then most of the downsides (limited battery life, heavy) will not be a problem for you.

It is expensive for a vacuum, but I'd pay for the convenience any day.

Val | 3 July 2019 | In the version: Suitable for pets

Powerful and easy to use

No need to unplug and plug in when moving

Hard to hold trigger for a long time

Powerful, easy to use but noisy

Gregory Kohll | 12 December 2019 | In the version: Basic model

Eindelijk complete vervanging van de klassieke stofzuiger

Veel stiller dan de voorgaande Dyson handstofzuigers

De parketborstel haalt echt alles op

Één uur en vijftien minuten zuigkracht op eco

De hulpstukken zijn eindelijk makkelijk los en vast te klikken

Gewicht om aan de muur te hangen

Meer hulpstukken dan je nodig hebt

Weer andere aansluiting dan de vorige modellen

Vloermonden zijn wat dikker geworden

We hadden al een paar jaar een Dyson handstofzuiger waar we erg tevreden van waren. Dat was een van de modellen met een kwartier looptijd en vaak net te weinig om twee kamers volledig te doen. De v10 leek alle eigenschappen te verbeteren en toen de v11 uit kwam met display dat de resterende zuigtijd aangaf hebben we besloten om ons huidig exemplaar te vervangen. De resultaten van de v11 zijn echt indrukwekkend. De display geeft meer dan 70 minuten runtime in eco en eco is echt nog sterk genoeg om de meeste dingen proper te maken. Ook is hij veel stiller geworden en de parketborstel trekt het vuil naar zich toe door de open voorzijde waar de vorige generatie het voor zich uit schoof. Dingen als serpentines en confetti worden nu meteen opgezogen. De tank is lekker groot zodat je niet zo vaak die moet leegmaken en door de borstel in de tank is het ook niet meer nodig om er in te grijpen en het vastgeklitte haar er uit te trekken, iets wat soms nodig was bij de oudere modellen.
Wel zijn er veel accessoires bij die je weer een plaats moet geven en is de kop dikker geworden waardoor je moeilijker onder lage zetels of chauffages kan. Ook is het handvat langer waardoor je niet zo plat onder het bed kan als met de oude modellen.
Het is voor ons in alle geval een echte verbetering en vervangt nu de vaste stofzuiger omdat hij altijd stroom heeft met de grote accu en meer dan genoeg zuigkracht heeft voor dagelijks gebruik

Kristof Goossens | 15 July 2019 | In the version: Basic model

Very powerful exceptional cleaner. Worth the extra money

With dogs especially worth the extra money. Incredibly powerful you will be surprised with how much is vacuumed up each time. How never looked cleaner

Kayleigh Boerdijk | 5 October 2019 | In the version: Basic model

Easy cleaning! Great machine

Lots of extra attachments

Can be a little heavy for some

Might be a little loud for some

Gets clogged if you don't clean it and go over dog treats and such

I love it! It's a wonderful product.

Margaret Ortega | 9 October 2020 | In the version: All floor types | Extra battery | Charging station

Nooit meer iets anders.

Voel me net Queen als ik stofzuig

Mijn vriendin wilt soms ook stofzuigen

Dit ding is goud waard. Soepel, stil en licht. Ziet er nog mooi uit ook. Voel me net een Jedi meets Queen. Alles is echt schoon. Top ding. Ik wil niks anders meer. Trap op en trap af met gemak en plezier.

Nadeel is, mijn vriendin wilt soms ook stofzuigen

Bertus | 6 February 2021 | In the version: All floor types | Detachable battery

Top product, duur maar is de prijs absoluut waard

Geen beperking van de kabel

Accu gaat lang mee, we hebben 2 accu's, maar tot op heden nog nooit hoeven wisselen

Geen goede beschrijving welke hulpstukken waarvoor bedoeld zijn.

Huis was nog nooit zo schoon, wij zijn een gezin met hond! We hadden wel wat twijfels we een draadloze stofzuiger zouden aanschaffen. Maar absoluut geen spijt. Ook hondenharen zuigt ie goed op

M van den Berg | 4 January 2021 | In the version: All floor types | Extra battery | Charging station
---
Dyson V11, V10 en V8 vergelijken

Wil jij graag een Dyson steelstofzuiger aanschaffen, maar weet je nog niet precies...
Wil jij graag een Dyson steelstofzuiger aanschaffen, maar weet je nog niet precies welk model de beste keuze is voor jou? De
Dyson V11, V10 en V8 vergelijken
we hier met elkaar.
Specifications
Product
Product number

858547
Manufacturer code

298884-01
Brand

Dyson
Warranty

2 years
Warranty type

On-site service
Old product returned for free
Qualitative properties
Build quality

High-end
Suction quality on hard flooring

High-end
Agility according to customers

Excellent
Cleaning performance according to customers

Excellent
Usage options
Suitable for floor type

Hard flooring, High-pile carpet, Low-pile carpet, Wood flooring
Vacuum suitable for

Allergies, Pet hairs
Operation via handle
Nozzle with LED lighting
Integrated handheld vacuum
Mopping function
Turbo Power Function
General properties
Dust collection type

Bagless
Container capacity

0,76 l
Maximum noise level

82 dB
Adjustable suction power
Telescopic shaft
Parking mode
Motor filter