Worktrainer StudyDesk Sit-Stand Desk 80x60cm Black/White
Version
: 60 cm
|
White
|
Black
Choose the version of your product
Free delivery up to the doorstep of your home

Do you live in an apartment complex and don't have an elevator? We'll deliver up to the 4th floor, right to your front door.
Be the first to know when this product is in stock
---
Product information
Pros and cons
According to our desk expert
This is a sit-stand desk that you can use both in a sitting and a standing position, which is good for your back.

Thanks to its compact size, this desk also fits into smaller spaces.

The 4 memory slots allow you to easily adjust the desk to your ideal height.

You need a socket near the desk, because it's electrically adjustable.

If you like to work with a laptop and extra monitor, choose a wider desk.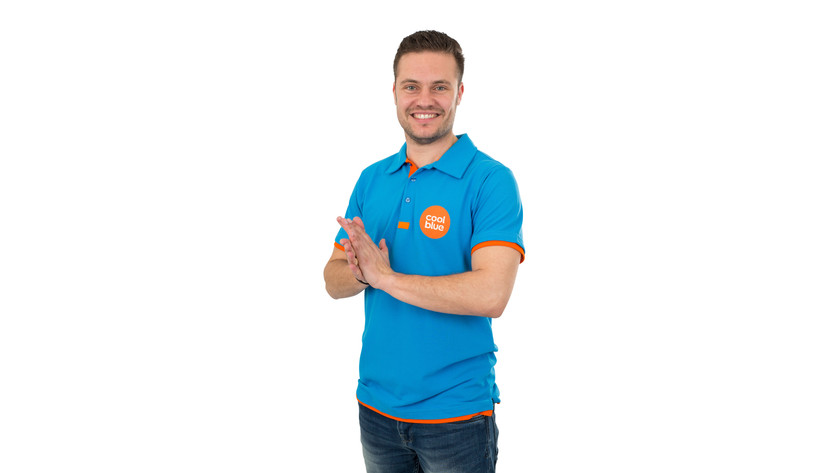 ---
Product description
You can easily place the compact Worktrainer StudyDesk Sit-Stand Black/White Desk in your small home office, so you can also work ergonomically at home. You're able to switch between sitting and standing often enough to reduce the risk of physical issues. The the electric control panel allows you to easily adjust the height. With the up and down button, you can set the height to your preferences. Is the desk used by multiple people? It has 4 memory slots, so you no longer have to think about which height is suitable for you specifically.
---
Reviews
| | | | |
| --- | --- | --- | --- |
| 5 stars | | | |
| 4 stars | | | |
| 3 stars | | | |
| 2 stars | | | |
| 1 star | | | |
Most helpful reviews
Sloppy delivery, frustration installation, good material.

Cornelis van Tol | 19 November 2020 | In the version: 80 cm | White | Silver | Automatically translated from Dutch

Worktop is deep and wide enough for a small room

Sturdy worktop, solid metal parts

Adjusting the height is smooth

Two right brackets were supplied with delivery. sloppy

Manual unclear; setting up motor skills is insufficiently explained

Confirm worksheet; no mounting points on blade. Need a cordless drill.

Height poorly specified: height is 71cm to bottom of leaf. Settings indicate 73cm. Minimum height is 73.4 cm.

It immediately went wrong with the delivery; 2 right brackets were supplied and they are not interchangeable. Waited more than a week for this and finally received a good left brace. Very sloppy from the producer.

The manual was clear....until I got to setting up the locomotion; this is unclearly indicated and actually not calculated on an 80x80 worksheet. With a wider worksheet there are probably no problems but in this case (80x80) the setup was complicated and frustrating. When looking at the manual it is clear that it is written for a wider page and not for an 80x80.

Attaching the worktop was a surprise; there are no attachment points (or indicate attachment positions) on the worksheet. Screws are included, but you really need a cordless drill because the blade is very sturdy.
Questionable design. You have to mark the worksheet yourself.

The last point to consider is the height. Coolblue says 71-113 cm. After setting the desk, the indicated height is: 73-118 cm. Measurement indicates that on the minimum position the bottom of the top is 71 cm high, and the top is 73.4 cm. The desk is therefore higher than expected.

I will try this desk for a week but it will probably return next week.

Cornelis van Tol | 19 November 2020 | In the version: 80 cm | White | Silver | Automatically translated from Dutch

Solid product, good value for money

G. Doeswijk | 21 December 2020 | In the version: 60 cm | White | White | Automatically translated from Dutch

Price

Format

Quality

Putting it together yourself

Manual not so clear

Was looking for a small size electrically adjustable sit-stand desk, at a decent price. Well that worked.

G. Doeswijk | 21 December 2020 | In the version: 60 cm | White | White | Automatically translated from Dutch

Nice size desk

Annelies van der Weerd | 2 February 2021 | In the version: 80 cm | Oak | Black | Automatically translated from Dutch

Video to assemble, very easy

electrically adjustable, low noise

Very stable, even on the highest setting

Nice sized desk that also easily fits in another place. The lowest position is 73 cm and the highest 118 cm. And with a laptop desk support there is enough work surface.

Annelies van der Weerd | 2 February 2021 | In the version: 80 cm | Oak | Black | Automatically translated from Dutch

Good value for money and easy to assemble.

Perfect size for smaller space

Good value for money

Beautiful design

Just do it!

Good quality, easy to assemble, nice deep desk and ideal for the smaller room. The lowest position is 73cm, which is excellent for me, but I sit quite low (1.84).

LVV | 2 December 2020 | In the version: 80 cm | Oak | Black | Automatically translated from Dutch

Tall people desk.

The desk cannot be adjusted below 73 cm and after a while you get physical complaints. A footrest doesn't help either. Trade-in warranty is very short, only one month, at Coolblue. And then there is really no other alternative.

Krisztina | 25 October 2021 | In the version: 80 cm | White | Black | Automatically translated from Dutch

Great desk, definitely recommended!

Sturdy material

nice look

Memory function standing/sitting

Sturdy desk with a beautiful look! High/lower part works fine and the memory functions are useful too.
If you're a bit handy, you can get it mounted without any problem. No power tools required. Only a good screwdriver and possibly an alder + hammer is sufficient. A folding or tape measure is also useful for aligning the frame.

Tip: for the 80x80cm table top, you can slide the 2 legs completely against each other. This way you still have a few cm of play on the sides.

Suggestions:
- Swivel castors with M8 pin mounting (with brake): you can mount 4 of them where the small legs of the desk are. Wheels are not included with the desk, so you have to buy them yourself.
- sockets: I have mounted a large power strip at the bottom of the desk. Where all power adapters can go. Looks a little neater!

Great desk, very happy with it!

Again all compliments to Coolblue for the smooth order and fast delivery!

Alex D | 1 September 2021 | In the version: 80 cm | Oak | Silver | Automatically translated from Dutch

compact sitting standing desk

Nice desk

nice and compact

nice wood

easy to adjust in height

Nice desk, nice and compact if you have a small room.
Installation is perfectly doable, although I was shocked that you had to screw the screws of the base into the oak top without a pre-drilled hole. The coolblue instruction film was a lot easier to follow than the manual itself.

Lucia Pasteuning | 5 May 2021 | In the version: 80 cm | Oak | White | Automatically translated from Dutch