Google Nest Protect V2 Power Grid 4-Pack
Version
: 4
|
Grid current
---
Product information
Pros and cons
According to our smoke detector expert
Via the Nest app of the smoke detectors, you're always aware of the possible fire hazard in your home.

The combination detector detects both odorless carbon monoxide gas and smoke.

Connect the smoke detectors to other smart devices and let them work together.

Because the detectors operate on AC power, they can only be placed near a socket.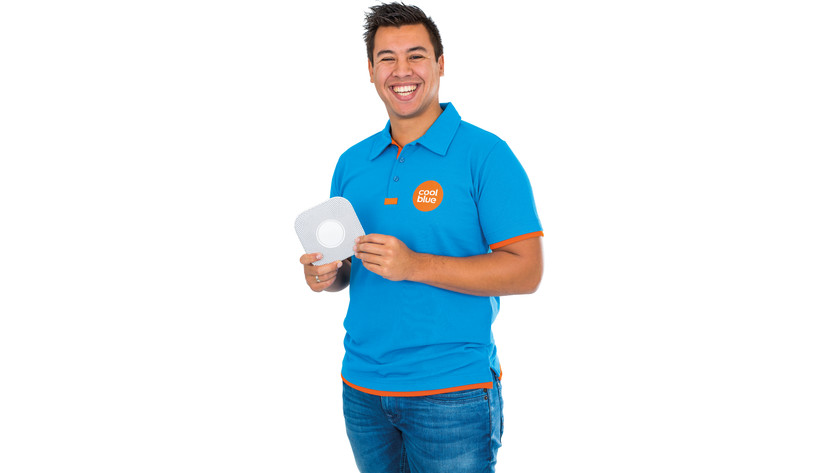 ---
Product description
This Google Nest Protect V2 4-Pack contains 4 Google Nest smoke and carbon monoxide detectors that work via the power grid. This way, you'll be aware of possible smoke development or carbon monoxide leaks in your home anytime and anywhere. You operate the detectors with the Nest app on your smartphone. When the detectors detect smoke or carbon monoxide, a female voice will tell you at a noise level of 70dB. This voice tells you exactly where in the house the danger is. The app also keeps you up to date on low battery status or sensor outages. Use WiFi to connect the Google Nest Protect V2 to other Nest products, like the thermostat and the IP camera. A green light switches on as soon as the motion sensor detects movement in the dark.
Included by default
Manual

(1.61 MB)

Battery (3x)
Welding clamp (3x)
Screw (4x)
Mounting support
230V cable plug
Introductory guide
Tips for using this product
Read our tips and find out all about how to set up your product and use it the right way.

---
Reviews
| | | | |
| --- | --- | --- | --- |
| 5 stars | | | |
| 4 stars | | | |
| 3 stars | | | |
| 2 stars | | | |
| 1 star | | | |
Most helpful reviews
Google Nest Protect: smart, loud and clear!

Dylan. Smart home specialist. | 6 March 2020 | In the version: 1 | Battery | Automatically translated from Dutch

Combination of voice prompts, colors and app

Linkable to smart devices

Reports smoke development and carbon monoxide

Some extra features add little

The Google Nest Protect V2 has a design that fits in with other Nest products: sleek and stylish. The design is special for a smoke detector. I immediately notice the holes in the housing and it has an LED ring that communicates with the help of colors.

Easy installation
You can easily install the Nest Protect V2: make a plate on the ceiling and click the smoke detector into place. I have both the battery version and the wired version. The wired version requires power, so you connect it to the mains. This is also easy to do with 2 left hands. My only regret is that my smoke detector is not parallel to the walls. When I click it on the attachment of my old ceiling lamp, I can no longer turn it. So now it hangs a bit diagonally relative to the wall. Once installed, you can easily connect the smoke detector to the Nest app. Here I set a location per smoke detector (including 'attic').

Loud and clear
Once you've heard the Nest Protect alarm, you'll never want to hear it again. It is extremely loud, it really hurts your ears. At the slightest smoke development, I now immediately open windows and doors, to prevent the noise. The smoke detector gives a voice warning and a notification via the app before the siren sounds. This way I can first check what is going on and do something about it. The communication with voice is therefore a handy feature, which warns before the alarm goes off and tells you whether the smoke has gone. In addition, I immediately hear where the smoke is in the house.

Notifications in different ways
Nest Protect communicates through voice prompts, push notifications, and the LED ring. This reduces the chance that I will miss a notification, even if I am not at home. In the app I see that the smoke detector regularly tests itself with a monthly sound check. The LED ring indicates all kinds of things with different colors. Because the smoke detector also talks and has an app, I don't actually use that feature. It also has a night mode, where the light turns on when the Nest Protect detects movement. Because of the smart lamps in my house, I don't really need this feature.

Integration in your smart home
I love that the smoke detector works with my other smart devices. For example, it's handy that my Nest thermostat switches off if the Nest Protect detects carbon monoxide. I also connect it to my Hue lamps, so that they flash when the smoke detector goes off. It is strange that you only use these tricks in emergency situations. Because there has been no fire or smoke in my house, I have not yet seen these smart couplings in practice after testing.

Dylan. Smart home specialist. | 6 March 2020 | In the version: 1 | Battery | Automatically translated from Dutch

Beautiful, (too) pricey but not suitable for all situations

Arjan van der Oest | 17 November 2015 | In the version: 1 | Grid current | Automatically translated from Dutch

Subtle in case of false alarm

Not suitable without junction box!!

Full of anticipation, I bought a Nest Protect to replace the first of my existing Ei.146 smoke detectors. Since this is also equipped with 230V (new-build home) and because I don't feel like regularly replacing 6 (expensive, Nest recommends a specific type) AA batteries, I chose the Wired version.

However, what is my surprise: in contrast to other wired systems, it is not simply possible to directly screw the 230 volts into the device. Nest supplies a plug on a piece of cable that must be connected to the existing cables with (supplied, that in turn) welding caps. Well, that's not the worst either (although I don't have a junction box in the ceiling so certainly no room for welding caps, but that could be solved with some soldering and insulating tape), were it not for the fact that you plug the plug AROUND the way in the Nest should stick out and that the plug then sticks out almost an inch from the base. So if you don't have a junction box under the Nest (for me, only a PVC pipe comes out of the concrete ceiling with three cables in it), then it is physically impossible to get the Nest against the ceiling. The mounting ring that Nest provides is only a few millimeters thick and does not give you the space you need.

Fortunately, the people at Coolblue solve this neatly by taking the device back, via a free answering number (despite the fact that I had picked it up in a store). So even if a purchase is disappointing, you are at the right place with Coolblue and that is a very reassuring thought.

Arjan van der Oest | 17 November 2015 | In the version: 1 | Grid current | Automatically translated from Dutch