Philips Airfryer XXL Premium HD9867/90 + Frying Rack + Food Separator
In the version
Philips Airfryer XXL Premium HD9867/90 + Frying Rack
Be the first to know when this product is in stock
---
Product information
Pros and cons
According to our deep fryer expert
Save the settings for your favorite recipes, so you can start this program with the push of a button.

With the shake indication, you'll know exactly when it's time to shake up the fries so they get crispy all over.

Thanks to the Twin TurboStar technology, you don't need to preheat the airfryer and the fat gets filtered from the air.

With a cord length of 0.8 meter, this deep fryer has to be placed nearby a power socket.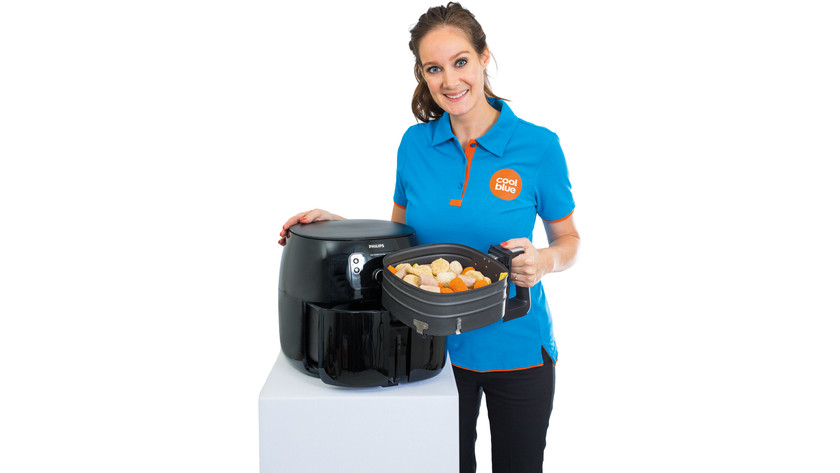 ---
Product description
With the Philips Airfryer XXL Premium HD9867/90 + Frying Rack + Pan Divider, you opt for quality and convenience. That's because you also get a frying rack and pan divider, in addition to the airfryer. This way, you can prepare multiple dishes at the same time. Thanks to the Smart Sensing function, the fryer measures the temperature and baking time. You can save the setting of your favorite recipes, so you can turn it on at the touch of a button. In addition to fries, you can also bake fish, drumsticks, or a whole chicken. For pies, cakes, and other dishes, you can set the time and temperature yourself. The airfryer also comes with an app full of inspiration for tasty recipes.
Included by default
Philips Airfryer XXL Smart Sensing Premium HD9867/90
Philips Airfryer HD9950/00 Frying Rack + Pan Divider
Tips for using this product
Read our tips and find out all about how to set up your product and use it the right way.

---
Reviews
| | | | |
| --- | --- | --- | --- |
| 5 stars | | | |
| 4 stars | | | |
| 3 stars | | | |
| 2 stars | | | |
| 1 star | | | |
Most helpful reviews
Our expert review

Fast and user-friendly air fryer

Dorieke. Friteusespecialist. | 20 March 2020 | In the version: Basic model | Automatically translated from Dutch

Crispy and not greasy fries

Simple recipes in app for sweet potato fries for example

Quick to use, because you don't have to preheat

You also make cakes and bread in it

You have to use it under the hood

Pretty big in size

I really enjoy using this air fryer. It's quick and simple and you don't need to preheat it. I also like the look nice and sleek. I do use the airfryer under the extractor hood, because otherwise my house will smell quite like food.

Crispy, non-greasy fries
I found the special program for frozen fries very useful and my fries came out crispy. I hadn't added any oil, so the chips weren't greasy. The airfryer calculated the correct temperature and time itself. Halfway through, the airfryer beeps to tell me to shake the fries.

Recipes
I wanted to make sweet potato fries and there was a recipe for this in the app. I found this useful, because I didn't know what temperature and baking time were right. The recipe was easy to follow and the fries tasted great. They weren't as crispy as regular fries, but they weren't soggy either.

Fast
The air fryer is very fast. Much faster than, for example, an oven. You don't have to preheat this airfryer, which saves even more time. I find this useful, because it makes it easier to grab it. I also like that you don't need oil and fries and snacks are not so greasy.

Cake and bread
I baked cakes in the airfryer and this also worked well. The baking time was very short and despite that the cakes came out well.

Dorieke. Friteusespecialist. | 20 March 2020 | In the version: Basic model | Automatically translated from Dutch

Excellent tool to prepare healthy & tasty dishes

Mareen | 2 February 2020 | In the version: Basic model | Automatically translated from Dutch

Easy in use

Healthy and delicious taste

Beautiful design

Large capacity

Large to store

I was one of the lucky ones to test the new Philps Airfryer XXL. This airfryer has the new Smart Chef program that I was very curious about. Full of enthusiasm I started testing and I have to say, I can almost only be positive about this new XXL airfryer from Philips. First of all, the volume of this is good, it fits a lot. In addition, this airfryer is a lot less 'noisy' than the other airfryers and the signal when the dishes are ready is also a pleasant sound. We tried many different things: steak with mushrooms, shaslick with honey carrots, Jamaican meatballs, chicken legs, fries, churros and much more. And I must say, the meat is all super tender. I am particularly ecstatic about the steak! I must confess that I never really prepared this before that time, because I find it such a hassle in the pan. I never knew exactly when it would be perfectly cooked and now with the airfryer this is no longer a problem, a nice tender piece of meat comes out that is just right (so I have a happy man in the house!

Mareen | 2 February 2020 | In the version: Basic model | Automatically translated from Dutch

The rest of the family has more than convinced me as a man.

Marco Snijders | 8 July 2020 | In the version: Basic model | Automatically translated from Dutch

ease of use

appearance

perfect products come out

Easy to clean

Maybe a slightly too short power cord

Is more than big enough for a family of three. Recommended

Marco Snijders | 8 July 2020 | In the version: Basic model | Automatically translated from Dutch

My new best kitchen help!

Fast

Versatile

Tasty & Healthy food

Makes other appliances superfluous (oven, grill, deep fryer)

space-saving and economical in energy consumption

Non-stick coating is fragile (possibly worn out by dishwasher use?)

I love preparing tasty and preferably healthy food and kitchen equipment that can help me with that. After 8 years of using the airfryer of another brand almost daily, I was now allowed to try out the latest airfryer from Philips (HD9860) for a few weeks and it has become an indispensable part of our daily life. From breakfast to evening meal and something savory/tasty in between; the air fryer helps us with that. I always thought these hot air devices were a healthier replacement for the deep fryer, but the air fryer can do so much more!

The airfryer replaces our powerful quality oven and combi microwave for 99%, the only reason to still use it for very large dishes, so capacity. If you are wondering what you can prepare in it? Really everything! Here are some examples, but I'll keep it short because there are still many recipes to be found via the 'Philips NutriU app'.

Baked-off bread rolls, croissants, toast/sandwiches. Meat: lamb chops, chicken wings, roulade, burgers, shawarma. Fresh fish; sardines, shrimps (gambas al ajillo). Everything deliciously tender and juicy on the inside with a slightly crispy crust/edge on the outside.
Fries (fresh or frozen), potato wedges/slices (delicious with some herbs!). Carrot fries, grilled vegetables, stuffed peppers, marinated tofu, falafel, roasted garlic. puff pastry recipes; empanadas, sausage rolls. Oven dishes such as lasagna, meatloaf, fish dishes, nachos, etc. Sweets: muffins, fruit pastries.
Frozen products: fish fingers, spring rolls, croquettes, pizzas, frikadellen, cheese soufflés, etc.; everything in the air fryer!
Nowadays there is a lot of choice in the supermarket in snacks specially developed for airfryers (note the airfryer logo on the packaging).
Taste difference with the fry? Yes! I like them better from the air fryer; they taste great and have no greasy/oily aftertaste. No frying smell in the house, no replacement frying oil and no cleaning work involved.

The airfryer has a fat-removing system so that fat leaks from meals and is collected at the bottom, so you don't eat excess fat and eat healthier. In addition, the airfryer has the Rapid Air technology; the airfryer is very fast, without preheating! I bake bake-off breads faster and just as tasty, without preheating, in the airfryer as from our quality oven. Bitterballen ready in 8 min, casserole 20-25 min ready. We eat HelloFresh regularly and always use the airfryer instead of the oven when cooking; much faster, more efficient and just as tasty.

The airfryer has 5 frequently used programs (fresh fries, frozen fries, fish, chicken parts (wings/legs) and whole chicken) where the temperature and time settings are already pre-programmed.
The latest airfryer XXL is also equipped with 'Smart sensing technology'; the airfryer calculates the airfryer, by means of sensors, the baking time and temperature of your dish. And if necessary, the airfryer also adjusts these during baking. I was skeptical at first, but it works! I have made a few dishes (including casserole with fresh fish, roulade) and everything is deliciously cooked, without burning or drying out, prepared automatically. So don't worry about it! Food in the basket, start and ready!
The keep warm function is also useful if you cannot eat your dish immediately. It can't get any simpler can it!?

Cleaning: all parts that get dirty can go in the dishwasher and fit well without your dishwasher being full right away. But washing dishes by hand is just as easy; no small edges that you cannot reach, etc. If necessary, let the basket soak (it is fine in the drawer box of the airfryer itself) after, for example, having made chicken/fish. We use the airfryer so often every day that, if necessary, we quickly wash it manually in between. You have to take into account the fragility of its non-stick coating when using and cleaning. I don't know how long it will last if it goes in the dishwasher every day.

The capacity: my advice: buy a large size even if you run a 2-person household. We use the airfryer so regularly and versatilely that I make the most of this extra capacity, especially for casseroles. We have purchased the divider/rack that is available as an accessory, which makes it easy to prepare several dishes at the same time, but separately in the airfryer. Just think of your gyros/shawarma, your bell pepper/onion and your fries or pita bread. The outside of the airfryer gets warm and not hot, which is also very important to me.

Conclusion; the airfryer makes fast, tasty and healthier food that we would normally prepare in the oven, grill or pan (baking, roasting, grilling & frying). I don't have to worry about much during the preparation, especially with the smart sensing technology of the latest airfryer. The food can all be prepared with much less oil/butter than we used before, and is at least, but often tastier! Cooking with the air fryer also saves me a lot of washing up. A point of attention is the non-stick coating, which must be handled with care. Due to the high ease of use, our airfryer is used several times a day and is standard ready for use on the counter. I would recommend the airfryer to everyone, young & old, 1-person or family household, it makes cooking simpler, faster, tastier and healthier! With my experiences that I have now gained with the airfryer, I have become convinced of its versatility.

JessieCl | 4 February 2020 | In the version: Basic model | Automatically translated from Dutch

Easy and tasty fries maker

Delicious crispy fries

Easy that he calculates how long fries should be

Can take a lot of fries

Quite big

Short cord

Made fries with it a few times now. Very easy. Have yet to try the other features.

Marijke | 15 October 2020 | In the version: Basic model | Automatically translated from Dutch

A fantastic product!

Smart chef programs

Keep warm function

Does not need to be preheated

Favorites function

Done quickly

Large parts for the dishwasher

I've been using this airfryer for a few weeks now and it's already indispensable in our kitchen. We use it a lot for frying, baking and grilling. The taste is fantastic and it is ready in no time, partly because the airfryer does not need to be preheated.
The chips and muffins are a family favorite.
Thanks to the smart function, you can, for example, put home-made chips in it, and the airfryer determines the temperature and time required for this. The airfryer also has a keep warm function for 30 minutes, which is very useful if the children have to exercise and come home a little later. The advantage of the XXL is that there is enough space for our whole family. The fat reducer also makes the food much less fat, making it taste much better. All in all, highly recommended for the kitchen!

Gabje10 | 5 February 2020 | In the version: Basic model | Automatically translated from Dutch

a better kitchen helper is hardly imaginable

Easy operation

beautiful baking/frying results

hardly any oil or fat

easy to clean

compact and beautiful appearance

nothing strikes me...

Even better results than its predecessor. The simplicity of operation is a real pleasure. Thanks to an improved hot air circulation, a more even baking result and better cooking. This also applies to the color and taste. A special extra bottom plate ensures that more fat is extracted from the baked goods. A real asset and recommended.

Suzan | 5 February 2020 | In the version: Basic model | Automatically translated from Dutch

Yes go for the Philips because there is no better

Only pluses… no minuses in sight…says enough after 10 years of using Philips airfryers, first had the first and now the xxl and yes there is no better

Works very well

Ron Nagtegaal | 22 July 2021 | In the version: Basic model | Automatically translated from Dutch

Very nice device

safe frying,

easy in use

Not the smell of fries

Smokes a bit when greasing chicken

Easy to use and ready quickly. My teenager can operate the airfryer independently, unlike a regular deep-fat fryer.

Johan66dh | 4 February 2020 | In the version: Basic model | Automatically translated from Dutch

Cost anything but then you also have something

best results

No accessories

I like it very well, clear display, easy to adjust.

Cees Timmermans | 4 February 2021 | In the version: Basic model | Automatically translated from Dutch
Specifications
Product
Product number

855586
Manufacturer code

HD9867/90
Brand

Philips
Warranty

2 years
Processing of your defect

Via Coolblue
Old product returned for free
Physical properties
Power

2225 W
Frying system

Hot air
Airfryer technology

Twin Turbo Star
Load capacity

1,4 kg
Effective load capacity

1,4 kg
Capacity expressed in number of people

4 to 5 people
Material

Plastic
Plastic type

Plastic
Handle material

Plastic
Weight

8 kg
Capacity

7,3 l
Width

32,2 cm
Height

31,5 cm
Depth

43 cm
Shape

Round
Finish

Glossy
Color

Black
Functions
Maximum temperature

200 °C
Adjustable temperature
Separate temperature settings

200 °C
Automatic baking programs
Pre-programmed baking programs

Cake, Cake, Chicken, Fish, French fries, Frozen French fries
Odor filter
Built-in grease filter
User-friendliness
Timer
Dishwasher-safe deep fryer

Basket, Inner pan
Temperature indicator light
Replacement indicator
See-through window
Cold zone
Cool Touch exterior
Cable length

0,8 m
Control options

Buttons, Dials
Display
Removable heating element
Product
Product number

808975
Manufacturer code

HD9950/00
Brand

Philips
Warranty

2 years
Processing of your defect

Via Coolblue
Accessory properties
Included accessories dishwasher safe
Geschikt voor merklijn

Philips Airfryer XXL
Suitable for model

Philips HD9630, Philips HD965
---