2x Samsung LS24R356FHU + NewStar FPMA-D550DBLACK
---
Product information
Pros and cons
According to our monitor expert
Thanks to the monitor arm, you can adjust the monitors in every possible way and they don't take up space on your desk.

Thanks to the thin bezels, your monitors blend together very well.

Thanks to the IPS panel, you experience realistic colors from every viewing angle.

If you want to place these monitors on your desk after all, remember that they are not height-adjustable.

This monitor doesn't have integrated speakers.

It doesn't have any DisplayPort or headphone connectors.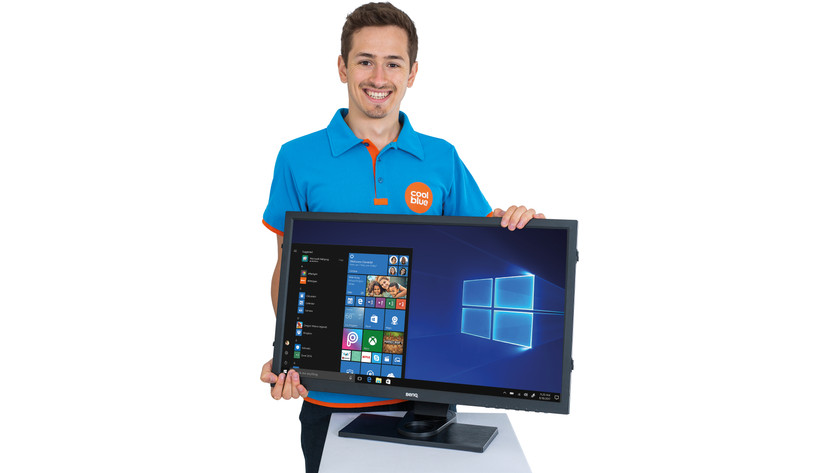 ---
Product description
With the Samsung LS24R356FHU + NewStar FPMA-D550DBLACK, you work more efficiently and reduce your chances at neck or back pains. You can adjust the NewStar FPMA-D550DBLACK in any possible way, so you set it up at exactly the right height and with the right viewing angle. You attach the arm to the back of your desk, so your desk remains empty. This bundle also includes 2 Samsung monitors, which work nicely. You'll be able to do more work and oversee your work better. Thanks to the IPS panel of the Samsung LS24R356FHU, you experience true-to-nature colors even when you're not directly in front of the screen. Put your feet up on the desk, lean back, and watch a movie in Full HD resolution while you keep an eye on social media on the other screen. You can easily binge-watch Netflix series all day long, because the blue light filter and the flicker-free technology keep your eyes from getting strained.
Included by default
Samsung LS24R356FHU
Power cable
HDMI cable
Monitor stand
NewStar FPMA-D550DBLACK
---
Visit one of our stores by appointment
View more monitors in the store

Get advice from an expert

We have stores in Amsterdam, Arnhem, The Hague, Eindhoven, Groningen, Haarlem, Leiden, Rotterdam, Tilburg, and Utrecht
---
Reviews
| | | | |
| --- | --- | --- | --- |
| 5 stars | | | |
| 4 stars | | | |
| 3 stars | | | |
| 2 stars | | | |
| 1 star | | | |
Most helpful reviews
Perfect

Juan Bermudez Roldan | 6 September 2019 | In the version: Samsung LS24F352FHUXEN

Because it is cheap and does its function perfectly.

Juan Bermudez Roldan | 6 September 2019 | In the version: Samsung LS24F352FHUXEN

Nice monitor to to home-working

Sourav Nandy | 3 September 2020 | In the version: Samsung LC27F396FHU

Image quality and coverage

Sourav Nandy | 3 September 2020 | In the version: Samsung LC27F396FHU

It's a good quality curved screen.

Tankey BV | 3 July 2019 | In the version: Samsung LC27F396FHU

It's curved so you may not like it

Good value monitor for office work, currently have x4 in small office working with macbook pros. No complaints.

Tankey BV | 3 July 2019 | In the version: Samsung LC27F396FHU

Great image quality

Cannot adjust height or tilt

Even it doesn't have the thinnest edges but looks really good. Image quality is amazing for the price. Only downside is that I cannot adjust the monitor height or tilt it

Abderrahmen | 24 December 2019 | In the version: Samsung LS24F352FHUXEN

Great as a work monitor

As an additional monitor for my work this perfectly suits my needs. Easy to setup, with a wide screen and great display quality. Good value for money

Scott Forrester | 16 September 2019 | In the version: Samsung LS24F352FHUXEN

Excellent price quality ratio

Lightweight so easy to move

It's just what I was looking for

Annie Niemela | 6 September 2020 | In the version: Samsung LC24F396FHU

Great value for the money

Great price for the money

Great value for the money

Rafael Lopez de Azua - | 6 October 2020 | In the version: Samsung LS24F352FHUXEN

Value for the money

Nice and big view next to my small laptop

Can't hear sound in the monitor

Good like it. The sound from monitor does not work or I do not know how it should

Siba Rauto | 14 November 2020 | In the version: Samsung LC24F396FHU

To work at home with decent quality

I have it for a week now, and everything still seems fine. The product is as expected. Good screen quality & size for the price, but not the most exceptional. Does the job to work at home

Hln | 23 April 2020 | In the version: Samsung LS24F352FHUXEN

Exactly what I needed for a home office

Good quality for the price, right piece of equipment for a small home office

Rasul Mammadov | 14 November 2020 | In the version: Samsung LS24F352FHUXEN