Sony ZV-1 + GP-VPT2BT Grip
Available for pickup even sooner
---
Product information
Pros and cons
According to our compact camera expert
Stabilize your camera with the grip, so you record smooth footage without vibrations.

Thanks to the relatively large 1-inch sensor, you take photos and record videos in different lighting conditions.

The fast autofocus with face and eye detection is useful for vlogging.

The design is not waterproof, dustproof and shockproof.

We recommend an extra battery for a longer operating time.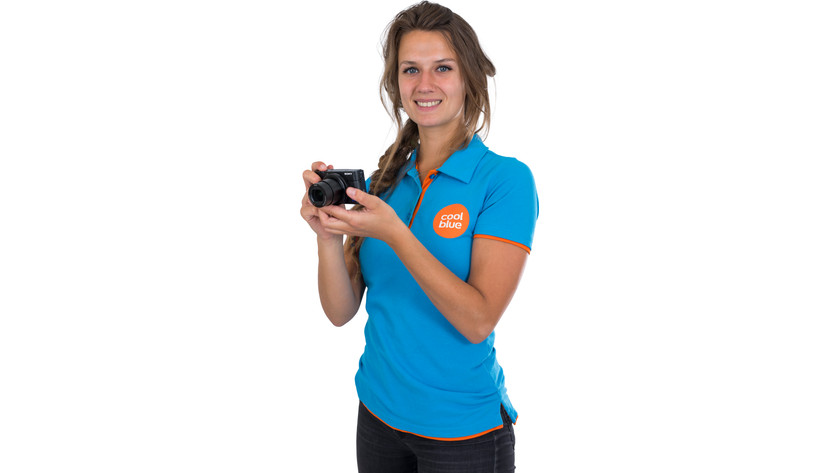 ---
Product description
The Sony ZV-1 + GP-VPT2BT Grip is a compact camera for vloggers who want to get more out of their videos. With the grip, you stabilize the camera and record smooth footage without vibrations. You don't need cables to connect the grip to the camera. This way, you can easily operate the camera with the grip. The camera has a relatively large 1-inch sensor that lets you record sharp videos in different lighting situations. Thanks to the face and eye detection and the fast autofocus, the camera focuses on your face or eyes. It has a tiltable screen, so you can see yourself while you record your vlog or live stream via the computer. You fold out the screen horizontally. That means it won't be in the way when you connect an external microphone to the camera.
Tips for using this product
Read our tips and find out all about how to set up your product and use it the right way.

---
Reviews
| | | | |
| --- | --- | --- | --- |
| 5 stars | | | |
| 4 stars | | | |
| 3 stars | | | |
| 2 stars | | | |
| 1 star | | | |
Most helpful reviews
A new market for camera is still in its infancy

Nynke | 7 July 2020 | In the composition: Camera | Automatically translated from Dutch

Quickly switches focus between objects

I prefer to use my iPhone

An expensive camera with nice functions, especially for vlogging. Switches quickly in terms of focus on objects, for example when you review make-up and hold the packaging in front of the lens. It is immediately sharp. The camera provides sharp, clear and crisp sound. The accessory against wind is handy, it improves the sound and makes you understandable during your vlog. The battery could have been better, it is empty after an hour. So always take at least one extra battery with you, especially if you plan to film for hours. The camera has a nice option to send images to your phone via WiFi connection. But that also consumes a lot of battery and takes a long time because the files are large. By the way, make sure you use a memory card with sufficient class (read speed, etc.). If you still want to transfer to an iPhone via WiFi, make sure you film in 4K. Lower file quality iPhone will not accept. If you've been Vlogging for a while, go for a more widely applicable camera, something more professional. If you want to start vlogging, first use your smartphone. That will save you a nice chunk of money.

Nynke | 7 July 2020 | In the composition: Camera | Automatically translated from Dutch

Good vlog camera

Shirley S. | 29 June 2020 | In the composition: Camera | Automatically translated from Dutch

Takes skin tones into account

Bokeh button on top of the device

Real-time tracking and eye autofocus

The camera's design has been well adapted to the vlogger of 2020. The extra grip on both the front and back makes the device comfortable to hold. It is not too heavy and easy to carry in, for example, your (hand) bag. The tilting screen with touchscreen is definitely a plus when vlogging. Thanks to the good autofocus, images or objects are quickly focused. However, not all functions can be operated with touch. The built-in microphone works well, voices are clear and noiseless and the windcatcher is also a plus. For my daily vlogging it is important that there is a good battery life, but this is disappointing. If you want to go away for a day, I definitely recommend taking 2 extra batteries with you, otherwise you can quickly pack your things.
In terms of image quality, this camera lives up to its name. Sony has done a good job of producing razor-sharp images in 4K, including a slow-mo option on the camera, and great real-time tracking and eye autofocus. There is good image stabilization, so walking and filming are no problem. Jumping to other images is fine and the colors are vibrant. Moving yourself to other rooms is quickly picked up by the camera, so that the colors and image quality are also adjusted in no time. The ZV-1 also takes into account different skin tones, which comes in handy for me with my light skin and red hair. The camera adjusts the colors so that you are always at your best. The large record button lights up a red light on the front, so you always know you're filming. The bokeh button on top is also a big plus. Do you want to sharpen or blur your background? You can set this yourself with 1 hand on the button. Certainly useful for the vloggers who want to show products.

Shirley S. | 29 June 2020 | In the composition: Camera | Automatically translated from Dutch

The all-rounder!

Jimi U | 16 July 2020 | In the composition: Camera | Automatically translated from Dutch

Hard to hold without a tripod

Folding screen unfortunately not up

I really think the Spny ZV-1 is one of the best vlogging cameras on the market. Very nice small slim design to record your vlogs. Good quality of the fold-out display with the real-time tracking option so that you always stay sharp. It is very user-friendly due to all pre-programmed settings so that you always have the right setting for your setting. Thanks to the windscreen for your microphone, your voice will still sound clear and clear in the videos if you use it outside. Really beyond expectations so far! The only downside so far is that I think it's a shame that the screen doesn't flip upwards but sideways. So you always tend to look at the display instead of the lens

Jimi U | 16 July 2020 | In the composition: Camera | Automatically translated from Dutch

Great vlog camera, but pricey for what it does.

Not charging time recording

A light and compact camera that you can easily take with you with a clear and bright design. The camera is solid, feels robust and has a beautiful design, but also has some design points that are 'just not' useful.

What I find less convenient is that the compartment in which you place the battery and the SD card is next to the threaded opening, so that you have to unscrew the attachment of your tripod or the tripod itself before you can open the compartment. A quick battery or SD card change is therefore not included. In most cases you will charge the battery via USB and transfer files via USB. But if, like me, you vlog a lot, make longer videos and travel a lot, then it is useful to have an extra battery with you and extra SD cards.

Battery does not last long, only an hour if you are making a lot of videos. Quite a shame, because my iPhone really lasts a lot longer. An extra battery is therefore necessary, because otherwise you can quickly pack again.

Unfortunately, it is not possible to record and charge at the same time. So there is no way to save battery which I personally find a big disadvantage.

As a video maker, the quality of both image and sound is very important. Even if I'm vlogging in public areas or outdoors, it's important that the audio is basically good so that I don't spend a lot of time on post-processing.

The image is very beautiful. The default at which the camera records is set to HD. Check this before you start recording, because you can also set it to 4K. The disadvantage of the 4K setting is that it stops automatically after 5 minutes of video recording to prevent overheating. You can change this setting from 5 to 30 minutes, but nothing in between. To find this setting I had to Google, because it was not very clear to find. For a vlogging camera that can record 4K, I don't understand why it should have overheating problems after 5 minutes.

The sound of the camera is one of those things that people are so positive about. I agree that the sound is really good, but I still prefer an external microphone. The camera's microphone is designed to reduce ambient noise and keep your voice clear. By using so-called 3 capsules, the microphone clearly picks up your voice. You get a windshield with it, especially nice for windy places, but prevent wind, because you will of course continue to hear it.

Dash | 25 June 2020 | In the composition: Camera | Automatically translated from Dutch

Very solid vlogging camera with several useful options!

Rotatable screen/touch screen

Quality sound (incl. wind filter)

I've had this vlogging camera for almost 2 weeks now and I use it extensively. The camera came in a compact box that included battery, wind noise filter and cables. The camera fits nicely in the hand and the weight makes it in a way a robust looking/feeling device. I mainly use the camera to record the development of my children. I am very pleased with how quickly the camera focuses and stays focused on their faces despite the many movements. Filming both indoors and outdoors also works satisfactorily. The wind noise filter ensures that the sound (talking / chatting, etc.) is clearly audible even when there is wind without the wind being completely filtered out. There is a natural balance in the sound. The image quality is also good: clear and sharp. That quality can be maintained by the ND filter despite different light intensities that you may have to deal with. In addition, I find it very pleasant to work that there is a fold-out and rotatable screen on the camera. This, in combination with the touchscreen screen, provides a lot of ease of use. I do find it a drawback that the brightness of the screen is not adjustable. The screen is a bit on the dark side when you wear sunglasses, for example. A big plus is that the photos/videos can be transferred directly to your phone via an app. No cables/computers etc are needed, which also makes it possible to do this on the road. However, transferring is a reasonable drain on the battery. The charging time is also not very fast. With normal use (without transferring files in between) you can use the device for about a day without charging.

Lisa | 19 July 2020 | In the composition: Camera | Automatically translated from Dutch

Top vlogging camera for a starting vlogger!

I am really very satisfied with the Sony ZV-1 vlog camera. Ideal for the novice vlogger. The camera is compact and light, so you can easily take it anywhere. Because the vlog camera has a fold-out displat, you can easily film from two sides. So easy if you want to be on the vlog yourself.
The quality of the footage is very high and you can hear the sound well. Ambient noises are reduced and your voice remains clear. The footage is of high quality. I made a lot of footage in the garden. The quality of the footage is good because the colors are optimized in brightness and color.

I do find it a pity that the vlog camera does not have a touchscreen screen. I tried several times to navigate with my fingers. Something that I think is automatically included if you are used to a touchscreen phone. I expected this with a new vlogging camera. In addition, the battery of the camera does not last as long as expected.

Roosmarijn | 29 July 2020 | In the composition: Camera | Automatically translated from Dutch

Top camera for the novice vlogger

A compact camera with the functions of a system camera, that must be great. At least that was my thought when the Sony ZV-1 was launched. The camera is indeed nice and compact. As an experienced Canon and Nikon user, the Sony menu takes some getting used to and it took a while before I had set the camera to my liking.
In terms of images, there is absolutely nothing to criticize about the camera. Both photo and video images are super tight, sharp and beautiful in color.
The turn and tilt screen makes the camera ideal for vlogs, but the range of the lens is somewhat limited. The image is cropped slightly due to the stabilization. In maximum wide position, camera in hand, parts of my head fall out of frame. The separately available grip (or another selfie stick) is therefore a necessary addition for vlogging.
Another point of criticism is the battery life. It is below par for the purpose of the camera. You should be able to put such a compact camera in your pocket and then be able to use it all day long. However, the battery life is so limited that you need 3 or 4 to capture a day trip with this camera. The fact that the battery can only be charged in the camera (no charger is included) is also not user-friendly.

The menus are quite complicated in my experience. Everything is there and in it, but it does take a while to find some settings. I therefore think that this camera will mainly be used in automatic mode. With some handy and smart functions, you also get fantastic images with this. With 1 press of the button, the aperture is fully opened, resulting in a small depth of field. Shutter speed and ISO are automatically adjusted to keep the exposure optimal.

All in all a super camera for the novice vlogger. Small, compact, good image quality, useful functions and many options for sharing images quickly. The slightly advanced photographer or video maker will still miss the quickly accessible manual adjustment and therefore fall back on a system camera

Roy Kostons | 15 July 2020 | In the composition: Camera | Automatically translated from Dutch

Awesome for the price, but buy at least to batteries

A small beast, autofocus is good and stabilisation as well

Antoine | 16 December 2020 | In the composition: Camera

See above. A little further, but then many options.

Screen can also be rotated to the front

Take a look at the manual, there are many options.

It is handy with a good lens and ditto image.

Rogier Van Wegberg | 26 June 2021 | In the composition: Camera | Automatically translated from Dutch

Nice size

It is easy to use and convenient to carry.

Esther van der Stoel | 19 March 2021 | In the composition: Camera | Automatically translated from Dutch
Specifications
Product
Product number

862847
Manufacturer code

ZV1BDI.EU
Brand

Sony
Warranty

2 years
Warranty type

Carry-in warranty
Old product returned for free
General properties
Camera type

Compact camera
Suitable for photographer type

Advanced
Camera usage situation

At home for family & friends, Recording, Vacation, Vlogging
Menu language

Czech, Danish, Dutch, English, French, German, Hungarian, Italian, Polish, Swedish
Bridge camera
Size camera

Small
Image quality

Very good
Lens
Optical zoom

2,7
Digital zoom

11
Maximum focal length

24 mm
Minimum focal length

70 mm
Wide-angle
Aperture

1,8 - 2,8
Autofocus
Type of autofocus

Contrast detection, Phase detection autofocus, Regular autofocus
Sensor
Type of image sensor

1"
Crop factor

2,6
Effective number of megapixels

20,1 MP
ISO sensitivity

100 - 12800
Image stabilization
Image
Photo file format

JPEG, RAW
Video file format

MPEG-4 AVCHD (H.264)
Audio file format

AC3, Dolby Digital 2ch, Linear PCM
Type of image definition support

Full HD (1080p), HD ready (720p), Ultra HD (4K)
Full HD (1080p), frames per second

100p, 120p, 30p, 48p, 60i, 60p
Ultra HD, frames per second

4K, 60p
Photo resolution width

3648 pixels
Photo resolution height

5472 pixels
Storage
Memory card

MicroSD, SD
SD memory card version

SD, SDHC, SDHC UHS, SDXC, SDXC UHS
MicroSD memory card version

Micro SDXC, MicroSD, MicroSDHC
Expandable storage capacity up to

512 GB
Camera screen
Screen size

3 inches
Tiltable
Touchscreen
Ports
USB port
HDMI connection
Type of HDMI connector

Mini HDMI Type C
Microphone connection
Type of microphone connection

3.5mm jack
Hot shoe
Hot shoe type

Hot shoe
Connectivity
Integrated WiFi
Bluetooth