Google Nest Audio Charcoal 3-pack
Version
: Black
|
3 speakers
Available for pickup even sooner
---
Product information
Pros and cons
According to our WiFi speaker expert
With the integrated Google Assistant, you can control the speakers via voice commands.

The speakers can distinguish up to 6 voices, so you can use them with several people.

With extra Google Nest speakers, you can easily create a multi-room setup and stream music throughout the house.

You need a Google account to use features such as calendar management.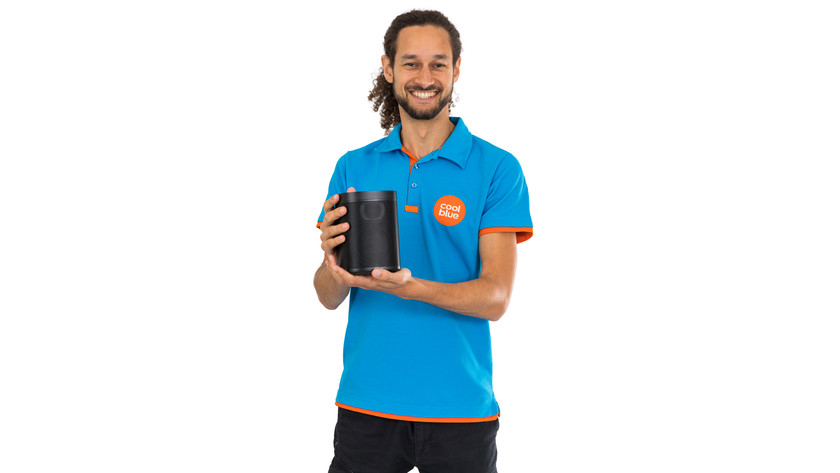 ---
Product description
This Google Nest Audio package allows you to listen to music wirelessly at 3 places in the house and control your smart home. These speakers work via the power grid and you connect them to your smartphone or tablet via WiFi or Bluetooth. Thanks to the improved sound quality, they're more suitable for playing music in larger rooms than their predecessor. Connect them to each other or to other Google speakers, like the Nest Mini or Nest Hub, to listen to your favorite music in several rooms at the same time. Thanks to the integrated Google Assistant, you can control the speakers with your voice. You can pause the music or adjust the volume, for example, but you can also control your smart lights or other pairable devices. You can also ask the Google Assistant about the weather or the appointments in your calendar.
Tips for using this product
Read our tips and find out all about how to set up your product and use it the right way.

---
Reviews
| | | | |
| --- | --- | --- | --- |
| 5 stars | | | |
| 4 stars | | | |
| 3 stars | | | |
| 2 stars | | | |
| 1 star | | | |
Most helpful reviews
Our expert review

Google Nest Audio: a leap in sound quality

Daan. Smart homespecialist. | 9 October 2020 | In the version: Gray | 1 speaker | Automatically translated from Dutch

Better sound than other Nest speakers

Simple stereo pairing

Faster voice assistant response times

In large living spaces you need multiple speakers

Where other Google Nest speakers are mainly a speech assistant, the Google Nest Audio is more of a nice speaker that is also a speech assistant. This successor to the Google Home is a step forward in several areas.

What immediately strikes me about the Google Nest Audio is the size of the speaker. It is higher and wider than the Google Home and consists of a speaker over the entire length. At the bottom is a base of plastic, which is not visible when you put the speaker down. Due to this appearance and its neutral color, this speaker fits nicely in a modern interior. You operate it with your voice, telephone or the touch controls on the top. The only visible button is the slide on the back, with which you switch off the voice control.

As soon as I play music, I notice that the sound quality of this speaker is considerably better than with other Google Nest speakers. This makes it a lot better suited for listening to music. I find the sound fairly balanced, with a bass that is sometimes less powerful. In my small living room that is sufficient, but in a larger house you may need several Nest Audio speakers.

I think it's an advantage that you can easily connect Nest Audio to other Nest Audio copies or other Google speakers, such as the Nest Mini or the Nest Hub. By turning on stereo pairing in the app, I let my 2 Nest Audios work together. In the app I indicate which speaker is on the left and which is on the right. This is how I create a speaker group with stereo sound. This way my music gets just that little bit more power.

With the Nest Audio, Google is clearly focusing on a better listening experience, but the voice assistant has also been improved somewhat. I especially notice this with standard commands, such as adjusting the volume or turning on my smart lamps. The speaker responds just a little faster, which is quite nice. I also notice that the speaker adjusts its volume based on ambient sounds, which is nice when you're having a conversation.

Daan. Smart homespecialist. | 9 October 2020 | In the version: Gray | 1 speaker | Automatically translated from Dutch

Fully meets expectations

Johan Krols | 19 November 2020 | In the version: Gray | 1 speaker | Automatically translated from Dutch

Easy installation

Very good sound for such a speaker

Very solidly built

Can be controlled via Bluetooth, so can also be used with Apple music

Activating Bluetooth via Google home app I had to look up the internet

I recently installed this smart speaker and it sounds great. You can also easily configure these as a stereo pair.

Johan Krols | 19 November 2020 | In the version: Gray | 1 speaker | Automatically translated from Dutch

Easy plug and play, but the quality is disappointing

Bastiaan Heerkens | 5 December 2020 | In the version: Black | 1 speaker | Automatically translated from Dutch

Easy setup with the Google Home app

Excellent audio quality for a small space

Google voice and services like Duo work seamlessly

Supports casting unsupported services.

In terms of audio, he doesn't come close to Sonos play 1 or the Swedish half-brother

Equalizer settings are limited to optimize audio to taste

Google doesn't support enough music services (only Spotify and Google Music)

Optimizing stereo sound is not an option

For my work room I was looking for an affordable stereo set-up to listen to good music.
The rest of the house is covered with Sonos in terms of sound, which I am perfectly satisfied with (music is background sound with us, so I don't really need high end)

Then about the Google Nest Audio (duo pack)
Unpacking and connecting was quick and easy.
The speakers look good.
Finish is fine, weight nicely balanced.
Installing and connecting via the app went seamlessly and is easy for everyone to do.

In terms of audio in a small room (20m2), a reasonable sound comes out, but the highs and lows are a bit flat. If you then start working with the options of the equalizer, you will notice that whatever you do, little actually changes.
That is ashame.

If I compare the sound and user-friendliness of operation with De Kleine Sonos speakers, then I find the difference very large.
Sonos offers more for the music lover, especially if you have multiple users and the space is somewhat larger and your speakers cannot be aligned 100%.

If you want ease of use and if you have Google Smart at home and if you are looking for something to play background music, this is a great solution, but especially if your music taste has more detail in high and low (jazz, R&b etc) then I put some more money down for Sonos.

Bastiaan Heerkens | 5 December 2020 | In the version: Black | 1 speaker | Automatically translated from Dutch

Very satisfied!

nice sound

Design is subtle and looks beautiful

Link 2 nests with Netflix, the sound is out of sync with the picture

Doesn't listen well sometimes

I definitely like the product

Luna Engelschman | 1 April 2021 | In the version: Gray | 1 speaker | Automatically translated from Dutch

Great speaker with great sound

Beautiful design

Clear sound

Assistant really responds better than a nest mini

Easy to pair in stereo

At least someone who listens to me

Bass not too deep

Black speaker with white cord / adapter

I had a nest mini first, then a jbl link music but the nest audio outperforms both! Especially when it comes to the Google Assistant. This one responds better and hears what you say better than the nest mini and jbl link music.

Sound is fine, but for a little more 'body' this sounds better in a stereo pair. I read here and there a comparison with the ikea symphonisk (same price) but that won't make it to the nest audio. Then the symphony has a step better sound, but no Google Assistant.

All in all, a nice design speaker with excellent sound and top microphones for the Google Assistant.

Albert | 27 October 2020 | In the version: Black | 1 speaker | Automatically translated from Dutch

Super price / quality ratio

Good price/quality

High volume

The Google Nest Audio is a nice speaker with a good range. The music from this speaker sounds even better than from its predecessors. It has a good volume and you can also adjust the Bass and Treble. You can also link the speakers so that a group is formed.
Except for the microphone on/off, the speaker no longer has buttons that are physically present. On the top you can decrease the volume by tapping on the left, pause/play the music in the middle and increase the volume on the right. This allows you to adjust the volume without speaking.
In addition to music, this speaker is also a smart assistant and you can ask many questions such as the weather, the travel time to work, the news or what is in your (Google) agenda. You can also operate your smart home, such as turning on your smart lights or the heating. The advantage of a Google speaker is that it works with many smart home brands. The questionnaire for Google seems endless and that makes it a fun toy for adults too.
If you are looking for a good smart speaker with a very good sound and that is not too expensive, then I would definitely buy this speaker.

MLiefkens | 9 November 2020 | In the version: Gray | 1 speaker | Automatically translated from Dutch

Beautiful, handy smart speaker

Build quality

Sound quality (quality-price ratio)

Microphone / Google Home

No (mini) display

I've had this speaker since its release and I'm very happy with it. Great sound in the background or a pleasant afternoon/evening with drinks, especially because you can also create groups with other smart speakers in the house (e.g. Google Nest Hub). You can also hear the microphone well and can be switched off completely with a physical on/off button on the back. A subtle indicator light or display to show the status would be nice(er).
The speaker feels very good and is sturdy. Its beautiful design makes it suitable for any interior.
All in all, highly recommended!

Rob van Kempen | 17 November 2020 | In the version: Gray | 1 speaker | Automatically translated from Dutch

Pretty okay.

Easy to control all my automation at home.

Endless music library.

This is how you should use the Google assistant.

A battery could have been added.

Immediately but crazy and bought 4, each room downstairs equipped with a "helper". More and more often "I don't google anymore but just ask. :-)

Oeble Huijgen | 5 April 2021 | In the version: Black | 1 speaker | Automatically translated from Dutch

Blissful sound quality!

Blissful sound quality in the living room

Good voice recognition

Beautiful design

I'm really happy with the sound quality and voice control. Very nice and solid product.

Eva | 3 December 2020 | In the version: Black | 1 speaker | Automatically translated from Dutch

A good smart speaker that does what it's supposed to do

good sound

price

easy installation

Google Assistant works well

not the prettiest device from google

The Google Nest Audio is a mono speaker that is connected to your Wi-Fi via the Google Home app. You can combine it with various Google products in your home and that makes it all very pleasant. In terms of looks you have to love it; I would describe it as simple and sleek with the well-known 4 dots that light up like beautiful LEDs when the Nest Audio is working.
Google indicates that the Nest has Media EQ, a kind of automatic equalizer (which can also be adjusted manually, by the way!), so that, for example, a clear voice is audible during a podcast and when you then play a dance song, the bass is more audible again . I have to say that I don't find this immediately noticeable, but that the sound 'overall' suits me very much.
The Google Home app has been working very easily for years and the addition of the Nest Audio is done in a jiffy.
The Google Assistant works better and better as Google gives it more functionality. We are at home with 3 people and he responds well to all of us, even my 5-year-old son gets a joke from the Google Assistant ;-)

beacho | 29 October 2020 | In the version: Gray | 1 speaker | Automatically translated from Dutch
Specifications
Product
Product number

869774
Manufacturer code

GA01586-EU
Brand

Nest
Warranty

2 years
Processing of your defect

Via Coolblue
Old product returned for free