Eufy by Anker Indoor Cam 2K Pan & Tilt Duo Pack
Choose the best one for you
---
Product information
Pros and cons
According to our IP camera expert
The cameras can rotate, tilt, and zoom remotely.

With the SD card slot, you can save footage directly to these cameras.

The IP cameras automatically follow animals and people.

You need a good WiFi signal where you install the cameras, so use a WiFi amplifier to create a strong WiFi network near your cameras.

The SD card to store footage isn't included by default.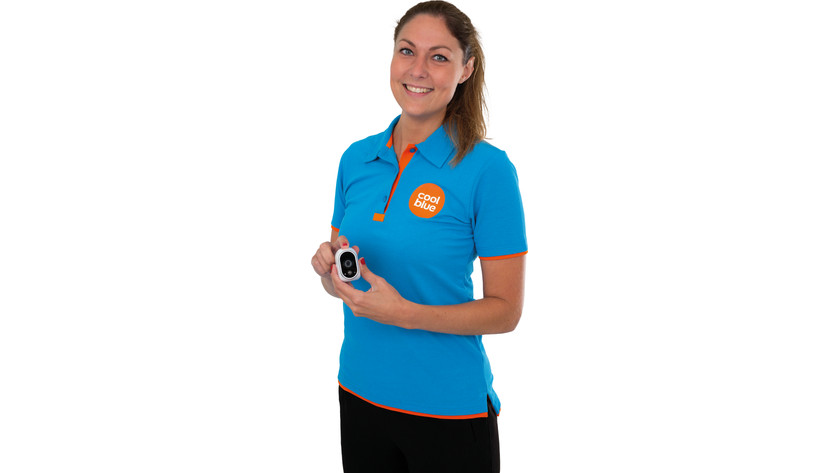 ---
Product description
With the Eufy by Anker Eufycam Indoor Cam 2K Pan & Tilt Duo Pack, you can secure 1 large room or 2 smaller rooms in your house completely. The motion sensor makes the cameras pan automatically, so you can see exactly what's going on. The footage has a resolution of 2K. As a result, the image is slightly sharper than Full HD footage. You connect this camera to the Eufy app on your phone. In case of distinctive sounds or motion detection, you'll receive a message right away so you can see the situation. And thanks to night vision, everything is also clearly visible in the dark. To save and review camera footage, you need an SD card or a cloud subscription.
Included by default
Manual

(3.17 MB)

AC adapter
Mounting material
Screws
Tips for using this product
Read our tips and find out all about how to set up your product and use it the right way.

---
Reviews
| | | | |
| --- | --- | --- | --- |
| 5 stars | | | |
| 4 stars | | | |
| 3 stars | | | |
| 2 stars | | | |
| 1 star | | | |
Most helpful reviews
Good camera for a good price!

Paulvk | 23 December 2020 | In the version: 1 | Automatically translated from Dutch

Some functions expire when homekit is switched on

Great camera for the money. Please note that certain functionalities, such as pan and tilt, are disabled when you start using the home kit.

Paulvk | 23 December 2020 | In the version: 1 | Automatically translated from Dutch

Top product with many options

Daan | 4 January 2021 | In the version: 1 | Automatically translated from Dutch

Clear image, even in the dark

Local Storage/NAS/Cloud Options

But can also be used without storage as a security camera. Sends screenshots that are visible in a preview with notifications (of course no playback option)

Viewing angle significantly larger when mounted on the ceiling

Not completely silent (but no disturbing noise)

No easy overview of usable microSD cards before purchasing

Camera purchased for basic security at home. Special features in addition to the aforementioned pluses and minuses:
- Number of options for sensors easy to set via the app, as well as the sensitivity for detection. (I'll have to play with this a little more to set it up perfectly, pet isn't always detected).
- Possibility to check certain areas as detection area instead of entire visible area.
- Real-time monitoring, control and sound throughput (in and out) works perfectly.
- Create profiles for different situations with different detection and notifications. (At home, away from home, self-configurable, etc.)
- Cloud storage paid, but at a pretty good price.
- I would have liked to have had an overview beforehand which microSD cards are accepted. Finally found on Eufy forum: speed class 10 or higher. Later after installation via app, a whitelist with specific cards (brand + type) can be found.
- Location was requested during product installation to ensure data is only sent over servers in your own country.

Daan | 4 January 2021 | In the version: 1 | Automatically translated from Dutch

Price quality a good product

Frank Vos | 30 November 2020 | In the version: 1 | Automatically translated from Dutch

I'm having a hard time connecting it to google assistant

Charging cable was included on the site. But it is not rechargeable

Bought to keep an eye on the dog during the day :)

Frank Vos | 30 November 2020 | In the version: 1 | Automatically translated from Dutch

Good price/quality ratio

Good product for use as a baby monitor

Azee Taher | 27 August 2020 | In the version: 1 | Automatically translated from Dutch

Perfect camera for sleepwalkers!

Different settings for detection

I like it very much, we bought this to monitor my sleepwalking because it would wake my partner up. Turns out she snores. The camera tracks the movement and the sound, so when I went for a walk myself we knew exactly where I had gone and what time it happened. Good quality, easy to use, and you can switch it off again. I will definitely buy 1 more!

Meester PK | 25 January 2021 | In the version: 1 | Automatically translated from Dutch

Super camera!

The eufy is easy to install. Full video recording is still possible for 3 days via micro SD card of 32 fb.

Also possible via the app to transfer photos and videos!

Lars Bloemers | 30 September 2020 | In the version: 1 | Automatically translated from Dutch

Excellent IP camera with excellent 2K image quality

Nice sharp picture and good sound

Many setting options (simple and clear)

Handy option to scale different security options in and out (on or present or day or night mode

Also works great in night mode without lighting

The camera angle is limited in the downward direction, which limits the placement options

Excellent camera for the home. Easy installation and many setting options. With 128 Gb on micro SD card, more than enough storage option without further subscriptions

Tom | 22 July 2021 | Automatically translated from Dutch

prima product voor die prijs!

prima beeld ook in het donker

voledig te besturen met de app 360 graaden

er zit een volgstand op en dat werkt goed camera volgt goed

er zit een microfoon in en een speaker voor 2 weg communicatie

de camera stopte elke keer bij het besturen en kijken, na lang zoeken op fora kwam ik erachter dat je de 2FA beveileging aan moest zetten dan werkt de camera prima.die optie vind je bij je email adres

voor die prijs vind je niets beters,ik gebruik de cam voor de baby kamer.
je kan de camere laten luisteren naar baby gehuil, dan krijg je een melding en kan je direct mee kijken om te zien en te horen wat er gebeurd.
ik heb de camera verbonden met mijn home base 2 waar ook mijn deurbel bij zit,je krijgt dan netjes 2 schrermen in de app deurbel en kinderkamer bv kan je zelf benoemen. wel 2FA aan zetten bij je email adres in de app, dan werkt de camera prima anders krijg je problemen met de verbinding.
verder is instalatie kinder spel gewoon de instructies volgen in de app QR code scannen wifi WW toevoegen en klaar.
in deze cam zit geen accu en komt met een kabel en een kleine voeding vergelijk baar met een telefoon oplader.
je kan de cam neerzetten, op de muur bevestigen of op het plafond.
in de app kan je aan geven hoe de cam staat of hangt en daar past de camera dan het beeld op aan.

marcel | 3 December 2020 | In the version: 1

wowwww beyond expectations works perfectly

good quality recording evening

app for this cam is very comprehensive

poor quality screws supplied

shame in homekit 1080P recording

great product, installation was easy. am very satisfied 360 turn. I think I am going to order an outdoor cam from this brand

J.E.C. Pieplenbosch | 25 October 2020 | In the version: 1 | Automatically translated from Dutch

Good purchase

Nice thing, easy to install, many possibilities, great app

Geerts123 | 25 December 2020 | In the version: 1 | Automatically translated from Dutch
Specifications
Product
Product number

863426
Manufacturer code

T8410322
Brand

Eufy
Warranty

2 years
Warranty type

Carry-in warranty
Old product returned for free
Image properties
Video resolution width

2048 pixels
Video resolution height

1080 pixels
Type of image definition support

Full HD (1080p)
Image quality according to customers

Excellent
Pan
Pan type

Digital
Degrees of panning

360 °
Tilt
Tilt type

Digital
Tilts

93 °
ePTZ
Zoom (IPcam)
Digital zoom

8
Vertical viewing angle

56 °
Horizontal viewing angle

105 °
Fisheye
Frames per second

15 fps
Lens diameter

14 m
Camera options
Number of cameras

1
IP camera type

HD camera, Indoor camera, Night camera, PTZ camera, WiFi camera
Usage location

Indoor
Alarm system needed for use
Subscription needed for full use
Motion detection sensor
Infrared lighting
Infrared light range

10 m
Infrared motion sensor
Suitable for placement behind glass
Dynamic DNS client
Integrated microphone
Review happening
Number of seconds to review happening

0 s
Streaming
Other properties
Power supply type

Grid current
Battery (power source)
Storage options

Cloud, NAS, SD card
SD card slot
Type of SD card

MicroSD card
Number of days you can view for free

30 days
Installation ease according to customers

Very simple
Integrated WiFi
PoE support
UPnP AV support
ONVIF certified
PSIA certified