Karcher SC 3 EasyFix Premium + Microfiber Floor Pads
In the version
Basic model including special floor cloths
Be the first to know when this product is in stock
---
Product information
Pros and cons
According to our steam cleaner expert
Thanks to the extra microfiber floor pads, you always have a clean pad on hand to steam with.

With the included anti-limescale cartridge, you keep your steam cleaner in good condition for longer.

You can also use the steam cleaner to clean carpets or rugs.

The steam intensity of this steam generator isn't adjustable.

The water tank can't be detached, so you can't refill it under the faucet.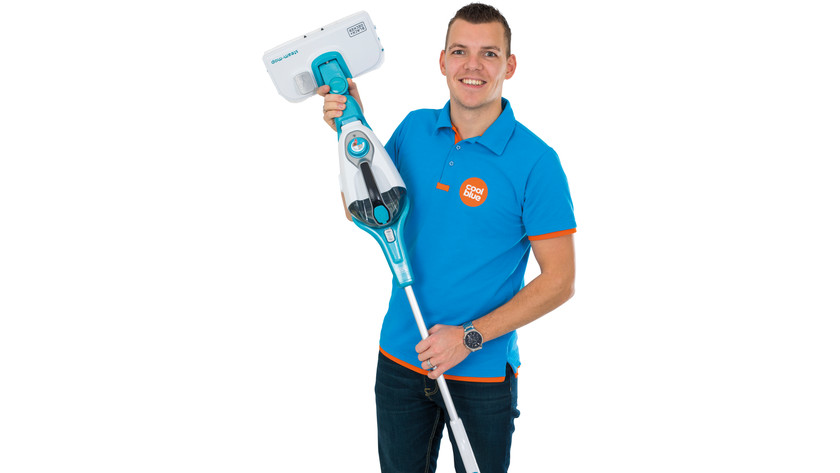 ---
Product description
With the Karcher SC 3 EasyFix Premium + Karcher Microfiber Floor Pads, you get enough floor pads for all your steaming jobs. In addition to cleaning small surfaces and hard floors, you can also clean low-pile carpets or rugs with the steam cleaner. You clean carpets and rugs with the special floor pads that easily glide over your carpet. And you can use the microfiber floor pads on smooth floors or smaller surfaces, for example. The microfiber absorbs more moisture than cotton and lasts longer. That's useful, as the surfaces dry right after steaming. With the extra pads, you always have one on hand and have enough for when you've put one in the washing machine.
Included by default
Kärcher SC 3 EasyFix Premium
Manual
Hard flooring brush
Carpet brush
Square brush
Point jet nozzle
High-pressure nozzle
Round brush
Large round brush
Microfiber cover
Microfiber floor cloth (2x)
Extension tubes
Descaling cartridge
Karcher Microvezel Vloerdoeken 2 stuks
Manual
Microvezel vloerdoeken (2x)
---
Reviews
| | | | |
| --- | --- | --- | --- |
| 5 stars | | | |
| 4 stars | | | |
| 3 stars | | | |
| 2 stars | | | |
| 1 star | | | |
Most helpful reviews
I would like to propose to him

Dionne | 11 April 2018 | In the version: Basic model | Automatically translated from Dutch

quickly ready for use

good accessories

nice and manoeuvrable

hygienic

I can keep going

haven't come across anything yet

Rarely have I been so enthusiastic about a purchase as I was about this steam cleaner. I used to have a cheap stick steam cleaner and I thought that was such a nice way of "mopping", but this easily manoeuvrable, light, quickly heated up, easily adjustable Kärcher exceeds all my expectations. It took some effort to write this review, but I really have to shout it from the rooftops. If you are used to mopping by hand, your life will be much more pleasant with a steam cleaner and if you also make this your own, cleaning becomes even more fun! If I wasn't already married, I'd propose to this device. Take advantage of this review, I fully support it (however crazy).

Dionne | 11 April 2018 | In the version: Basic model | Automatically translated from Dutch

Great device. Very satisfied with this purchase.

Birgit Hamelrijckx | 16 August 2018 | In the version: Basic model | Automatically translated from Dutch

No polish needed

Top up without interruption

Haven't found any cons yet

I have an annoying shower cubicle with many inaccessible nooks and crannies where the dirt likes to stay. With this device you can get all this away without much effort in a short time.
I have often been tempted by promises that brushing would be faster and easier with all kinds of products and devices. Often (or actually always), I was disappointed. It continues to polish ( bwueèèks ) but with this device it goes better and without products. I think it is recommended!

Birgit Hamelrijckx | 16 August 2018 | In the version: Basic model | Automatically translated from Dutch

Awesome!! Never without it again!

Kelly | 26 December 2019 | In the version: Basic model | Automatically translated from Dutch

Easy to use

No cleaning agent needed

Good price/quality

Top up in between

With 4 huskies and children I used to use a scrubber and a vacuum cleaner every day (time-consuming) to get the tile floor completely clean again. Now with this Kärcher these have become completely superfluous! Interim refill so I do not need the larger variant (again saves space). In between I just clean the floor cloth in a bucket of hot water, so extra cloths would only be a luxury but not a necessity, after use in the wash.
It has really made cleaning easier for me, the floor is getting its shine back and even the joints are completely clean again. Also the smell of wet dog, which every dog owner might recognize with rainy weather, disappears like snow in the sun!

Kelly | 26 December 2019 | In the version: Basic model | Automatically translated from Dutch

Great... cleaning is going to be fun again

Heats up very quickly

Cleans without applying force

Kill the bacteria

Refill without waiting you don't have to turn it off first

Automatic descaling.. the previous one I descaled every time and after a year and a half this one was broken

Cord could have been longer

It's a gift from heaven. Because of my muscle disease, I can't soak thoroughly, so this steam cleaner is really a gift. This is my 2nd karcher and recommend him to everyone

mariska van soest | 9 January 2020 | In the version: Basic model | Automatically translated from Dutch

simple but easy device

light

easy

does what it's supposed to do

short cord

It's a simple device, but it does what it's supposed to do. An extra cloth would have been added for this price. But still happy with it.

S Matthijsse | 27 June 2018 | In the version: Basic model | Automatically translated from Dutch

Good choice!

refilling water is possible during use

can hold 1 liter of water, does not run out quickly

unbelievable how much dirt came off the floor!

yes you can clean so many different things with it!

short handle for tall people

cord could have been a little longer

ordering extra cloths very pricey

Bought because my dog unfortunately has a contagious intestinal parasite and I no longer knew how to get everything clean.... Searched a lot on Google for experiences and came across this. No regrets!

Sandra | 25 February 2018 | In the version: Basic model | Automatically translated from Dutch

Fine steam cleaner

Easy to use

Good result

Fine lime pattern

Cord too short

Fast results on large surfaces

P Mannak | 21 May 2018 | In the version: Basic model | Automatically translated from Dutch

very satisfied with the purchase

great steam power

easy to use

economical

lightweight

ideal for steaming wooden garden furniture

leaves floor fairly wet after use so dry mopping is sometimes part of it

quite satisfied

Gerda Vermoesen | 12 May 2018 | In the version: Basic model | Automatically translated from Dutch

Clean house in an instant

Light and flexible

Solid Kärcher quality

Easier to store than you think

Water consumption is top, you clean with little water

Cord is a bit too short

More constant pressure (bar) is desirable

An internal cord reel would be a good addition

The low water consumption and ease of use convinced me. The result is certainly worth it. It also makes cleaning a bit more fun, which is certainly positive!

Zino-Carlos Van den Berghen | 23 July 2018 | In the version: Basic model | Automatically translated from Dutch

Good, fast and user-friendly

Warms up quickly

Good steam

light weight

Versatile in use and you can expand it

Stays quite wet

Product does what it's supposed to do. Gives good steam, works nice and fast and easy. Thanks to the attachments, the device can be used for many things.

Suus | 19 November 2019 | In the version: Basic model | Automatically translated from Dutch
Specifications
Product
Product number

803369
Manufacturer code

1.513-160.0
Brand

Karcher
Warranty

2 years
Processing of your defect

Via Coolblue
Old product returned for free
General properties
Maximum steam pressure

3,5 bar
Warm-up time

0,5 min
Adjustable steam intensity
Handle(s)
Water tank capacity

1 l
Battery life with full water reservoir

20 min
Usage options
Steam cleaner use

Bathroom and sanitary ware, Flooring, Kitchen, Windows
Retractable cord
Parking mode
Operation via handle
Suitable for use as an iron attachment
Integrated handheld steamer
Child lock
Removable water tank
Water level indicator
Can be refilled during use
Power supply
Power source
Cable length

4 m
Power

1900 W
Power supply type

Grid current
Operating radius

6 m
Physical properties
Height

25,3 cm
Width

23,6 cm
Depth

36 cm
Weight

3,1 kg
Color

White
Material

Plastic
Product
Product number

803445
Manufacturer code

2.863-259.0
Brand

Karcher
Warranty

2 years
Processing of your defect

Via Coolblue
Properties
Color

White
Depth

4 cm
Height

20 cm
Width

12,5 cm
Number in packaging

2
Wasbaar
---