Tado Smart Thermostat V3 + Starter Pack + 6 Radiator Knobs
Available for pickup even sooner
---
Product information
Pros and cons
According to our thermostat expert
The thermostat is compatible with Google Assistant, Alexa, Apple HomeKit, and IFTTT.

The thermostat is suitable for all types of boilers.

This thermostat is energy-efficient, thanks to functions such as switching off when you leave home, open window detection, and the ability to control it from a distance.

Check what kind of radiator knob you have in advance, as this radiator thermostat isn't suitable for radiator valves by Vaillant, Oventrop, Ista, and Orkli.

In order to use all features (the full option app), you have to pay € 24.99 per year (€ 2.99 per month).

The installation is difficult because you have to reconnect the existing wiring, for example.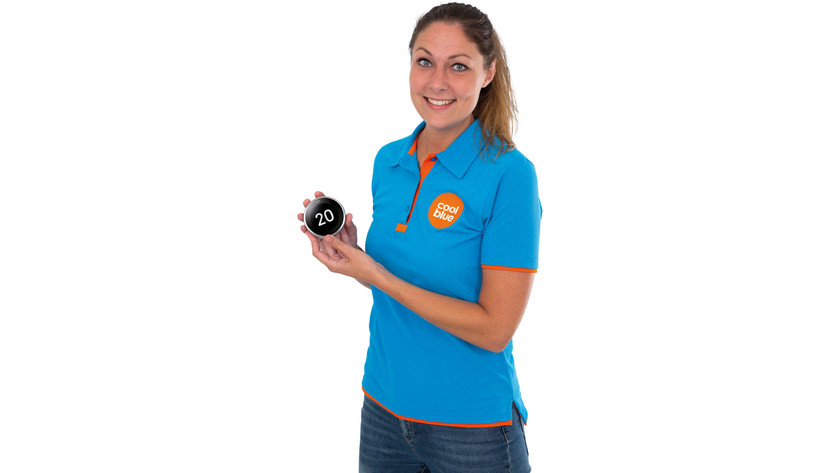 ---
Product description
The smart radiator thermostat from Tado doesn't work with all brands of radiator valves. Check beforehand which brand of thermostat knob you have. The radiator knob from Tado is suitable for valves from Caleffi, Comap, Danfoss, Giacomini, Herz, Olymp, Siemens, and Terrier.
The Tado Smart Thermostat V3+ Smart Thermostat including 6 Radiator Knobs can make your home more efficient. The V3+ is compatible with all smart platforms. Add the included radiator knobs and you can even set the temperature per room. You can also control the thermostat wherever you are with the Tado app. In the app, you can set a weekly schedule so it's always nice and warm when you come home. Because the thermostat is constantly connected to your smartphone, it knows exactly when you're near your home. This means you won't have to heat your home unnecessarily, which saves you a lot of money. The same is true for the open window detector. When the window is open, the thermostat automatically lowers the temperature by a few degrees.
For the thermostat's wired connection, connect the thermostat to the wires of your current thermostat. Are you using the thermostat wirelessly? In that case, you'll need the extension kit to fully connect the thermostat. This isn't included by default.
Included by default
Tado Smart Thermostat V3+ Starter Pack + 2 Radiator Knobs
Manual

(2.38 MB)

Radiator Knob (2x)
AAA battery (3x)
Labeling for cables
Double-sided tape (2x)
Wall mount screw (2x)
Wall plug (2x)
Tado Internet Bridge
Power adapter EU
Power adapter UK
USB cable
Ethernet cable
Tado Smart Radiator Thermostat 4-Pack (expansion)
Manual

(1.71 MB)

Radiator thermostat (4x)
AA battery (8x)
Adapter ring (12x)
---
Visit one of our stores, also by appointment
Get advice from an expert

We have stores in Amsterdam, Arnhem, The Hague, Eindhoven, Groningen, Haarlem, Leiden, Rotterdam, Tilburg, and Utrecht
---
Reviews
| | | | |
| --- | --- | --- | --- |
| 5 stars | | | |
| 4 stars | | | |
| 3 stars | | | |
| 2 stars | | | |
| 1 star | | | |
Most helpful reviews
Smart product with good design

Fang Ren | 11 January 2020 | In the version: Smart radiator thermostat | Starter pack | 1

Works well with Google home

Multiple sensors could detect air quality in the room, whether there is window or ventilation open in the room and giving advices

Easy to install with derailed instructions

Make some noise when adjusting the valve

Easiness to work with Google home

Fang Ren | 11 January 2020 | In the version: Smart radiator thermostat | Starter pack | 1

Very good product to manage your heating via app

Oleksii Poliakov | 7 December 2020 | In the version: Smart radiator thermostat | Expansion | 2

Friendly customer support

Doesn't work with non-thermostatic valve

It was not easy to install because I had an "old school" non-thermostatic valves, and had to replace them first which costed some money

Oleksii Poliakov | 7 December 2020 | In the version: Smart radiator thermostat | Expansion | 2

I fully recommend this product for

Floris van Lieshout | 12 February 2019 | In the version: Smart radiator thermostat | Expansion | 4

Automatically schedule every room with its own temperature

Works with Siri, so just say: 'make my bathroom 22Cº' and it's done! Really great!

Makes some noise when turning on or off. Not much, but for sensitive people this might not be nice in the bedroom

It's very easy to install, instructions step by step in app. Works right out of the box (make sure you have a tado bridge already installed) Automate your routine and have comfortable temperatures always.

Floris van Lieshout | 12 February 2019 | In the version: Smart radiator thermostat | Expansion | 4

Great product for easy control of total house temperature co

Easy to install and operate

Great features on tado app

Great cool blu next day delivery, easy to install, unfortunately one of the thermostats had flat batteries straight from the box, but easy to change and get up and running

Nick Cooper | 6 March 2020

Excellent quality product with good infrastructure around it

It works

Kostiantyn Falko | 9 December 2020 | In the version: Smart radiator thermostat | Expansion | 2

Fast delivery and awesome profuct to use

Instructions are quite clear for installing via app

Very user friendly and easy to use

Very easy to install and all attachments to replace various brands of radiators

Amit Gupta | 21 February 2021 | In the version: Smart radiator thermostat | Starter pack | 1

My best buy of 2020!

Good control over the temperature in every part of your house

Fits on most CVs and radiators

Does not follow your schedule when the internet is down

Installing the thermostat & radiator-heads where much easier than expected. The whole system worked really well out of the box, with minimal work needed. My gas usage has reduced by almost 30% since I installed the thermostat, whilst keeping the whole house at a comfortable temperature.

Cristo van Waveren | 18 December 2020 | In the version: Smart radiator thermostat | Expansion | 4

First impressions: recommended.

Some features are locked behind a pay wall

No option to have the thermostats always show current temp

It does what it is supposed to, without over complicating things too much.

Gabriele Bartoli | 17 December 2020 | In the version: Smart thermostat | Starter pack | 2

My best buy of 2020!

Integrates with Apple Homekit

Includes various adapters for radiators

Does not follow your schedule when the internet is down

Adding this to my house has greatly reduced the amount of gas we use, whilst keeping the house at a comfortable temperature. You can set a separate schedule for each room, ensuring that you only heat rooms when you need to.

Cristo van Waveren | 18 December 2020 | In the version: Smart radiator thermostat | Expansion | 4

Superspullen!

Tado ziet er mooi uit. Eenvoudig installeren al moet je mogelijk een beetje sleutelen aan je leidingwerk. Prachtige app en het werkt gewoon allemaal.

Jan Veenman | 19 December 2020 | In the version: Smart thermostat | Starter pack | 2