Lenovo Tab M10 HD (2nd generation) 32GB WiFi Gray + Lenovo Book Case Black
Version
: 32 GB
|
Tablet cover
Available for pickup even sooner
---
Product information
Pros and cons
According to our tablet expert
The included book case protects the front and back of the tablet from scratches and dents.

Thanks to Google Kids Space, the tablet is full of fun and educational content for children.

You can smoothly switch between different apps thanks to the powerful Octa-Core processor.

Due to the 1280x800 resolution, the 10.1-inch screen isn't as sharp as other tablets in this price range.

It's not possible to connect to the internet via 4G with this model.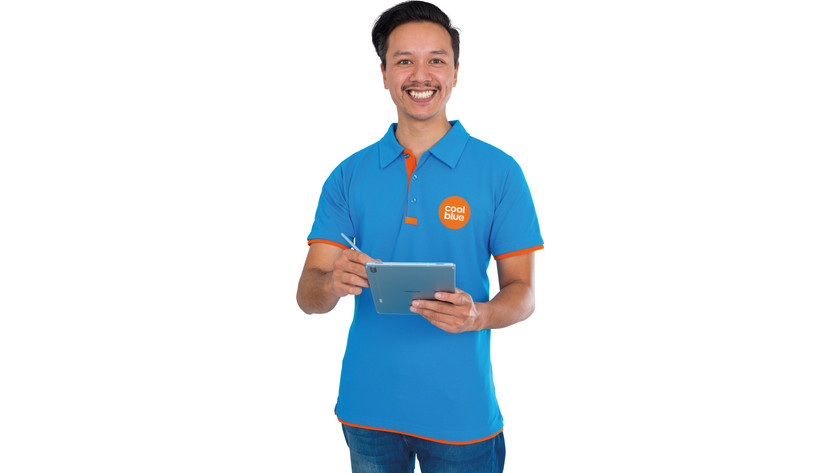 ---
Product description
Feel free to take the Lenovo M10 HD (2nd generation) 32GB WiFi Gray anywhere with you, because the included tablet cover prevents damage to the screen and the stylish metal casing. The affordable 10.1-inch tablet is suitable for the whole family. With 2GB RAM and an Octa-Core processor, the tablet is fast enough for social media, online shopping, and simple games. The Tab M10 HD is also suitable as a children's tablet thanks to the Google Kids Space app. This app is full of apps, books, and videos that suit the age and interests of your child. You can set up multiple profiles, so the whole family can use the tablet. The 32GB storage is limited, but you can expand it up to 256GB with a memory card.
Included by default
Lenovo Tab M10 HD (2nd Generation) 32GB WiFi Gray
Manual

(4.85 MB)

Charger (10W)
USB-A to USB-C cable
Tips for using this product
Read our tips and find out all about how to set up your product and use it the right way.
---
Reviews
| | | | |
| --- | --- | --- | --- |
| 5 stars | | | |
| 4 stars | | | |
| 3 stars | | | |
| 2 stars | | | |
| 1 star | | | |
Most helpful reviews
Quality for "little" money. I Apple worthy tablet

Philip | 10 July 2021 | In the version: 32 GB | No accessories | Automatically translated from Dutch

Handy for people who normally work with iOS

Parental Controls / Google kids

Memory full —-> insert memory card

I will start with what was very difficult for me. Let go of Apple and iOS. I was looking for a tablet for my children. After long hesitation between this version and the previous model, opted for this version. (Metal instead of plastic, better camera) and thinner.
I really have to admit: this tablet is super, is it comparable to Apple? Yes and no I'll just motivate my yes:
The tablet is sturdy, beautiful and the screen is crystal clear! You can easily expand your memory with cards, which cost a fraction compared to internal memory.
It is a very solid pad, after installing this device I felt a bit robbed by Apple. It's daring to step away from Apple.
The installation was done on 1-2-3. The parental controls are fantastic, your child can learn to use a tablet in a safe way. What is Parental Controls? Google guide is a program on its own. The tablet is then very easily and safely accessible for the children. You will receive a message when they have installed an app. If they want to install a paying app or something that is not appropriate for their age, you as parents have to give your permission.
No: iOS is a bit more user-friendly in MY opinion/habit.

My next tablet will be a Lenovo, believe me I am all Apple fan. Why not an iPad? This one is perfect for what I would use it, email, notes, Office…. I use my tablet as a 2nd instrument, my main computer is my MacBook, so this tablet would be the perfect addition for me too! Lenovo, Coolblue thanks for this wonderful product at a fair price.
PS: I have 2 of these devices in the meantime
PS: in the photo you can see the tablet (including greasy fingers), glass and protective cover for children. Drop him, nothing's coming.

Philip | 10 July 2021 | In the version: 32 GB | No accessories | Automatically translated from Dutch

Great tablet for kids.

Alwin Siemeling | 29 December 2020 | In the version: 64 GB | No accessories | Automatically translated from Dutch

Perfect for children by Kids space

4 days with battery under normal use

Charging takes a little longer

With 2 child accounts some loading time needed for app

After kids space once worked with two children's accounts, it works very nicely. Also monitoring via your own phone via Google Family.

Alwin Siemeling | 29 December 2020 | In the version: 64 GB | No accessories | Automatically translated from Dutch

Very good tablet for a good price.

s van den Heuvel | 29 January 2021 | In the version: 64 GB | No accessories | Automatically translated from Dutch

Nice tablet. Everything works fast. The battery life is long which is nice. Very happy with this tablet.

s van den Heuvel | 29 January 2021 | In the version: 64 GB | No accessories | Automatically translated from Dutch

Excellent value for money

All kinds of accounts needed for installation.

Nice and clear image, great tablet to manage your affairs. Handy to take with you and watch a movie or play a game in the most pleasant places.

Irma Meulendijk | 5 December 2020 | In the version: 32 GB | No accessories | Automatically translated from Dutch

topper

Good tablet for little money

Ron Moerkerken | 28 October 2020 | In the version: 32 GB | No accessories | Automatically translated from Dutch

great tablet for this price

closing apps is a bit tricky

it is lighter than the previous model and is nice and fast

Ton | 29 September 2020 | In the version: 32 GB | No accessories | Automatically translated from Dutch

Worth repeating

Immediately a good feeling.

Mary | 6 November 2020 | In the version: 64 GB | No accessories | Automatically translated from Dutch

It is recommended

Nice device to work with

Rob | 20 June 2021 | In the version: 64 GB | No accessories | Automatically translated from Dutch

Good price quality ratio

Relatively low screen resolution

Ideal tablet for little money with which you can multitask well

Ruben Slingerland | 16 June 2021 | In the version: 64 GB | No accessories | Automatically translated from Dutch

Does what it should.

Nice tablet for the kids.

C H | 14 January 2021 | In the version: 64 GB | No accessories | Automatically translated from Dutch
---
Visit one of our stores, also by appointment
Get advice from an expert

We'll also help you set up your tablet.

We have stores in Almere, Amsterdam, Arnhem, The Hague, Eindhoven, Groningen, Haarlem, Leiden, Rotterdam, Rotterdam Alexandrium, Tilburg, and Utrecht