Marvel's Spider-Man Miles Morales PS4 + Cyberpunk 2077: Day One Edition PS4 & PS5
---
Product information
Pros and cons
According to our game expert
Thanks to the extensive storyline of these games, the player has hours of gaming fun.

You can also play these games on the PS5 after a free update when you insert the disc into the PS5 controller.

Since the games support 4K resolution, the gameplay looks up to 4 times more realistic on a 4K monitor or TV than in Full HD.

Since this game doesn't have a multiplayer mode, you can only play this game with 1 player.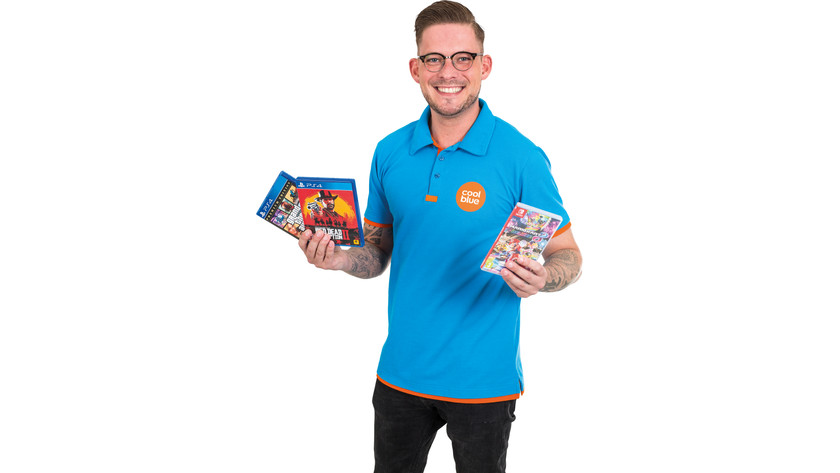 ---
Product description
With the Marvel's Spider-Man Miles Morales PS4 + Cyberpunk 2077: Day One Edition PS4 & PS5 bundle, you choose for many hours of gaming fun. The storyline of Marvel's Spider-Man Miles Morales and Cyberpunk 2077 are very extensive. Both games support the 4K resolution, making gameplay on a 4K monitor or TV look 4 times more realistic than gameplay in Full HD. In addition, both games are compatible with the PS4 and PS5. You insert the game's disc into the PS5 console and download the updates for the game, then play the game on the PlayStation 5.
Put on the Spider-Man suit and be a hero in Marvel's Spider-Man: Miles Morales for the PlayStation 4. In this game, you have incredible powers and fight evil in the open world game. You can play this game with 1 person at most.
Free PS5 upgrade
You can also play this game on the PS5. Simply place the CD of this game in the PS5 console and install the game. When it's installed, you can play this game on the PlayStation 5. Keep in mind that the disc of the game has to be in the console in order to play.
Bigger than you
Step into the world of Miles Morales, a completely new Spider-Man with incredible, explosive powers.
Marvel adventure
In the latest adventure from the universe of Marvel's Spider-Man, the teenager Miles Morales has to get used to his new home. In addition, he'll follow in the footsteps of his mentor Peter Parker to become the new Spider-Man.
Red New York
A destructive power threatens his new home, which forces our new hero to quickly realize that with great power comes with great responsibility. To save New York from Marvel, Miles has to perfect his new skills as Spider-Man super fast.
Miles Morales, a new hero
Miles Morales discovers that he has explosive powers that set him apart from his mentor Peter Parker. He's very acrobatic, has gadgets and skills, but also bio-electric Venom attacks and camouflage.
A battle for power
An evil energy company and a gang of criminals with high-tech weapons battle for power in the New York from Marvel. Miles' new home is the main battleground. He learns that as a hero, he has to make sacrifices for the greater good sometimes.
A new, lively environment
Explore the snow-covered streets of a lively neighborhood in which Miles is trying to find his way. When the boundary between his personal life and his life as a crimefighter becomes less clear, he discovers who he can trust and what it's like to feel at home.
Specifications
Product
Product number

871323
Manufacturer code

9817321
Brand

Sony
Warranty

2 years
Warranty type

Carry-in warranty
Platform compatibility
Computer platform

PlayStation 4
recommended for Virtual reality
Game properties
Game genre

Action
Data carrier

Blu-ray
Limited edition
Developer

Insomniac Games
Publisher

Sony Computer Entertainment
Number of players
Offline mode

1
Offline co-op mode

1
Online
Language
Menu language

Dutch, English, French
Spoken language

Dutch, English, French
PEGI
PEGI (age)

16+
PEGI (content)

violence
Product
Product number

856445
Manufacturer code

113982
Brand

Namco
Warranty

2 years
Warranty type

Carry-in warranty
Platform compatibility
Computer platform

PlayStation 4, Playstation 5
recommended for Virtual reality
Game properties
Game genre

Action, Role playing, Shooter
Data carrier

DVD
Limited edition
Developer

CD Projekt
Number of players
Offline mode

1
Offline co-op mode

1
Online
Language
Menu language

English
Spoken language

English
PEGI
PEGI (age)

18+
PEGI (content)

foul language, sex, violence
---
Related products
Related products
This is the one

Marvel's Spider-Man Miles Morales PS4 + Cyberpunk 2077: Day One Edition PS4 & PS5
In the composition: Spider-Man Miles Morales PS4 + Cyberpunk 2077