Asus RT-AX58U AiMesh Duo Pack
---
Product information
Pros and cons
According to our Router expert
These routers have AiMesh, so you can connect them to each other to create a multi-room WiFi network.

Thanks to WiFi 6, you can have a 3 times faster connection on multiple devices at the same time with this router.

This router has a virus scanner to protect your network against unwanted intruders.

To benefit from the highest speed that this router offers, all connected devices have to support Wireless AX.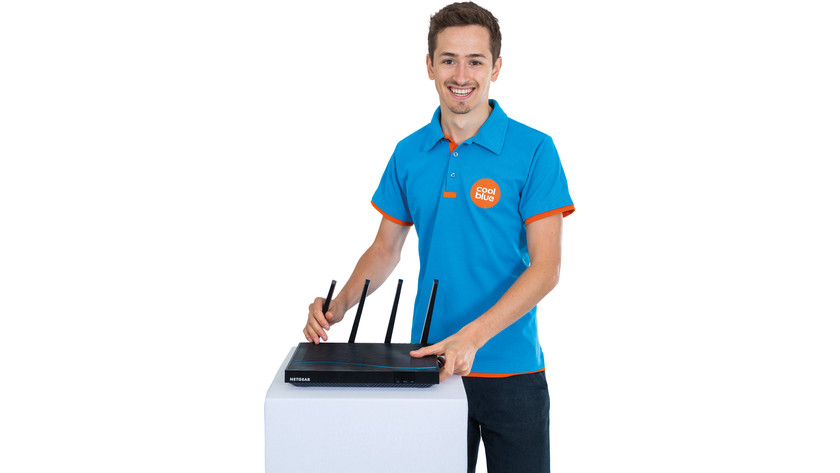 ---
Product description
The Asus RT-AX58U AiMesh Duo Pack is a set of 2 routers which you can connect with each other via AiMesh. This way, you have good WiFi on 2 floors. This set is suitable for a household with a lot of appliances with a wireless connection to the internet. This router has WiFi 6, which provides dozens of devices with WiFi at the same time. Without the network slowing down. Thanks to the newest version of WiFi, the wireless network is about 3 times faster than a standard WiFi 5 router as well. In addition, you can protect your home network from hackers and viruses with this router. It has an integrated virus scanner from Trend Micro. And with the WPA3 encryption, you'll know for sure no one is breaking into your WiFi network.
Included by default
Manual
Power cable
Antenna (4x)
Network cable
Tips for using this product
Read our tips and find out all about how to set up your product and use it the right way.

---
Visit one of our stores, also by appointment
Get advice from an expert

We have stores in Almere, Amsterdam, Arnhem, The Hague, Eindhoven, Groningen, Haarlem, Leiden, Rotterdam, Rotterdam Alexandrium, Tilburg, and Utrecht
---
Reviews
| | | | |
| --- | --- | --- | --- |
| 5 stars | | | |
| 4 stars | | | |
| 3 stars | | | |
| 2 stars | | | |
| 1 star | | | |
Most helpful reviews
cool

Gerard Druiven | 29 September 2020 | Number of stations: 1 | Automatically translated from Dutch

No hassle with installation, super slick

Connected devices immediately recognized the asus router

The app used for install works really perfectly

Still good reach in the back of the garden

Not noticed yet. One can think, this man reviews for the chance to win 100 euros, no, compared to other installation routers this was really perfect

Fast smooth installation, excellent coverage throughout the house and backyard

Gerard Druiven | 29 September 2020 | Number of stations: 1 | Automatically translated from Dutch

A very good router for a good price.

Guido | 12 October 2020 | Number of stations: 1 | Automatically translated from Dutch

Good and stable home network!

Speed both wired and via the WIFI

Range 2.4GHz compared to the previous router slightly less

A very good router for setting up a stable home network with many devices. The router is equipped with the latest WIFI6 technology, so you can use it for many years to come. The router delivers very good performance despite having many devices connected, all in all a very good router for a good price!

Guido | 12 October 2020 | Number of stations: 1 | Automatically translated from Dutch

A very good router for a good price.

Guido | 14 October 2020 | Number of stations: 1 | Automatically translated from Dutch

Clear app and web page (settings)

Good and stable home network!

Speed both wired and via the WIFI

Range 2.4GHz compared to the previous router slightly less

The router is very easy to install, even for someone who doesn't know much about it. The router is equipped with WIFI6, this is the latest generation of WiFi and with this you are ready for the future. I have been using the router for about 2 weeks now and I am extremely satisfied with my purchase! More than 20 devices are connected, despite the many devices there is a stable network with super fast internet. If I have to mention a 'less' point, it is the range of the 2.4Ghz, which is slightly less compared to my previous router (netgear R7000). Nevertheless, this router is a huge progress and I can recommend everyone to buy this router!

Guido | 14 October 2020 | Number of stations: 1 | Automatically translated from Dutch

Super router with a lot of functionality!

Custom firmware possible!! (Asuswrt-merlin)

VPN client/server capabilities

Built-in security options

Router in meter cupboard sometimes gives weak signal on 5Ghz band

Overall very satisfied with this Router! Everything was set up from day 1 (custom firmware asuswrt-merlin, vpn client and server, adblocker, etc.) and I am very satisfied with how this router performs! The signal from the meter box is sometimes weak, but we can do something about that ourselves. Very satisfied! (And of course the super fast service from coolblue! Great!)

Daniël | 5 August 2020 | Number of stations: 1 | Automatically translated from Dutch

Good product recommended

Equipped with the latest WiFi technology and therefore future proof as well as technically good price Compared to other AX routers

Freddy den Boer | 7 April 2020 | Number of stations: 1 | Automatically translated from Dutch

If only we had ordered this device sooner.

Installed very quickly and works like a charm. Love your communication too; Products polonaise, brilliant!

Sara | 8 October 2020 | Number of stations: 1 | Automatically translated from Dutch

compared to my old RT-AC68U less range, but faster

Usually I don't give much importance to negative reviews, but the comments about the range are unfortunately true. Everything is relative, of course, because it always depends on what you compare with.

I have now bought the RT-AX58U and can compare 1 to 1 with my old RT-AC68U. The range in 2.4GHz is deplorable (3 meters less and so 3 rooms are now out of reach) and let it be the reason that I was looking for a new router, increase the range even more, so that I can use the old RT-AC68U via aimesh could cover the whole house. Now it turns out that the new one doesn't even get as far as the old one, so I can't place the old one where I was hoping to cover the whole house.

I'm hesitant to return the RT-AX58U and maybe make some money for an RT-AX86U. (only positive reviews about reach)

I only have a few WiFi 6 devices (only my S10) but I still want to be ready for the future.

The router has now been installed for an hour, so go to the settings to see if there is anything more you can do. If that doesn't work, it will be returned.

It's a good router, with sufficient speed and WiFi6, but due to less range, it doesn't meet my needs at the moment.

Steven Van Nuffelen | 14 March 2021 | Number of stations: 1 | Automatically translated from Dutch

feature-rich and future-proof.

Beautiful and user-friendly interface

Fast, strong and stable WiFi connection

Looks cool without being too gamey

Good insight into internet use

Block Malicious Websites at Router Level

Took a while before it grabbed the dhcp from provider

A bit on the expensive side, but you get the latest features for that, the internet has never been so stable, never connection problems, ping is super stable. I also always reach the limit of my subscription (250 mbit) over WiFi. Never had to reset and can handle a smartphone system with a number of devices.

Jelle Metzlar | 1 November 2020 | Number of stations: 1 | Automatically translated from Dutch

Just good

Set up as AI mesh access point. Don't worry about it anymore.

Have been working with Asus for years with no major issues. Expect this now also after this upgrade.

Rene V. | 4 December 2020 | Number of stations: 1 | Automatically translated from Dutch

Fast reliable router for a reasonable price. Recommended!

Installation was a breeze

Range is great and nice and fast

Design router is not too bulky

superrouter,
Small and compact and with a long reach.
Thanks to these Coolblue heroes, I can enjoy Netflix and in the garden.

Rob | 18 April 2020 | Number of stations: 1 | Automatically translated from Dutch
Specifications
Product
Product number

841263
Manufacturer code

90IG04Q0-MO3R10
Brand

Asus
Warranty

3 years
Warranty type

Carry-in warranty
Old product returned for free
Router options
Type router

Gaming router, WiFi router
Speed class

High-end
Number of stations

1
Can be expanded with extra stations
Parental controls
Mounting possible
USB port
Guest network
VPN server
VPN client