Ring Video Doorbell Gen. 2 Dark Bronze + Chime Gen. 2
Version
: 1
|
Bronze
|
Doorbell chime
Be the first to know when this product is in stock
---
Product information
Pros and cons
According to our Doorbell expert
Thanks to the included chime, you'll hear a signal at a fixed location in the house when someone rings the doorbell.

You can talk to your visitor remotely thanks to the built-in speaker and microphone.

With motion detection up to 9m even in the dark, you'll receive a notification via the app.

You'll need a strong WiFi signal near your front door to use this doorbell, so consider getting a WiFi extender to create a strong WiFi network.

It's only possible to store and share footage if you also get a Ring Protect subscription.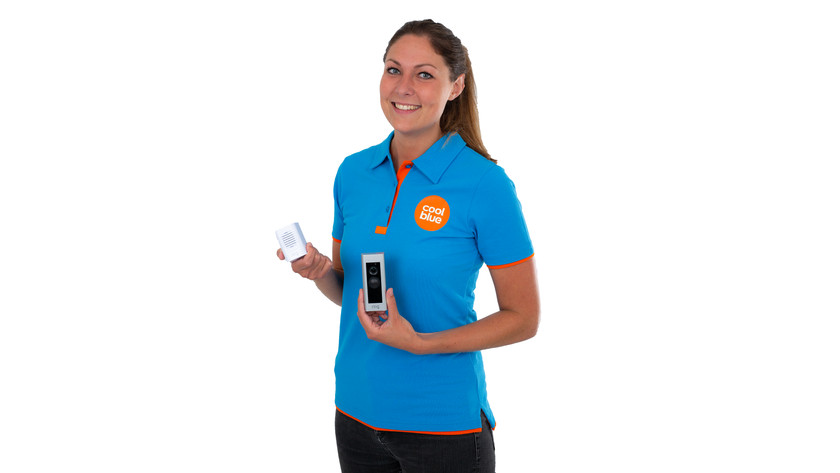 ---
Product description
With this Ring Video Doorbell Gen. 2 package, you'll hear a signal in your home when someone rings the door and you'll see who's in front of your door right away. The image quality of this second generation Ring has been improved to Full HD. Thanks to the infrared night vision, you can also see who's at your door in the dark. The camera automatically takes a screenshot when it registers movement up to 9m and notifies you via the app. This way, you know what to expect when you open the door. You need a subscription to save recorded footage in the Cloud. You pay a monthly or annual fee for this.
Tips for using this product
Read our tips and find out all about how to set up your product and use it the right way.

---
Reviews
| | | | |
| --- | --- | --- | --- |
| 5 stars | | | |
| 4 stars | | | |
| 3 stars | | | |
| 2 stars | | | |
| 1 star | | | |
Most helpful reviews
Better motion alerts, even if you don't have a front yard

Uhro | 27 May 2020 | In the version: 3 | Silver | Nothing included | Automatically translated from Dutch

Better motion alerts, even if you don't have a front yard

Easy to install and operate

You really need a chime if you want to hear the bell all the time

With the Ring Video Doorbell 3, Ring promises several improvements compared to the Ring 2. For example, it should be easier to determine which movements you receive a notification about. That is useful for me. I don't have a front yard and don't want notifications about every pedestrian or cyclist.

Fortunately, in the Ring app you can set how strongly the motion detection reacts in 4 ways. You first choose the distance, which is now adjustable from 1.5 meters instead of 5 meters with the Ring 2. A huge improvement with a footpath in front of the door. Then you choose which corners the Ring 3 monitors and which not. You also set the sensitivity and determine how long and often the doorbell rings. I'm very happy with that. That way I don't get notifications from every passerby.

What I liked most about the Ring 3 is the installation. Because the doorbell is completely wireless, you don't have to do anything difficult with cables. Charging the battery, drilling 2 screws into the wall and then attaching the Ring is all it takes. Setting up the Ring in the app is also very easy. A child can do the laundry.

I used the Ring without Chime at first. You will then receive a notification on your smartphone, but there will be some delay. If you stop your phone for a while, you won't even hear anything. The Ring 3 has a direct link with the new Chime. As a result, you can hear it immediately when someone rings the doorbell. A telephone that is on silent is therefore no longer an excuse to leave someone in front of a closed door. An accessory you can hardly live without.

Uhro | 27 May 2020 | In the version: 3 | Silver | Nothing included | Automatically translated from Dutch

What is this for that money.

Andre Hasselmeijer | 1 October 2020 | Automatically translated from Dutch

Paid membership to watch videos

Many problems with the Ring server

Installation was fine. Unfortunately many connection problems. Delayed notifications, which sometimes hang on the server and then your bell rings at midnight, or a notification that someone is in your front yard. Drama. Do not buy this product, for this money there are really much better options. Owned for 3 weeks now, what a regret.

Andre Hasselmeijer | 1 October 2020 | Automatically translated from Dutch

Simple and easy.

Marc Ballast | 24 July 2020 | In the version: 1 | Bronze | Nothing included | Automatically translated from Dutch

Sometimes not everything comes in

Been using it for a few days now
Easy to install and convenient to set up via the app, sometimes I don't get all the notifications when someone presses the bell, or later despite maximum WiFi.

Marc Ballast | 24 July 2020 | In the version: 1 | Bronze | Nothing included | Automatically translated from Dutch

Beautiful and functional.

clear unpacking instructions

clear instructions for installation

installation is largely automatic

no batteries required. Seems to make contact faster when someone calls than the battery version.

Paul van der Stelt | 23 February 2021 | Automatically translated from Dutch

Good, useful and solid product.

The Ring Doorbell works very nicely. It's a little bigger than I expected. In the end it does exactly what I wanted. I would definitely recommend it.

AK | 9 July 2020 | In the version: 3 | Silver | Nothing included | Automatically translated from Dutch

More than just a doorbell

options in use via the app

only the same image with good WiFi connection

Immediately unpacked the package upon arrival. All necessary screws and even a screwdriver and spirit level are included. Then read the instructions. These are clear and easy to follow. The first thing I noticed is that the doorbell/camera looks very nice in design but is quite large.

There are several options when installing. There are 2 frames with which you can give the camera different angles. We used such a frame because the bell hangs in a niche close to a wall and therefore also captures a large part of the wall on camera. Keep in mind that if you attach the doorbell to a frame, you only need to screw two screws into your frame, but if you want to fix the doorbell directly, this must be done with four screws. We had done this in the first place, so we unnecessarily turned too many screw holes in the frame. Also, don't fix the bell with tape that is said to be possible. Even strong tape that could support 2 kg is not enough and eventually your bell will fall down.
You also always have the option to connect the RING doorbell to the 12-volt mains.
The installation continues smoothly.
Unfortunately, after installation, the battery still needs to be fully charged before you can use the camera.
After installing the battery, the camera is connected to the WiFi network. This goes smoothly and the lighting in the doorbell tells you what to do.
The doorbell has now been connected for about two weeks and so far I like it fine.
The app is also easy to use. All basic functions are clearly arranged on the home page and if you want to adjust more extensive things, you can press 1 of the basic buttons.
I do find it a disadvantage that you have to purchase a subscription (3 euros per month) to be able to see your registration again. This is not mandatory and offers many additional options for reviewing, recording and sharing. This is another great advantage when it comes to securing your home.
In the beginning I also had some difficulty with the privacy sensitivity of this product and the fact that I can follow conversations and images that are not intended for me but for my husband or children, for example. I myself have chosen not to look back on these images and to choose that I only receive a notification in any case when the doorbell actually rings and not when a cat walks through the garden or a car drives down the street.
In short, a very nice product with a good price/quality ratio where you have everything under control. Magnificent!!

I@mBrie | 22 May 2020 | In the version: 3 | Silver | Nothing included | Automatically translated from Dutch

worthless product and worthless service.

crappy customer service contact Ring

push button broken after 1 year

totally broken after 2 years

not working properly. contact takes way too long after calling

Installation was difficult. After a lot of back and forth calls finally got a new device. when a call is made, it takes too long before there is an image on the phone, so that the caller has already disappeared. After a few months the push button broke. Ring didn't give home and after 2 years the bell no longer worked

Eric | 15 November 2020 | Automatically translated from Dutch

Very nice device!

Good picture and sound quality.

Can run on battery or power.

The device is fairly on the large side and therefore very noticeable.

You have to buy a chime separately.

The device is very easy to use and quick to install. Picture and sound quality is good, both during the day and at night. You can set yourself at which movement and from what distance you want to receive a notification.

Martin | 31 August 2020 | In the version: 1 | Bronze | Nothing included | Automatically translated from Dutch

Fine!

Good clear image, even in the dark.

You can also mark off the area you want to monitor in case you live on a busy street.

First month of free image storage.

You need a Chime, otherwise you will no longer have a bell without a telephone. Suppose the app does not respond for a while or in the case of children who do not have their phone in their pocket all the time

A bit more expensive than other calls.

After one month 3 euros per month for the storage of the images.

We had first bought another Smart doorbell. It was a disaster to install. This bell is a relief. Everything is so easy and everything works just fine. A bit more expensive and if you can continue to store the images, you have to pay 3 euros per month. Despite that, we think it's all worth it.

Raymond Hilgersom | 28 November 2020 | In the version: 3 | Silver | Nothing included | Automatically translated from Dutch

Just got it for a few days

Have no experience with it yet

Dennis | 25 December 2020 | In the version: 3 | Silver | Nothing included | Automatically translated from Dutch