Garmin Forerunner 245 Gray + Garmin HRM-DUAL Heart Rate Monitor Chest Strap Black
Version
: Gray
|
Heart rate monitor
---
Product information
Pros and cons
According to our smartwatch expert
Your heart rate readings are extra accurate thanks to the included Garmin heart rate chest strap.

The watch displays heart rate zones during your workout, so you can focus your training on improving your endurance or burning fat, for example.

In addition to tracking your route, the watch also navigates your in the right direction.

It's not possible to answer incoming messages via the smartwatch.

The separate heart rate monitor is only splash proof, so you can't use it when you swim.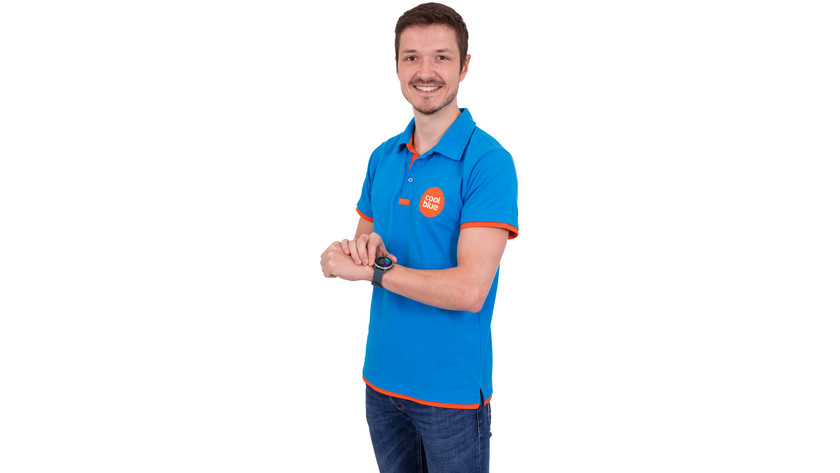 ---
Product description
You can monitor your heart rate extra accurately with the Garmin Forerunner 245 Gray + Garmin HRM-DUAL Heart Rate Monitor Chest Strap Black bundle. You can connect the The HRM-DUAL heart rate monitor to your Forerunner smartwatch via ANT+. During workouts, the Forerunner gives you information about the calories you burn, the amount of steps you take, and the distance you travel. With a virtual opponent, you can push yourself to an even better performance. Thanks to the built-in GPS sensor, the Forerunner 245 navigates you and tracks your route. You also receive incoming messages and phone calls on the Garmin Forerunner. You can easily adjust the chest strap of the heart rate monitor to a size between 63.5 and 132cm.
Note: an adapter isn't included. Do you want to charge the watch via a socket? Use the adapter of your phone charger or order a separate adapter.
Tips for using this product
Read our tips and find out all about how to set up your product and use it the right way.

---
Reviews
| | | | |
| --- | --- | --- | --- |
| 5 stars | | | |
| 4 stars | | | |
| 3 stars | | | |
| 2 stars | | | |
| 1 star | | | |
Most helpful reviews
Awesome

Maud | 4 January 2021 | In the version: Red | No accessories | Automatically translated from Dutch

The watch is a lot smaller than the 235 and therefore more unisex

The design is elegant for a sports watch

The Garmin Coach feature is a big plus

Senses stress and breathing

I wish I had bought it sooner

Careful and sturdy watch. It has extensive functions that are pleasant for longer distances. The smaller and more elegant design completes my running experiences.

Maud | 4 January 2021 | In the version: Red | No accessories | Automatically translated from Dutch

nice and beautiful

Hendrik | 5 May 2021 | In the version: Red | No accessories | Automatically translated from Dutch

Good heart rate measurement and associated info

Color screen clearly visible in the sun

Oxygen measurement and sleep measurement less reliable

More expensive models charge in the sun

The Forerunner 245 is my first sports/smartwatch. It is much lighter than I thought and I am impressed by the options and the accompanying data (smartphone) app. Heart rate and GPS work perfectly. Battery fine and charges quickly. I compared the specs of many watches beforehand and this one was in the sweet spot for me: serious heart rate measurement (highly regarded and otherwise possible) with various sports/rest recommendations, waterproof and music controls. I don't need a barometer. The oxygen measurement would be less and it is a pity that the sleep measurement does not seem reliable. Still very impressive and fine watch if your focus is on sports. Worth the money for me.

Hendrik | 5 May 2021 | In the version: Red | No accessories | Automatically translated from Dutch

Excellent sports watch with long battery life

Martin | 25 April 2021 | In the version: Gray | No accessories | Automatically translated from Dutch

Heart rate monitor and oxygen meter

The forerunner is an excellent support when running. During exercise you will see the most relevant information on the display, via the app you can see much more about how your workout was. The smart watch functions are also excellent.
The downside is the menu structure: it is not very intuitive and it takes a while before you learn it urgently.

Martin | 25 April 2021 | In the version: Gray | No accessories | Automatically translated from Dutch

This is one of those products where everything is right....

Very light so you hardly notice it when walking.

Very clear display. Doable without reading glasses :)

Heart rate monitor, best yet. when running, do a little tighter on the wrist!

App is very complete and super simple.

Nice flexible strap. And much more

Up to now? Not a single flaw found...

A beautiful device, clearly simple. Just full of praise.
Heart rate monitor still works fine when the strap is loose. Only when running close to the wrist. But not irritating due to the flexible strap. Nice complete app with many free options.

Jasper Kruizinga | 13 January 2021 | In the version: Gray | No accessories | Automatically translated from Dutch

Not fantastic, but a good product!

The many (Running) functions

The easy pairing with your smartphone

For certain settings you really have to search!

You should see heart rate on your phone

I've had my Garmin Forerunner 245 for 3 weeks now.
I like this one very much!
I set that I'm going for a run and within seconds the GPS is already found!
You will soon see how much you have already run, and what your average speed is.
This watch is also suitable for intervals!

Downsides are that you have to transfer data to your phone.
This can take a long time.
You should also see your heart rate on your phone.

The design of the watch is not ugly, but I have seen nicer watches.

Robert | 16 September 2020 | In the version: Gray | No accessories | Automatically translated from Dutch

A great support for the experienced runner.

Connect provides excellent insights for training sessions

A step forward after my TomTom. Comfort and convenience and training insight are top notch.

R Hottinga | 19 June 2021 | In the version: Gray | No accessories | Automatically translated from Dutch

Very satisfied

Smartwatch meets my expectation

Bollen Sabine | 29 November 2020 | In the version: Gray | No accessories | Automatically translated from Dutch

Very good article!

Some parts are very complicated

Manual not always complete

I like what I wanted the Forerunner 245 to do.

Jan | 26 May 2021 | In the version: Gray | No accessories | Automatically translated from Dutch

Excellent

Smartwatch works as promised: good battery life

Gerard Bentvelzen | 11 October 2020 | In the version: Gray | No accessories | Automatically translated from Dutch

Beautiful, simple, with useful features for the runner

That he is small for women

Because of the size yes

iris schiebergen | 28 April 2021 | In the version: Red | No accessories | Automatically translated from Dutch