Tefal Pierre Gagnaire Cookware Set 3-piece
In the version
Frying pan 24cm + 28cm + wok 28cm
---
Product information
Pros and cons
According to our pan expert
This pan set also includes a wok, so you can stir-fry ingredients.

The Tefal Thermo-Spot turns solid red when the correct baking temperature has been reached.

The frying pans are suitable for all heat sources, including induction and use in the oven up to 175°C.

The non-stick coating isn't scratch proof, so be careful with metal kitchen utensils.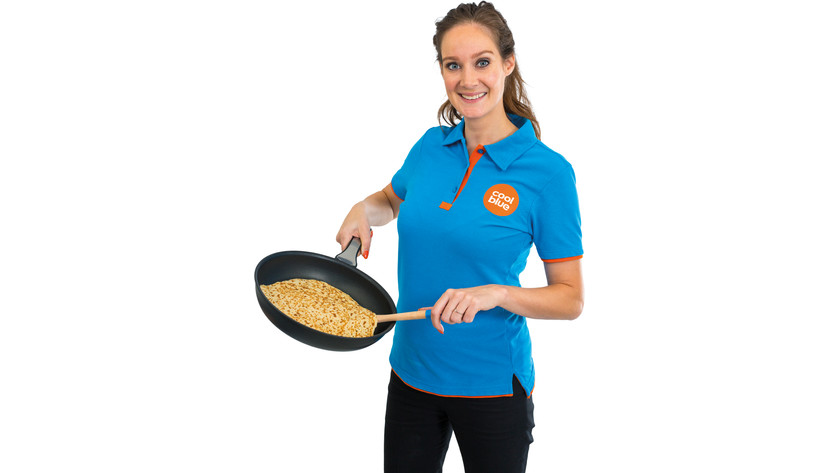 ---
Product description
With the Tefal Pierre Gagnaire Cookware Set 3-piece, you can also stir-fry ingredients thanks to the 28cm wok. The cookware set also includes a 24cm and 28cm frying pan. You can use these pans to prepare meat, fish, or potatoes. The pans are made of high quality stainless steel with a titanium coating. As a result, you don't have to worry about scratching the non-stick coating or that the ingredients will stick to the pan. The useful Thermo Spot at the bottom indicates exactly when the pan reaches the right temperature. It turns solid red when this temperature has been reached. After use, it's best to wash the pans by hand. That way, the coating remains intact for longer.
Tips for using this product
Read our tips and find out all about how to set up your product and use it the right way.

---
Contents of this package
This kit has been compiled by our expert.
---
Reviews
Most helpful reviews
A good wok pan with a timeless design
nice design

nice and big

Good materials

No lid
I have been using this Wokpan for a few weeks now and I am very satisfied with it.

The Wok pan is nice and big so you can put a lot in it. The pan will be big enough for an average family. The times that I have used this wok pan, the bottom got very hot everywhere. This ensures that the meat or vegetables are equally well cooked everywhere and that you do not have half cold and the other half warm. Another big plus is that the bottom has never caked once.

In my view it is a timeless design where very solid materials have been used.

Unfortunately, a lid is missing. Luckily I had a cover from an earlier Tefal series. You can use this for that if it is the same size.

All in all, I would highly recommend this Wok pan!
Joey
25 July 2021
In the version: Wok 28cm
Automatically translated from Dutch
Pan from the better segment.
pretty

firm

does not burn

pricey
This is a top-class pan, not only suitable as a frying pan, but you can also use it for wok woks, thick non-stick coating, feels sturdy, is a jewel for the kitchen and on the table, is easy to clean, good heat conduction, I use induction, you don't just slide it over the hob, so that's it works fine too
Moniquef68
20 July 2021
In the version: High-sided skillet 26cm + lid
Automatically translated from Dutch
Nice pan to cook in
easy to clean

stands firmly on the form

heavy, especially with pouring over
Nice pan to cook in, but heavy. The center of gravity is in the bottom: to hold the wok pan with one hand and to scoop the food into a bowl with the other is very heavy. The pan is very easy to clean and food does not stick.
Emwee
19 July 2021
In the version: Wok 28cm
Automatically translated from Dutch
Specifications
Product
Product number

880028
Manufacturer code

H82104
Brand

Tefal
Warranty

2 years
Processing of your defect

Via Coolblue
Compatibility
Suitable for induction cooktop
Suitable for ceramic cooktop
Suitable for electric cooktop
Suitable for gas stove
Oven-safe
General properties
Single pan or cookware set

Single pan
Height

8,5 cm
Weight

1,2 kg
Build quality

Mid-range
Cool handle
Dishwasher-safe
Basic pan material

Stainless steel
Type of coating

Standard non-stick coating
Material baking layer

PTFE with titanium
PFAS free
Color

Silver
User-friendliness
Casting system
Volume marking
Thermo spot
Product
Product number

880027
Manufacturer code

H82119
Brand

Tefal
Warranty

2 years
Processing of your defect

Via Coolblue
Compatibility
Suitable for induction cooktop
Suitable for ceramic cooktop
Suitable for electric cooktop
Suitable for gas stove
Oven-safe
General properties
Single pan or cookware set

Single pan
Height

10,7 cm
Weight

1,1 kg
Build quality

Mid-range
Dishwasher-safe
Basic pan material

Stainless steel
Type of coating

Standard non-stick coating
Material baking layer

PTFE with titanium
PFAS free
Color

Silver
User-friendliness
Casting system
Volume marking