Samsung The Frame 43LS03A (2021) + Soundbar (Black)
Version
: 43 inches
|
Black soundbar
Choose the best one for you
Be the first to know when this product is in stock
---
Product information
Pros and cons
According to our television expert
With this combination of a TV and soundbar, you get a stylish home cinema.

Via the Art Store, you can display a large selection of pieces of art and photos on the TV.

You can mount the TV and soundbar on the wall with the included wall mount for a neat setup.

You have to request the replaceable frame from Samsung once you receive the TV.

When you place this TV and soundbar on a surface, the soundbar blocks part of the screen.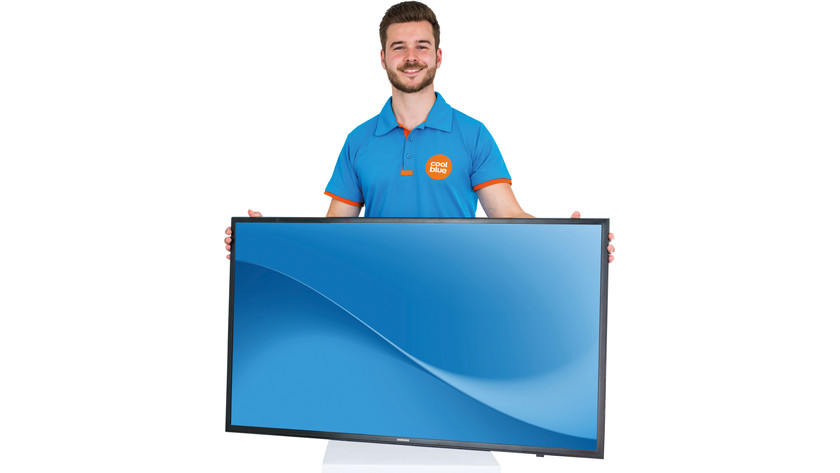 ---
Product description
The Samsung The Frame 43LS03A (2021) and the HW-S60A/XN Soundbar are a stylish combination of TV and audio in your living room. You can also use the television as a painting or photo frame. Thanks to its flat design and the replaceable frame, it seamlessly blends into your interior. You can choose if you want to put The Frame on leg stands or mount it close to the wall with the included Slim Fit Wall Mount, among other paintings. In the Samsung Art Store, you have access to hundreds of works of art that you can display when the television is turned off. Or you can choose to display your own photos on the TV via your smartphone. That way, you no longer have to look at a 'black hole' in your living room. You connect the TV to the One Connect Box with a thin, nearly invisible cable. You connect this box to the socket and all of your peripherals. That way, you won't have a tangle of cables running from your TV to your TV cabinet.
With the Samsung HW-S60A/XN, you enjoy a detailed sound reproduction. The soundbar matches the stylish design of The Frame. With the included wall mount, you can neatly mount it below the TV. Movies and series come to life thanks to the Side Horn speakers and Acoustic Beam technology. This technology provides a spatial audio. You can easily stream music via your home network, AirPlay 2, the built-in Google Chromecast, or Spotify Connect. Thanks to the built-in woofer, you enjoy your favorite songs with a deep bass. You connect the soundbar via the HDMI connector or the optical connector. Or you connect the soundbar to your TV wirelessly via Bluetooth.
Tips for using this product
Read our tips and find out all about how to set up your product and use it the right way.

---
Reviews
| | | | |
| --- | --- | --- | --- |
| 5 stars | | | |
| 4 stars | | | |
| 3 stars | | | |
| 2 stars | | | |
| 1 star | | | |
Most helpful reviews
Samsung The Frame: nice TV in a stylish jacket

Jorn. Televisie specialist. | 26 July 2021 | In the version: 50 inches | No soundbar | Automatically translated from Dutch

Neat setup thanks to One Connect Box

Artworks in the Art Store

No subwoofer for powerful sound

The Samsung The Frame is a user-friendly 4K QLED television that immediately attracts attention with its stylish design. If you want a TV that fits the style of your home and isn't just a black screen when it's off, The Frame is the way to go.

Stylish design
The most striking feature of The Frame is of course the design. Thanks to the supplied wall bracket and the sleek design of the TV, the screen hangs really close to the wall. When you order a frame from Samsung and attach it to the screen, the picture is complete. Then The Frame hangs on your wall like a painting. With the Art Mode you show all kinds of works of art on the TV, as a kind of screensaver. What I really like about this is that the screen brightness adjusts to the light in the room. When I show a work of art, the screen dims a bit. You can hardly see that it is a TV anymore.

Colorful images, great sound quality
In terms of image quality, I notice that images look very colorful and lively due to the QLED technology. For example, bright colors stand out well and I see many color details in clear images. The contrast is less strong due to the edge lit local dimming. As a result, I sometimes see a bit of glow around bright objects against a dark background, and shadows in the image are not very dark. The sound is sufficient for normal use. The 2 speakers sound clear, even when I watch TV at a higher volume. With exciting films or series I do miss some deeper bass tones. You really need a separate soundbar for this.

One cable from the TV
The Slim One Connect Box is a handy solution for a minimalistic setup of your TV set. This box has all connections, such as 4 HDMI ports and USB inputs, and you can connect it to the TV with one transparent cable. I think that looks neat, because that way there are not all kinds of cables running out of the TV. The power cable also comes from the One Connect Box instead of the TV.

Energy-efficient remote control
The One Remote Control looks simple and it is very easy to use. With the few buttons I have found what I want to watch. There is a solar panel on the back of the remote control. This charges the remote control, so you don't have to change the batteries every time.

Jorn. Televisie specialist. | 26 July 2021 | In the version: 50 inches | No soundbar | Automatically translated from Dutch

Finally a bigger screen without a black hole in the wall.

Cor Wit | 7 June 2021 | In the version: 50 inches | No soundbar | Automatically translated from Dutch

One Connect Box with only one thin wire to the TV

Hangs nicely flat on the wall

Ziggo Mediabox can also be operated with TV remote control

Because mounting has not become easier

Although we liked our old TV, we still wanted a bigger screen. However, all of us in the family find that black surface on the wall very ugly. An acquaintance told us about Samsung the Frame. My interest was quickly aroused.
After a long process of reading and viewing reviews, we decided to order the 50 inch Frame 2021. The thinner design really appealed to us. Last week the TV was delivered and hung up by a 'delivery hero' from Coolblue.

INSTALLATION
We are glad that the Coolblue employee hung up the TV. Compared to the 2020 version, the wall mounting is quite complicated: two plates must be precisely measured and fixed to the wall. There is no large template included, so with directions you have to measure everything exactly on the wall. It would have taken me a long time to do that myself. The Coolblue employee, however, managed this neatly.
The first installation of the TV itself was very simple: you go through a number of steps. The TV immediately recognized the ziggo box, SONOS Beam and the Nintendo Switch. He did not recognize my old Mede8er media player. It is very easy to set manually.

IMAGE
The colors pop off the screen in my eyes (especially compared to my old device). The intelligent mode is very bright and the colors are too saturated. Manually adjust the image to your liking with the 'Film' image setting. Now it looks pretty calm, yet very colorful.
The black values of the Qled screen are of course not comparable with an OLED screen. In a non-dark room, however, the black values are not disappointing at all; in a dark room you see that black is not completely black, but quite acceptable.

SOUND
The sound flows over my Sonos Beam. No experience with the sound from the TV.

SMART TV
In the main menu you can list all the apps you use frequently. You can also place the HDMI sources there. The commonly used apps, such as YouTube, Netflix, Videoland and Prime video were already installed. Apps launch quickly. There is an 'appstore', but we haven't looked at it yet. Unfortunately, the main menu also advertises certain apps and other things. It's not large in view, but you do have to click past it when navigating the main menu. Unfortunately, that cannot be turned off, and that is very unfortunate.

ART MODE
When the TV is off, you can project art or photos onto the screen. A fantastic function, because you don't have an empty black surface on the wall when the TV is turned off. This works more than reasonably. You can take out a (trial) subscription to the 'Art-store', where a large number of images are available. However, you can also easily put your own images on the Frame via your smartphone or USB stick. So I keep that 5 € per month for the subscription in my pocket. For example, high-resolution images of many works of art can be downloaded from the Rijksmuseum on the internet. The images are best if you put them exactly in 4K resolution (3840 x 2160 pixels) on the TV.
The art mode looks quite realistic in a lit room. A breath of fresh air! In a dark room you can see better that it is a TV with backlight lighting.
We ordered the free list this weekend from Samsung's promo website. That was an unnecessarily difficult process: there was a whole list of frames to choose from, but in the end the choice was only three colors for this size and version. Chosen for the Teak color. Curious what it would look like then!

CONCLUSION
A very nice TV, and meets expectations! We are happy with it.

Cor Wit | 7 June 2021 | In the version: 50 inches | No soundbar | Automatically translated from Dutch

Absolutely recommended

Martijn | 20 June 2021 | In the version: 50 inches | No soundbar | Automatically translated from Dutch

Hanging service is an absolute must

Smart TV options are extensive

Have a painting hanging instead of a black surface

Handy if Coolblue employees remind you before hanging up to take a picture of the sticker on the back with registration number. Is needed for request list

Fantastic image and nice to be able to choose a painting or photo when the TV is off

Martijn | 20 June 2021 | In the version: 50 inches | No soundbar | Automatically translated from Dutch

Recommended for anyone who wants to hide a TV on the wall!

Beautiful works of art, very matte with little reflection

Requesting a list from Samsung takes a long time

Sound is flat, paired HomePods to it for better sound quality

Exactly what I expected

Tessa | 5 June 2021 | In the version: 50 inches | No soundbar | Automatically translated from Dutch

Great if you don't want to ruin your interior with a TV

No ugly black plate on the wall

Completely flat against the wall

Loose connection box.. no thick cables to the screen

Many frames available for every interior

Very cumbersome to get free frame

Samsung employee rude when requesting frame

Beautiful painting on the wall, great when a TV doesn't look like a TV

Martin Mourik | 2 May 2021 | In the version: 50 inches | No soundbar | Automatically translated from Dutch

There is currently no better television available

Super handy one connect box

Beautiful Qled image quality

Art fashion is really beautiful

Compared to the 2020 model, the 2021 frame has a thinner screen and a sharper image. In addition, the art mode has been improved with a higher internal memory. This makes it nicer to use your own photos

Vik | 6 July 2021 | In the version: 65 inches | No soundbar | Automatically translated from Dutch