Wolf Garten A 370 E + Wolf Garten LYCOS E/280 T
---
Product information
Pros and cons
According to our lawn mower expert
With this set, you can take care of your lawn to perfection.

You can adjust the cutting height of the lawn mower to your own preference with the 6 cutting height settings.

The trimmer has an extra handle for a good grip.

The lawnmower doesn't cut grass on the outside of the wheels, this means it doesn't trim the edges.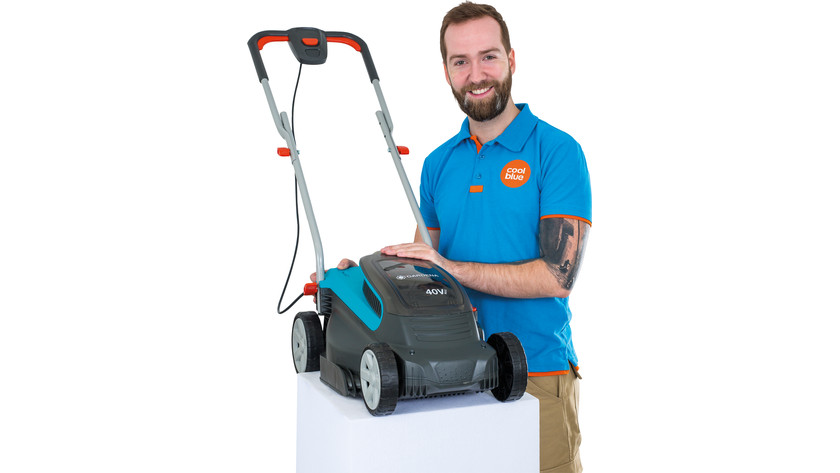 ---
Product description
With the Wolf Garten A 370 E Lawn Mower + Wolf Garten LYCOS E/280 T Trimmer, lawns up to 425m² look well cared for. This mower has a cutting width of 37cm and you can centrally adjust the cutting height to one of the 6 possible heights between 25 and 75cm. You can collect the grass in the 40L collection bag or use it as natural fertilizer thanks to the mulching function. You can use the trimmer to neatly trim the edges of your lawn. The lawn mower only weighs 1.4kg, so you won't be sore at the end of the day. And the extra handle ensures good grip and extra stability during the job.
Tips for using this product
Read our tips and find out all about how to set up your product and use it the right way.

---
Reviews
| | | | |
| --- | --- | --- | --- |
| 5 stars | | | |
| 4 stars | | | |
| 3 stars | | | |
| 2 stars | | | |
| 1 star | | | |
Most helpful reviews
Good, but not top quality.

Marc | 12 February 2016 | In the version: Cutting width: 37cm | 425m² | With mulching function | Automatically translated from Dutch

cleaning flexible grass bag

As a gardener I work with several electric and petrol lawnmowers. "Top brands" aren't necessarily the best mowers, but Wolf is in the better category. I do notice that this type has a hard time getting moist grass into the collection bag smoothly. So you have to empty it regularly.
A flexible collection bag is also less easy to clean than a solid form.

Marc | 12 February 2016 | In the version: Cutting width: 37cm | 425m² | With mulching function | Automatically translated from Dutch

Recommended!

Mario Vandendriessche | 8 October 2018 | In the version: Cutting width: 34cm | 300m² | With mulching function | Automatically translated from Dutch

Lightweight and easily manoeuvrable

Easy to adjust cutting height at the top

Easy to use and manoeuvrable. Cutting height easily adjustable on top of the lawnmower. Possibility to mulch when the lawn is too dry. Good value for money.

Mario Vandendriessche | 8 October 2018 | In the version: Cutting width: 34cm | 300m² | With mulching function | Automatically translated from Dutch

Stable and robust mower for a neatly mowed lawn

Xander Brandts | 14 July 2015 | In the version: Cutting width: 34cm | 300m² | With mulching function | Automatically translated from Dutch

You can feel that it is a sturdy mower that easily moves over the lawn with its large wheels. Because the cutting height can be adjusted in various positions, a perfect lawn can be mowed. Our lawn is 75m2 and with 2 to 3 almost full collection bins I can finish in half an hour. The mulching function shreds it fine and by adjusting the cutting height to the grass length, there is never too much shredded grass and I do not suffer from a full, smelly green waste bin. The somewhat long and therefore somewhat clumsy handle to push is easy to fold so that the mower does not take up too much space.

Xander Brandts | 14 July 2015 | In the version: Cutting width: 34cm | 300m² | With mulching function | Automatically translated from Dutch

Best purchase ever for my garden!

This machine is ideal for medium-sized garden and especially the mulching function is attractive. Handy for women: no dragging around with heavy buckets and very manoeuvrable. Have already had compliments for the view of the garden and can recommend it to everyone.

Lutgart vernaillen | 27 June 2015 | In the version: Cutting width: 37cm | 425m² | With mulching function | Automatically translated from Dutch

Very practical lawnmower. Ready to use in 10 minutes!

Mows lightly and very easy to handle

Easy to fold and put on the holds

Out of the box and ready to mow in 10 minutes. Very user-friendly, few actions are required to mow your lawn quickly and beautifully. Handy removable collector with full indicator and a fertilizer setting. Definitely value for money!

Erik Heldoorn | 26 July 2015 | In the version: Cutting width: 37cm | 425m² | With mulching function | Automatically translated from Dutch

Super lawnmower!!!!

After unpacking and assembling (15 min), immediately put to work. 1st time 65m2 mowed at 3.5 cm and that went wonderfully great (also purchased for this), collecting tray is easy to empty and folding is very easy with the quick lock. Used the Mulch function for the 1st time a few days later and it works more than well, now three weeks later the grass looks nicer and greener!

Bas | 31 August 2015 | In the version: Cutting width: 37cm | 425m² | With mulching function | Automatically translated from Dutch

Strong lawnmower!

large mowing area (38cm diameter)

Actually I can be short and sweet, I think this is a great mower! Coming from a 1000W lawnmower, and now having a 1400W motor, there is a big difference in ease of use. The mower has no trouble with higher grass or any pollen. The mower is also easy to assemble.
And well, write something about the design... It remains a mower, very important! In terms of durability I can't say anything sensible, this has to be proven. Wolf Garten is normally a good brand, but this does create expectations for me. And the above I have for a relatively small price, so for now I am satisfied!

Rogier | 20 August 2012 | In the version: Cutting width: 38cm | 450m² | No mulching function | Automatically translated from Dutch

excellent mower

I have owned this mower for several months now. I am extremely satisfied with the mowing performance.
But as with everything, things can break. So is this mower. He wouldn't start again.
Coolblue customer service on the line. Very friendly help and immediately made an appointment to come pick it up. After a week I had my mower back; made and under warranty. SUPER SERVICE from Coolblue!!!!!

Gert VD | 12 August 2013 | In the version: Cutting width: 38cm | 450m² | No mulching function | Automatically translated from Dutch

great mower

bag fills up quickly, but that also depends on the size of the mower.

Great mower, easy to handle. I am used to a motor mower but had to use an electric one for a holiday home (because of the noise of the motor mower)
I have to get used to the cord behind me, but the mower cuts great.

Diane Engelbert-Denys | 5 July 2015 | In the version: Cutting width: 37cm | 425m² | With mulching function | Automatically translated from Dutch

Nice lawnmower

Meets the requirements of our lawn perfectly.

Linda | 31 May 2014 | In the version: Cutting width: 32cm | 200m² | No mulching function | Automatically translated from Dutch
Specifications
Product
Product number

575046
Manufacturer code

18BKHJH2650
Brand

Wolf Garten
Warranty

3 years
Warranty type

Carry-in warranty
Old product returned for free
Physical properties
Weight

17 kg
Width

37 cm
Height

43 cm
Depth

76 cm
For sale with EcoCheques
Power source
Power source

Electric
Maximum noise level

96 dB
Connection voltage

230 V
Cable length

30 m
Power

1600 W
Mowing properties
Cutting width

37 cm
Lawn surface

425 m2
Cutting height

25 - 75 mm
Cutting deck material

Plastic
Container
Container capacity

40 l
Mulching function
Central cutting height setting
Number of cutting height settings

6
Mow technique

Circular mower
Mows outside wheels
Self-driving
Collapsible handle
Rough terrain mower
Product
Product number

880711
Manufacturer code

41AE2TD-650
Brand

Wolf Garten
Warranty

3 years
Warranty type

Carry-in warranty
Old product returned for free
Physical properties
Weight

1,4 kg
Height

59 cm
Power source
Power source

Electric
Maximum noise level

91,7 dB
Connection voltage

230 V
Power

280 W
Functionalities
Maximum noise level

91,7 dB
Draaibare kop
Telescopic shaft
Extra handvat
Te trimmen

Rand van het gazon
Type trimmer

Grastrimmer
Snijmethode draad
Maaimethode messen
Maaibreedte draad

23 cm
Wheels
---