Miele TWE 620 WP
Free repair or replacement

Can be canceled monthly free of charge after 1 year
---
Product information
Key specs
Type of dryer

Heat pump dryer
Maximum noise level

66 dB
Maximum load capacity, drying

8 kg
Energy label

A+++
Depth

63,6 cm
| | |
| --- | --- |
| | Heat pump dryer |
| | 66 dB |
| Maximum load capacity, drying | 8 kg |
| | A+++ |
| | 63,6 cm |
| | Collection in reservoir, Via drain |
| | |
| | Fresh smelling laundry, Prevents shrinking, Reduces wear |
---
Pros and cons
According to our dryer expert
Very efficient heat pump dryer with A+++ energy label.

If you want, the FragranceDos fragrance flacon can give your laundry a fresh scent while it's drying.

The condensation water can be drained directly with a drain hose.

Dries less quickly with a drying time of almost 3 hours.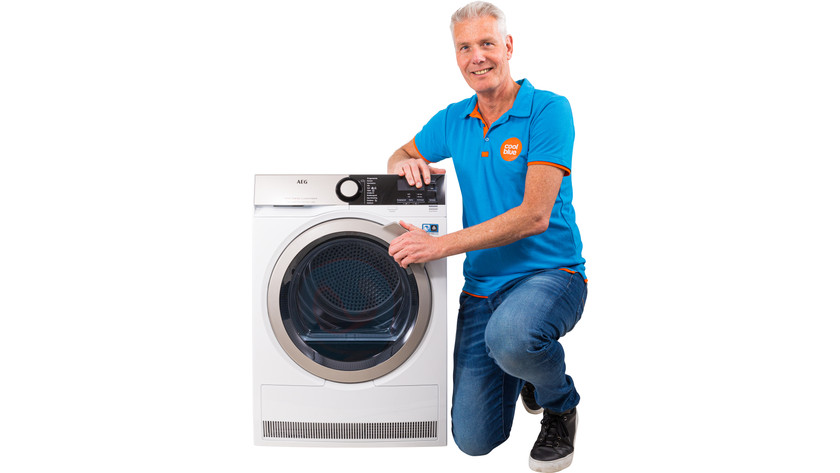 ---
Product description
The Miele TWE 620 WP is a very energy-efficient A+++ heat pump dryer for the laundry of 3 to 4 people. Thanks to the low drying temperature, you save energy and your laundry stays new for longer. You can choose from 11 different dryer cycles, for example for cotton, delicate fabrics, or dress shirts. The honeycomb structure of the SoftCare drum ensures that your clothes won't wear as easily, because there's less friction with the drum. Want to place your dryer in a recess? Thanks to the drum lighting, you won't lose a sock in the dark. The FragranceDos system ensures that your bed linens will smell fresh after drying, because of the FragranceDos fragrance flacon that you place into the opening with the lint trap. Every flacon lasts about 50 drying cycles.
Included by default
Manual
Condensation drain hose 1.6m
Fragrance flacon Aqua
Included by default
Manual
Condensation drain hose 1.6m
Fragrance flacon Aqua
Tips for using this product
Read our tips and find out all about how to set up your product and use it the right way.

Key specs
Type of dryer

Heat pump dryer
Maximum noise level

66 dB
Maximum load capacity, drying

8 kg
Energy label

A+++
Depth

63,6 cm
| | |
| --- | --- |
| | Heat pump dryer |
| | 66 dB |
| Maximum load capacity, drying | 8 kg |
| | A+++ |
| | 63,6 cm |
| | Collection in reservoir, Via drain |
| | |
| | Fresh smelling laundry, Prevents shrinking, Reduces wear |
---
Advantages of a subscription
With a subscription, you'll have a high-quality product that always works for a fixed amount per month.
Vast bedrag per maand

Je betaalt maandelijks een vast bedrag per maand voor de wasdroger. Zonder onverwachte kosten voor reparatie of andere services. Zo weet je altijd waar je aan toe bent.

Ultiem gemak

We bezorgen de wasdroger gratis op de afgesproken dag bij je thuis. Is de wasdroger kapot of werkt hij niet naar wens? Dan repareren of vervangen we hem binnen 48 uur kosteloos. Ga je verhuizen? Dan verhuizen we je wasdroger gratis met je mee.

Flexibel

Na 1 jaar kun je het abonnement kosteloos maandelijks opzeggen. Wil iemand anders het abonnement van je overnemen? Dan kan dit. Gratis, natuurlijk.
---
FAQ
Met een abonnement van Coolblue krijg jij voor een vast maandbedrag een wasdroger van hoge kwaliteit die het altijd doet. Met gratis reparatie of vervanging, zodat je nooit zonder een wasdroger komt te zitten. Na 1 jaar kun je het abonnement kosteloos opzeggen. We komen de wasdroger dan weer ophalen. Een abonnement is namelijk geen afbetaling, dus het toestel blijft eigendom van Coolblue.
Je bestelt een wasdroger met abonnement via de groene knop bovenaan deze pagina. Je vult je gegevens in en gaat door een automatische acceptatietoets (gedaan door Focum). Als je door de acceptatietoets heen komt, betaal je alleen de eenmalige kosten. We komen de wasdroger dan bij je bezorgen op het door jou gekozen moment.
Je betaalt bij het bestellen eerst de eenmalige kosten. Daarna betaal je een vast bedrag per maand via automatische incasso. Rond de 29e van iedere maand schrijven we de abonnementskosten van je rekening af. De eerste afschrijving is hoger omdat je voor de huidige en eerstvolgende maand betaalt.
Als de wasdroger kapot gaat kun je contact opnemen met de klantenservice. Wij zorgen dan dat hij binnen 48 uur gerepareerd of vervangen wordt. Zonder zorgen over garantietermijnen en reparatiekosten.
Je hebt na het afsluiten van je abonnement 30 dagen tevredenheidsgarantie, waarbinnen je de overeenkomst zonder reden kan opzeggen. Daarna loopt het contract voor minimaal 1 jaar. Je kan wel het contract aan iemand anders overdragen. Na 12 maanden kan je jouw abonnement kosteloos maandelijks opzeggen. Coolblue haalt de wasdroger dan bij je op en verwerkt het op een milieuvriendelijke manier.
---
Reviews
| | | | |
| --- | --- | --- | --- |
| 5 stars | | | |
| 4 stars | | | |
| 3 stars | | | |
| 2 stars | | | |
| 1 star | | | |
Most helpful reviews
Top quality dryer, economical, quiet, and no sauna!

Richard Van Orden | 11 April 2018 | In the version: Dryer | Automatically translated from Dutch

Perfectdry: adjustment of program duration by measuring moisture and lime

Large filling opening, lots of content

Difficult to find out whether the display is slanted or straight when ordering

Unfortunately for me straight display, I'm learning to live with it

After our family was recently expanded with a princess, we needed a dryer because of the large amount of extra laundry (love that baby poo in all clothes). Grandma was moving and had an antique Miele which was still in good working order after years of loyal service (23 years old!). This was a great solution for us, although we soon noticed that our energy bill will be less happy with it.

I decided it was time for an energy efficient heat pump dryer. My own experience in the sale of white goods and personal experiences already convinced me that I wanted a Miele tumble dryer.

After wandering around and comparing the pros and cons of the different models, I came up with this dryer. What were my arguments?

1. Large capacity: this makes it easier to put large amounts in the dryer, but faster drying results and less creasing with a larger drum.
2. A+++ drying result: just a bit more economical than the cheaper option A++ and I will soon forget those few tens that I spend more now, if the Miele lasts just as long again, I can easily remove the difference.
3. Delayed start time, always easy with night power.

The dryer has a much lower heat emission than the previous one, a pity that we will now have to pay for the sauna. The program initially indicates +/- 3 hours but will recalculate after a few minutes after the moisture percentage and the hardness of the water have been measured. This happens again in the meantime, so far my laundry has run for about 1.5 hours in this dryer at a time, sometimes a little longer, sometimes shorter. The energy consumption is measurably more than 2000 watts lower (Tone) than the previous one, so I'm happy.

As always with Miele, a Drain Set is included so the condensate tray no longer needs to be emptied.

Tips:
1. I saw that some people complained about the signal at the end of the drying program, this can be turned off via a number of steps protip: read the manual :) is described at the end as well as various options to adjust drying times and drying result .
2. For the most economical result, use the cotton option with the arrow next to it, the energy label is based on this program.
3. Read the manual about the loading per program and do not fill the drum with every program as standard!
4. Coolblue, it would be useful if you would indicate with the Miele washing machines and dryers whether they have a sloping display or a straight one. That way you won't be disappointed.

All in all satisfied and soon hopefully at Coolblue will succeed for a home cinema set.

Richard Van Orden | 11 April 2018 | In the version: Dryer | Automatically translated from Dutch

Miele is great!

J.P. Dingemans | 2 February 2018 | In the version: Dryer | Automatically translated from Dutch

simple operation/nice clear display

"Deutsche Gründlichkeit" also has its price

The dryer has only been in use for a week, so some reserve might be in order, but you just notice that Miele has thought carefully about the operation (filters are, for example, very easy to keep clean compared to a Bosch we had before) , durability and reliability. You could compare it with the proverbial Mercedes among clothes dryers. We've had a Miele washing machine for a number of years and you just notice that it can't be broken. Hence the choice for Miele tumble dryers. This is not the top model with all the "frills" but has enough programs for the most common things. And that just works. You don't need more.

J.P. Dingemans | 2 February 2018 | In the version: Dryer | Automatically translated from Dutch

Pretty good but expected more

Jansje | 16 November 2019 | In the version: Dryer | Automatically translated from Dutch

Little moisture emission (I chose it for that), but the fan must be turned on in the room where the dryer is

Economical (but on Extra Dry it of course consumes more than what Miele states)

Scent bottle nice plus (if it doesn't leak)

Duvet covers (2-person) turn into a ball because the drum doesn't turn often enough in the other direction

Fragrance bottle leaks despite installation according to instructions

Too heavy to move yourself (for cleaning, etc.)

After almost 20 years of drain dryer (with hose to the outside), this takes some getting used to. Drying takes much longer, but you can take that into account. It is of course also much more economical than a drain dryer. Not everything is dry on Cupboard Dry, so sometimes you have to dry extra on Extra Dry (eg towels spun at 1600 rpm). But: you can adjust the factory settings; I still have to experiment with this, so maybe I'll be completely satisfied after that. Double duvet covers I was able to dry reasonably well in the drain dryer because it regularly turned the other way; this Miele does that too little or too short because within a few minutes the cover is turned into a ball. (Miele called: there is a more expensive dryer with a special bedding program.) So now I have to fold these sheets over a drying rack in the fall/winter - in the summer they can happily hang outside on the rotary dryer.
We have this dryer in a small utility room; we have to turn on the (exhaust) fan, otherwise you will still feel the humid air when you enter (despite low moisture emissions).
My old drain dryer ended up with cold air so you took out the wax cooled down. With this dryer, the laundry comes out warm (and slightly damp); I have to adjust the factory settings so that it dries longer and cools down longer.

Jansje | 16 November 2019 | In the version: Dryer | Automatically translated from Dutch

Everything you want in a dryer

Cupboard dry is dry enough

A lot of moisture in the bowl, not in the room

Just a good dryer! Does what it has to do.
The room does not become damp, but almost all the drying moisture in the container. Pretty quiet and fast. Large laundry dries within 2 hours.

Kim C | 12 January 2019 | In the version: Dryer | Automatically translated from Dutch

Great device!

Everything smells delicious because of the scent capsules

Drying program adapts to the laundry and residual water

Good drying capacity, adapts to drying program and very quiet in use, nice device!

Ellen Van der Wees | 28 September 2018 | In the version: Dryer | Automatically translated from Dutch

Perfect dryer!

Double filter easy to clean

In the reviews I read that the laundry did not really dry, in practice that is not so bad. If you opt for extra dry, it is simply cupboard dry. Ok, it is slightly less dry than with a condenser dryer. However, I have much less fluff in the filter, so I think that means that the wax wears less

M. Noordermeer | 2 July 2020 | In the version: Dryer | Automatically translated from Dutch

top doger

Price-quality has been the deciding factor. Now see if the energy consumption also decreases

Wilma de Hoop | 18 November 2018 | In the version: Dryer | Automatically translated from Dutch

Miele is the best for me!

Ideal that the dryer itself adjusts the time according to the amount of laundry!

I have a tumble dryer for the first time. My washing machine is also a Mieke and because of the good experience I also opted for a Mieke tumble dryer. Great choice and I hope to enjoy it as long as my Miele washing machine!

B Teunissen | 10 July 2018 | In the version: Dryer | Automatically translated from Dutch

Great dryer

Dryer does what it's supposed to do

CT | 27 March 2019 | In the version: Dryer | Automatically translated from Dutch

Top machine. Sorry about the weird sound

Humming noise as if something is loose. Sometimes you hear it, sometimes you don't.

Laundry still feels damp after drying program but is so dry.

Device is good. Laundry remains slightly damp. It's great that you can fold it away so almost wrinkle-free.

Wessel Keuper | 18 December 2017 | In the version: Dryer | Automatically translated from Dutch
Specifications
Product
Product number

764255
Manufacturer code

10611850