Help after purchase
Your product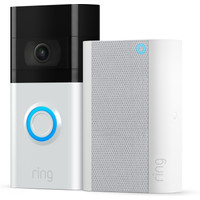 Note: you need a Ring Protect subscription to use all options, for example if you want to store and share footage. After a 30-day trial, the subscription costs € 3 per month. With this Ring Video Doorbell 3 package, you can be in live contact with visitors standing at your door from any location and hear the doorbell signal in your home. In addition to the Ring 3, the package also includes a Ring Chime Pro (second generation). This emits a signal that you hear in the house if you don't have your phone at hand. The Chime Pro also amplifies the WiFi signal from the place where you install it. The close-up motion sensor of the Ring 3 can be set up to 1.5m in front of your door. Since the doorbell uses dual-band WiFi, the connection is less likely to be dropped compared to other Ring doorbells. Thanks to the Full HD image quality with night vision, you can always see what goes on at your doorstep. And with the 2 included fronts, you can choose the look that suits you most.
---
---
3 factors that affect the range of your doorbell
When we talk about a doorbell's range, we mean the range between the doorbell button and the receiver in the house. The range is indicated by the manufacturer by default and usually ranges from 50 to 75 meters. Unfortunately, that's not always the distance both elements can be apart in reality. Below, you'll read what the various reasons for this are.
---
Didn't find your answer?
Find an answer to your question quickly and easily via our Customer Service.