Help after purchase
Your product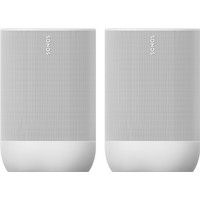 With the Sonos Move Duo Pack, you'll enjoy stereo sound at home and outdoors. Thanks to the battery and Bluetooth connection, you can take the Move anywhere. The IP56 certification means the speakers are resistant to dust and splashing water, so you can take them to the beach or park without problems. At home, you connect the speakers to the power grid and connect them to your WiFi network. You transform the set into a stereo pair or a multi-room setup that way. When you create a multi-room system, you place one speaker in your bedroom and the other in your living room or kitchen. This allows you to enjoy music everywhere in the house. If the battery is fully charged, the speakers last up to 10 hours. You'll get two charging stations so you can charge both speakers at the same time. Note: Sonos products don't work via the 5GHz network. Make sure your WiFi is set up on the 2.4GHz network before you purchase a Sonos product.
---
---
Didn't find your answer?
Find an answer to your question quickly and easily via our Customer Service.