Help after purchase
Your product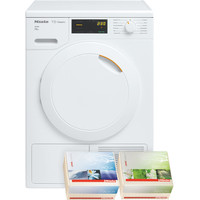 Dry in an energy-efficient manner and yet relatively quickly with the Miele TDB 220 WP Eco + extra fragrance flacon. Dryer With a load capacity of 7 kilograms, you have enough space for the laundry of 1 or 2 people. The A++ heat pump dryer protects your laundry with the PerfectDry system. Once your bedding is dry, the dryer will stop automatically. A full drum of laundry dries in less than 2.5 hours, which is relatively quick for a heat pump dryer. Fragrance flacon Thanks to Miele FragranceDos, your laundry gets a fresh scent while drying. In addition to the aqua fragrance flacon that is included by default, you also get a nature flacon. You can put this in the opening at the lint trap. One FragranceDos fragrance flacon lasts about 50 cycles. Together, the bottles are good for about 100 cycles. Read the instructions on the packaging of the fragrance flacon before use. This prevents misuse and the risk of eye damage and skin irritation.
---
---
Didn't find your answer?
Find an answer to your question quickly and easily via our Customer Service.