Help after purchase
Your product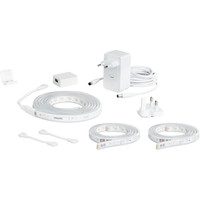 This Philips Hue Light Strip Package provides 4m of flexible lighting in 16 million colors and all shades of white. You simply attach the light strips to each other and turn on the light right away. Operate the light via your Android or iOS device. You do have to download the Philips Hue app first. You can attach the lighting wherever you want thanks to the handy adhesive strip. The high light output makes the Hue Light Strips suitable for both decorative and functional purposes. Use them as mood lighting underneath the bar in the kitchen, for example. The light strip can also improve your viewing experience when you watch television if you synchronize it with your TV. You can expand this light strip up to 10m with the separate 1m extensions.
---
---
Contents of this package

Didn't find your answer?
Find an answer to your question quickly and easily via our Customer Service.