Help after purchase
Your product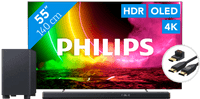 With the combination of the Philips 55OLED806 - Ambilight (2021) and the Philips B95 soundbar, you can enjoy life-like images and spatial audio. The OLED screen provides a high contrast. As a result, colors are displayed brightly and black is really black. The 10-bit panel supports up to 1 billion colors. This makes HDR images stand out and every subtle color difference is clearly visible. All this together ensures a realistic reproduction of a starry sky, you see everything happening in a dark scene, and you can spot every colorful insect in a nature documentary. The P5 processor combined with the 100Hz refresh rate ensure smooth moving images. This way, you get that Formula 1 car in sharp focus. The processor also enhances images from any source. It converts standard Full HD television images to the sharper 4K resolution. Watching TV get a new dimension with Ambilight. The lights on the back of the TV shine on the wall in the colors of the screen for an extra immersive viewing experience. With the Philips B95, you can enjoy spatial and full sound with your television. The soundbar supports Dolby Atmos. Thanks to the upward-pointed speakers, this technology makes sure the sound echoes to your listening position via the ceiling. This way, it feels like the sound is coming from above. You can use the built-in Google Assistant to control the soundbar via voice commands. Say 'Hey Google, play the next song', or integrate the speakers in your smart home. This soundbar and the Philips 55OLED806 work together seamlessly in terms of function and design. You can easily connect the soundbar to the TV with the included BlueBuilt HDMI cable.
---
---
---
---
---
Is my TV suitable for a CI+ card by Ziggo?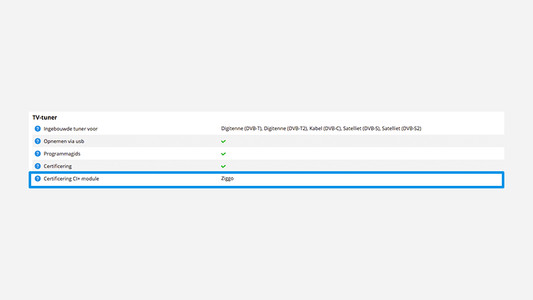 Want to watch digital TV from Ziggo without a separate media box? If so, it's important that the television is Ziggo-certified. This means that the CI+ module of the device is suitable for a Ziggo smart card. In this article, I'll explain how you can quickly check this.
---