Advice on electric keyboards
Are you looking for a keyboard, but you have no idea what to look out for? Do not worry. We help you make the right choice by showing you what to look for when buying a keyboard.
1. What exactly is a keyboard?
The keyboard was developed in the 80s because an organ occupies so much space in the house. A keyboard has built-in speakers and countless tones and rhythms on board to create music. For example, choose a saxophone or guitar as a sound and play the melody with your right hand. Send rhythms by playing drums with your left hand. These provide automatic guidance in different styles and genres. Of course you can also play without accompanying rhythm so that you have the entire keyboard at your disposal for a traditional piano piece.
2. How many keys do you actually need?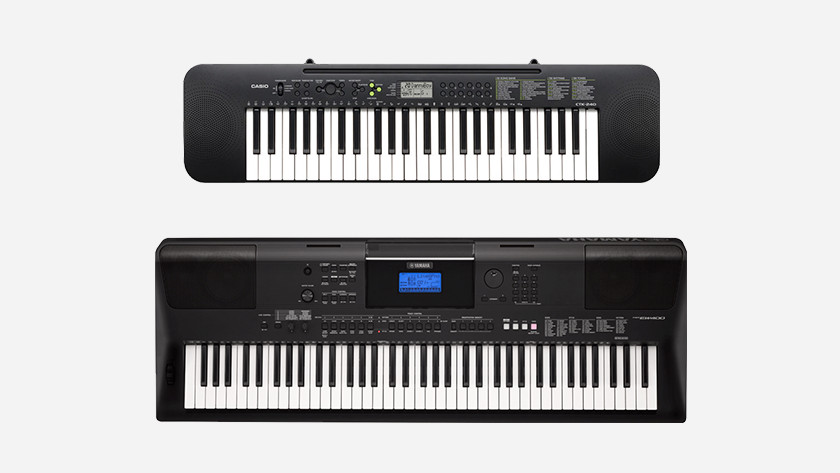 Keyboards are available with a different number of keys or octaves. The most common are 61 keys (5 octaves) and 76 keys (6 octaves).
61 keys (5 octaves). 61 (velocity sensitive) keys are often the minimum requirement for keyboard lessons. This gives you plenty of room to play with 2 hands.

76 keys (6 octaves). Verier piano compositions sometimes use more octaves than a 61-key keyboard offers. This is recommended for more advanced players.
Smaller sizes are often used with a computer (provided the keyboard has a MIDI or USB connection). Smaller keyboards are also suitable for small children.
3. Do you want to learn how to play keyboard?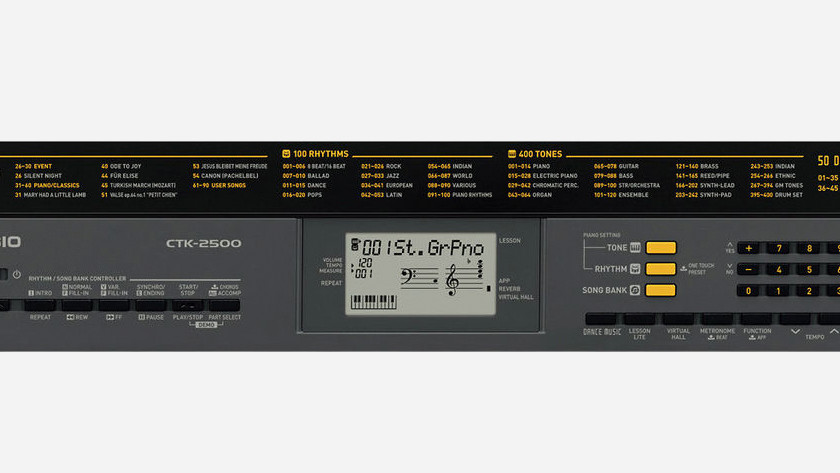 Learning to play keyboard is fun, but not easy for many people. To help you with this, some keyboards are equipped with luminous keys or with built-in lesson modules.
Luminous keys. Keyboards with luminous keys have built-in songs that light up the keys before you have to press them. This allows you to easily and playfully play keyboard games. Often the built-in songs are also present in different levels so that your keyboard can slowly but surely make you a professional musician.

Built-in teaching modules. Thanks to built-in lesson modules, different facets of playing are highlighted. Think of reading notes, playing chords, timing of touch, different music parts of a song, etc. With these learning modules learning to play is a breeze.
4. Are you an advanced player?
Foot pedals
Some keyboards have foot pedal connectors. With a sustain pedal you hold tones for longer and with expression pedals you influence eg the volume or timbre of certain tones.
Effects
With a pitch bend wheel you change the pitch of your tone. With the modulation wheel you can adjust the volume or timbre. Often the modulation wheel can be set via MIDI. Some keyboards are also equipped with more effects such as Reverb, Chorus, Flanger, Delay or Harmony.
Polyphony
Polyphony refers to the number of tones that can be played at most at the same time. Keep in mind that with a sustain pedal many more tones are often held than the 10 you press with your fingers.
Recording
If a keyboard is equipped with recording options, you can save your songs internally or externally via sd card or usb stick. Some keyboards even have an internal mixer, so you can play different parts separately and later put them together.
5. Complete your purchase.
Most keyboards are delivered without a stand and bench. Do you want to start playing immediately? Do not forget these essential accessories:
6. Did not find what you were looking for?
Although a keyboard offers a lot of possibilities, you may find another key instrument that better suits your needs. For example, digital pianos always have 88 weighted or semi-weighted keys for a more authentic piano feel. MIDI keyboards are used in combination with a computer and often have controller buttons such as faders and knobs. A synthesizer is the tone specialist among the key instruments. With this you can design a sound yourself and make it sound exactly the way you want it.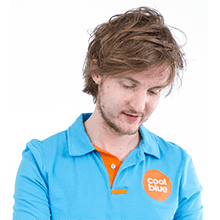 Article by: