Heatstrip THD1500EU
---
Alternatives
Current product

Price

389,

-

319,

-

279,

-

239,

-

529,

-

Mounting surface
Ceiling
Ceiling
Ceiling, Patio umbrella, Wall
Ceiling, Wall
Ceiling
Type of heating element
Heatstrip
Halogen
Golden tube
Low glare
Heatstrip
Heating range
10 m2
19 m2
22 m2
23 m2
12 m2
---
Product information
Key specs
Heat source

Electricity
Mounting surface

Ceiling
Type of heating element

Heatstrip
Heating range

10 m2
Usage costs per hour

0,33 euro
---
Pros and cons
According to our patio heater expert
This patio heater loses virtually no heat due to wind.

The patio heater doesn't have a red glow when it's heating up.

This patio heater has less power than other heaters in these series, and that's why it has a smaller heat range and a lower heat intensity.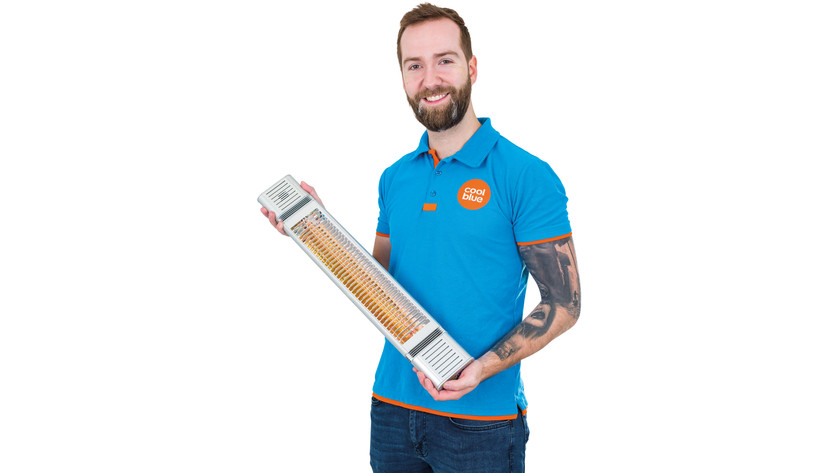 ---
Product description
The Heatstrip THD1500EU doesn't emit red light so you're not bothered by unnecessary lighting. The powder coated aluminum coating is only 4.8 centimeters thick, which allows you to hang the patio heater nearly anywhere. In contrast with other heat panels, this patio heater is hardly sensitive to wind, so the heater has a high heat intensity. With its 1500-watt power, the patio heater does have a lower heat intensity and a smaller heat range than other heaters in this series. Also keep in mind that when you build in this patio heater, you need a wall socket with a timer and/or remote (not included) to turn the heater on and off. Check the manual to see where you may or may not hang your product.
Advice from our expert: to heat up sheltered and windy patios of at least 10m², you'll need at least 2 of these patio heaters.
A patio heater uses more power to start up: peak power. You can reduce this power with a soft starter, so it won't overload your electric circuit. This way, you'll prevent the fuses from blowing.
---
Key specs
Heat source

Electricity
Mounting surface

Ceiling
Type of heating element

Heatstrip
Heating range

10 m2
Usage costs per hour

0,33 euro
---
Recommended combinations
Recommended by our expert
recommended by our expert
Want to heat your whole patio? Get the second and third patio heater with a discount!
2x Heatstrip THD1500EU

€ 778,-
€ 719,65
15% discount
on the accessory
3x Heatstrip THD1500EU

€ 1.167,-
€ 1.026,96
18% discount
on the accessories
Recommended combinations
Recommended by our expert

recommended by our expert

Want to heat your whole patio? Get the second and third patio heater with a discount!

2x Heatstrip THD1500EU

€ 778,-

€ 719,65 15% discount
on the accessory