Alecto SA-41 (1 year)
---
Product information
Coolblue's Choice
This product is our choice for a connectable smoke detector.
---
Key specs
Linkable

Wireless
Smart smoke detector

No
Detection

Smoke
Alarm signal type

Audio signal
Integrated WiFi

No
---
Pros and cons
According to our smoke detector expert
Pair up multiple smoke detectors together so they'll go off simultaneously.

The loud 85dB signal warns you in case of smoke development.

The smoke detector runs on batteries, so it's wireless and can be installed anywhere.

The smoke detector only detects smoke, not carbon monoxide gas and heat.

The battery of this smoke detector has a shorter lifespan than smoke detectors with a 5 or 10-year battery.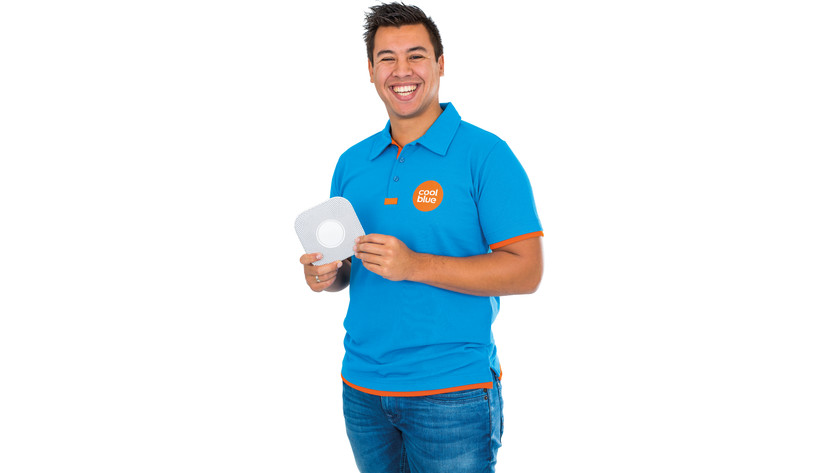 ---
Product description
De Alecto SA-41 is a wireless, connectable smoke detector. You can use this detector in a stand-alone setup or create your very own fire prevention network at home. How? Connect multiple SA-41 or SA-43 smoke detectors to each other. They have a range of 60 meters. The detector works on 2 AA batteries, so you can place it anywhere in your house. When the battery is (almost) empty, you will hear a loud beep. In case of a smoke detection, an audio signal of 85 decibels will sound. Are you having a dinner party at home and is it not convenient for the smoke detector to be on at that specific moment? Simply switch it off temporarily with the time-out button. Via the test button, you can test the smoke detector to make sure that it works.
---
Key specs
Linkable

Wireless
Smart smoke detector

No
Detection

Smoke
Alarm signal type

Audio signal
Integrated WiFi

No
---
Alternatives
Current product

Price

21,

99

22,

99

21,

99

18,

99

22,

99

Power supply type
Battery
Battery
Battery
Battery
Battery, Grid current
Height
12 cm
17,9 cm
2,9 cm
17,8 cm
11 cm
Width
12 cm
11,5 cm
10,2 cm
11,5 cm
11 cm
---
Recommended combinations
Recommended by our expert
recommended by our expert
Select your smoke detector value pack below:
3x Alecto SA-41 (1 year)

€ 65,97
€ 63,77
5% discount
on the accessories
4x Alecto SA-41 (1 year)

€ 87,96
€ 82,68
8% discount
on the accessories
Recommended combinations
Recommended by our expert

recommended by our expert

Select your smoke detector value pack below:

3x Alecto SA-41 (1 year)

€ 65,97

€ 63,77 5% discount
on the accessories