JBL Endurance SPRINT Black
---
Alternatives
Current product

JBL Endurance SPRINT Black

Price

45,

99

43,

99

45,

99

49,

99

42,

99

Type of ear cushions
In-ear
In-ear
In-ear
In-ear
Earbud
Headphones wearing method
Ear hook, Neckband
Earbud, Neckband
Ear hook, Neckband
Earbud
Neckband
Bluetooth
Yes
Yes
Yes
Yes
Yes
---
Product information
Key specs
Sound quality according to customers

Poor
Carrying comfort according to customers

Standard
Bluetooth

Yes
Fully wireless earbuds

No
Maximum battery life

8 h
---
Pros and cons
According to our earbuds expert
The earbuds are waterproof, thanks to the IPX7 certification.

Thanks to the quick charge function, you can use the earbuds for 1 hour after charging them for just 10 minutes.

You can stream music wirelessly from your smartphone or tablet via Bluetooth.

The earbuds come without a storage pouch.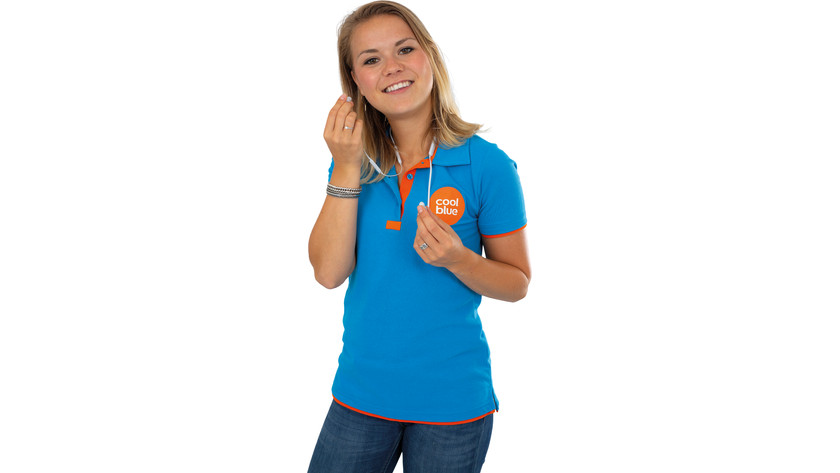 ---
Product description
The JBL Endurance SPRINT allows you to listen to your favorite music in good sound quality while running. Does it look like it's going to rain? Thanks to the waterproof design, you can train in all weather conditions. The 8-hour battery life also makes the earbuds suitable for endurance runs. Is your battery running low, but do you need the earbuds soon? After charging the earbuds for just 10 minutes, you can use them for 1 hour. You can also connect the earbuds to your smartphone via Bluetooth. That way, you can stream music from streaming services or your own playlists. You can easily control the earbuds by using the touch controls to change songs, adjust the volume, or accept an incoming call. Because different sizes are included, you can easily find the right fit.
---
Key specs
Sound quality according to customers

Poor
Carrying comfort according to customers

Standard
Bluetooth

Yes
Fully wireless earbuds

No
Maximum battery life

8 h
---
Rating
| | | | |
| --- | --- | --- | --- |
| 5 stars | | | |
| 4 stars | | | |
| 3 stars | | | |
| 2 stars | | | |
| 1 star | | | |
| | | | |
| --- | --- | --- | --- |
| 5 stars | | | |
| 4 stars | | | |
| 3 stars | | | |
| 2 stars | | | |
| 1 star | | | |
Rating per section
Sound quality
Review score 3.85 out of 5 stars
7,7
User friendliness
Review score 3.75 out of 5 stars
7,5
Wearing comfort
Review score 3.85 out of 5 stars
7,7
Design
Review score 3.7 out of 5 stars
7,4
Most helpful reviews
Most helpful reviews
"It s ok for the price"
Chung Le | 17 January 2020 | Color: Black, Yellow
The buds fit into my ear holes well

The black trap thingy that wraps around ur ears should be moldable do users can shape it to their ears. At the moment, it doesnt fit my ears

Sound quality can be better

At the monent i dont know when the battery is fully charged. Is there a led behaviour for that? Pls let me know
I m ok with the product. Tho i d love to know how long i should charge the battery for to avoid killing the battery. There should be a led signal to let users know that battery is fully charged
---
"Tevreden, maar gewenning nodig"
Billie | 16 April 2020 | Color: Black, Gray
blijven goed zitten, ook tijdens hardlopen

betere geluidskwaliteit dan verwacht

na langdurig gebruik beginnen ze wel te irriteren

bediening (vnl volume-regeling) is te gevoelig en daarom erg onhandig
Ben blij met deze aankoop! Blijven goed zitten, ik gebruik ze voornamelijk voor lopen of iets op de achtergrond te luisteren tijdens het werken. Een perfecte geluidskwaliteit is voor zo'n zaken niet nodig voor mij, en de geluidskwaliteit van de oortjes is daarvoor meer dan voldoende! Enige echt lastige vond/vind ik de bediening die heel gevoelig is (nummer pauzeren, volgende nummer, volume) maar dat is ook wat gewoon worden. In het begin lukte het me niet om het volume te regelen (in de plaats pauzeerde ik steeds, of ging ik naar het volgende nummer), tot je plots doorhebt hoe het in de minieme gebaren zit... Dat kon beter, door bvb volume aan het linkeroortje te regelen, en de rest aan het rechteroortje.
---
"Good for its price"
Amirhossein | 6 February 2020 | Color: Black, Gray
It is a bit hard to wear.
---