Indoor surveillance package - Synology DS218+ with 8TB
---
Product information
Pros and cons
According to our NAS expert
With 2GB RAM, more than 10 users are able to work on the NAS at the same time.

Thanks to the Dual-Core processor, the NAS can handle multiple tasks simultaneously.

The camera can rotate, tilt, and zoom remotely.

You need a good WiFi signal where you're installing the camera; use a WiFi extender to create a strong WiFi network near your camera.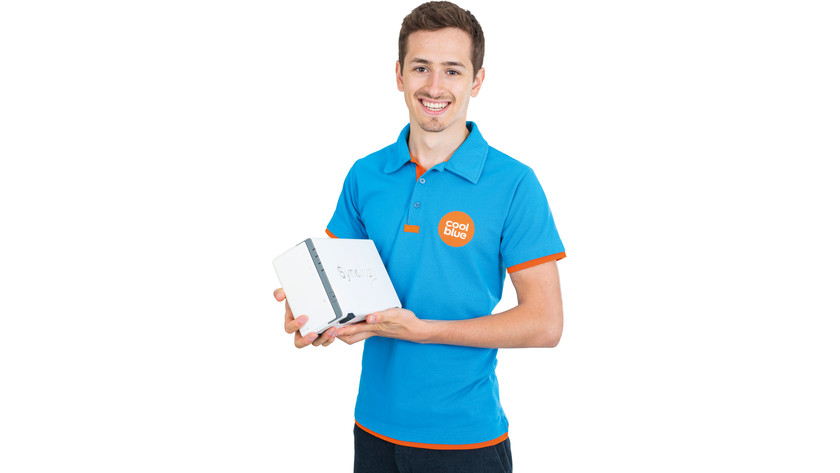 ---
Product description
You can protect your home from intruders with the indoor surveillance package - Synology DS218+ with 8TB. This package includes a Synology DS218+ NAS, a Foscam R2 IP camera, and 2 Seagate IronWolf 4TB hard drives. You can place the R2 camera at the front door, back door, or point it at an area you want to protect extra well, for example. You can see what is happening in your home live via your smartphone. These images are in Full HD resolution, even when you zoom in. The Synology DS218+ is a NAS with room for 2 hard drives and includes a Dual-Core processor and 2GB RAM. The 8TB storage space ensures you're able to store up to 8 years worth of 30 fps footage. And thanks to AES 256-bit encryption and RAID options, you can prevent important footage from being hacked or lost.
Included by default
Seagate IronWolf ST4000VN008 4TB
Manual
3 years of Seagate Rescue Services
Foscam R2 White
Antenna
Mounting bracket
AC adapter
Quick start guide
Warranty card
CD
Synology DS218+
Manual
Power cable
Accessory pack
Network cable
Tips for using this product
Read our tips and find out all about how to set up your product and use it the right way.

---
Visit one of our stores, also by appointment
Get advice from an expert

We have stores in Almere, Amsterdam, Arnhem, The Hague, Eindhoven, Groningen, Haarlem, Leiden, Rotterdam, Rotterdam Alexandrium, Tilburg, and Utrecht
---
Reviews
| | | | |
| --- | --- | --- | --- |
| 5 stars | | | |
| 4 stars | | | |
| 3 stars | | | |
| 2 stars | | | |
| 1 star | | | |
Most helpful reviews
The perfect all-in-one solution!

D Verhaar | 3 March 2018 | In the version: NAS with no hard drives | Automatically translated from Dutch

Bought one of its predecessors 7 years ago, the DS211+. It still runs 24 hours a day without any problems, currently as a backup server for the DS218+, but due to my extra wishes it became a bit too slow, hence the DS218+.

The possibilities of the Diskstation 'platform' are very extensive, it takes some effort in the beginning to find your way, but that will come naturally. After that it's just set and forget.
Music server, Video server, Mail server, Web server, Security system, Central photo storage with automatic upload from Windows, Android and Apple devices. All this and much more is possible, but not necessary. You just choose the package you need, in 99% of the cases without extra costs.

The support from Sysnology is great, my 7 year old DS211+ still gets Diskstation updates (this year for the last) but security updates are still running for 2 years. This is all included in the price.

In recovery with the DS211+ the speed has of course increased, I notice this especially when using Surveillance Station, the security system. Two full HD cameras run on this 24/7. Also saving and converting photos and videos for use with Photo Station is much faster now.

They are not cheap, putting together a NAS yourself using a small PC is cheaper to purchase, but the convenience and the support/updates from Synology justify the price difference.

Use with 2x WD RED 4TB in conjunction with Synology Hybrid RAID (SHR).

The perfect solution for intensive home or small business use.

D Verhaar | 3 March 2018 | In the version: NAS with no hard drives | Automatically translated from Dutch

Great, easy and very fast NAS

Rob | 3 November 2017 | In the version: NAS with no hard drives | Automatically translated from Dutch

I switched from the DS213 to the DS218+ and the difference in performance is amazing. Websites on Web Station load much faster, and starting movies via Video Station is also much faster. In addition, I am also very satisfied with the fast response of all interfaces.

Rob | 3 November 2017 | In the version: NAS with no hard drives | Automatically translated from Dutch

Perfect solution for backup and multimedia center.

M van der Waal | 7 September 2019 | In the version: NAS + 4TB + Switch | Automatically translated from Dutch

Many apps, also from third parties

The synology DS218+ is used in our home as a cloud and backup station for several PCs and as a multimedia center for the whole family.

The DS218+ is equipped with 2x 8TB WD red drives that are configured according to SHR. (Synology Hybrid RAID).

It was my first encounter with Synology NAS. For a layman, the NAS is quite easy to set up from the first installation, and can be up and running fairly quickly. The great thing about Synology DSM is that a layman can handle it fairly quickly. However, for the advanced user, the possibilities are endless. To really get the most out of this device, you will have to invest the necessary time and study. If you only need network storage and if you want a more plug and play solution, you should not opt for a synology, but start thinking more towards a WD My Cloud NAS.

Outside the home, I can easily access all my media and files via any PC or via my phone. Files like music, movies, etc etc is no problem. Downloading via a VPN provider is also no problem and very easy to set up. By default, an SSL certificate is available via Synology, but this is not seen as safe by Google, for example, but via Lets Encrypt it is possible to replace this with a free and securely recognized SSL certificate.

Indoors I stream all my media via an NFS connection to my Mede8er media player. This is because I don't feel like leaving a PC on all the time when I play music or movies on my home cinema set. Elsewhere in the house it is absolutely no problem to simultaneously stream movies or music via other PCs, phones or tablets. Outdoors, I can also easily play and view music, videos or photos with my phone or tablet via the Audio station, Video station or Photo station app.

Everyone in the house has been allocated their own account and a piece of private storage. Via DSM it is easy to set who can view what or not. So no one can consciously or unknowingly access someone else's files.

If you want to share music or other files with friends or colleagues, you can send a download link with QR code to that person via email. You can then indicate in advance from and for how long the link is and remains valid. You can even set a password to open the link.

The disks of this NAS are regularly checked automatically and I receive the integrity report neatly by e-mail. This way you always stay informed of the status of the drives. If a disk fails, you can replace it during operation. (Hotswap) The data from the failed disk is then automatically restored to the new one.

What I also think is great is that DSM also supports a lot of third-party apps in addition to their own applications. If you would like to set up and maintain your own website, you can also have a lot of fun with this DS218+.

All in all, a versatile device that you can have a lot of fun with. The reliability is also very good. DSM is updated very regularly for more stability and security for the many applications that can run on the NAS. All devices are still supported with updates even after very long use. colleague of mine has a Synology NAS from 2011 and it is still being updated.

M van der Waal | 7 September 2019 | In the version: NAS + 4TB + Switch | Automatically translated from Dutch

Fast, comprehensive and easy to operate for a great price!

Slightly more noisy than the previous one

Few 3rd party packages still available

Bought this DS218+ to complement my trusty DS212+. Because both devices work with the same interface (DSM), everything works as usual. Installing is quick and easy. This 218+ is clearly faster than my old 212+, which of course also makes sense with a much faster processor and four times the memory. I do notice that the cooling fan (also on the lowest speed) of this 218+ makes a little bit more noise than my old NAS. Still very acceptable by the way and not a problem for me, but maybe this is important for others.

This is another excellent device with the familiar ease of use and all the possibilities that Synology is known for. The reliability will of course have to prove itself, but given my previous experiences with Synology, I'm not worried about that!

As far as I'm concerned, there is only one real (temporary) drawback to this DS218+. This device is still so new that there are only very limited 3rd party packages (such as SabNZBD) available, because the toolchain is not yet available to developers. Hopefully it will be resolved in a few weeks or months, so it's not a big disadvantage. Until then, luckily I still have my old DS212+ available.
Nevertheless, this device is absolutely recommended!

Jesse | 1 October 2017 | In the version: NAS with no hard drives | Automatically translated from Dutch

worth its money

does what it promises and does it well, easy and fast

drives can be put to rest when not in use

the DS218+ was the replacement for the DS209+ Not all possibilities have been tested yet, but if it turns out to be just as durable as its predecessor then I am already very satisfied with €5/month.

Arjan van Hessen | 13 January 2018 | In the version: NAS with no hard drives | Automatically translated from Dutch

To absolute top!

The installation of my deceased ds214 was immediately recognized

Very good supporting apps

Good thing, but still pricey

Synology is really top notch when it comes to convenience. Dummies can also set up quickconnect super fast so that your NAS is accessible outside the home. The options are clear and many: even backing up your phone is a piece of cake.
It is not only a nice thing as a backup system: thanks to the DLNA, your smart TV also sees it immediately and movies and videos can be played in this way.

Bastiaan Kee | 16 February 2018 | In the version: NAS with no hard drives | Automatically translated from Dutch

Top notch, all 2018!

I replaced this DS218+ for a DS212+. Everything the same, just ........ the speed, incredible progress. My IP cameras run like a charm, while I wirelessly stream movies to my TV. In parallel, our family laptops are synchronized in real time. Does it make me happy

Robert Lagas | 6 January 2018 | In the version: NAS with no hard drives | Automatically translated from Dutch

Nice and fast new Synology

Ability to dim or turn off the LEDs

Settings sometimes not very transparent

I already had a DS213 so familiar with Synology. The installation was therefore a piece of cake (in combination with 1 disk). However, a number of new settings that I don't quite understand what they do exactly. I wasn't sure what to do with the settings for a shared folder to apply extra integrity protection. There was a warning that it could cause performance problems. However, it cannot be changed afterwards (or I haven't found how yet). What's great is the ability to turn off the LEDs. It is in a cupboard with me and the old one sometimes shined through the cracks, but not with this one anymore because they are dimmed. They can also be completely turned off, but I don't like that.

Marcel Jagt | 30 October 2017 | In the version: NAS with no hard drives | Automatically translated from Dutch

Very satisfied. Works fine.

Lots of software packages

Sound is a bit disappointing. You can hear it running like a desktop

Multifunctional. Lots of software. Clear instruction.

martin Kruijmel | 11 November 2017 | In the version: NAS with no hard drives | Automatically translated from Dutch

Ideal NAS for the home

transfer from old DS to 218+

I've been using a Diskstation to my full satisfaction for years, because I noticed that the previous one (DS212, which started to slow down especially when streaming movies) I decided to buy this one.
The installation was super easy, I had transferred the drives from my old NAS to the 218. The NAS recognized this and restored (almost) all previous settings. The installation took just under half an hour.
My experience now is that everything runs faster, files open faster and streaming is fine.
The other options that this NAS offers, such as VPN, Docker, surveillance station are also useful applications, which means that this NAS offers more than just storing files.

Marc | 17 January 2018 | In the version: NAS with no hard drives | Automatically translated from Dutch
Specifications
Product
Product number

750006
Manufacturer code

ST4000VN008
Brand

Seagate
Warranty

3 years
Warranty type

Carry-in warranty
Old product returned for free
Memory properties
Total storage capacity

4 TB
Hard drive type

3.5 inches
Cache memory

64 MB
Compatible with product type

NAS
HDD's RPM

5900 rpm
Speed class

Basic
Physical properties
Width

10,2 cm
Height

2,6 cm
Depth

14,7 cm
SATA connector type

S-ATA (III)
Product
Product number

679073
Manufacturer code

R2-w
Brand

Foscam
Warranty

2 years
Warranty type

Carry-in warranty
Old product returned for free
Image properties
Video resolution width

1920 pixels
Video resolution height

1080 pixels
Type of image definition support

Full HD (1080p)
Image quality according to customers

Good
Pan
Pan type

Analog
Degrees of panning

300 °
Tilt
Tilt type

Analog
Tilts

100 °
ePTZ
Zoom (IPcam)
Digital zoom

8
Vertical viewing angle

110 °
Horizontal viewing angle

95 °
Fisheye
Frames per second

30 fps
Lens diameter

10 mm
Camera options
Number of cameras

1
IP camera type

HD camera, Indoor camera, Night camera, PTZ camera, WiFi camera
Usage location

Indoor
Alarm system needed for use
Subscription needed for full use
Motion detection sensor
Infrared lighting
Infrared light range

8 m
Infrared motion sensor
Suitable for placement behind glass
Dynamic DNS client
Integrated microphone
Review happening
Number of seconds to review happening

0 s
Streaming
Other properties
Power supply type

Grid current
Battery (power source)
Storage options

Cloud, NAS, SD card
SD card slot
Type of SD card

MicroSD card
Number of days you can view for free

0 d
Installation ease according to customers

Simple
Integrated WiFi
PoE support
UPnP AV support
ONVIF certified
PSIA certified
Compatible with operating system

Android, Windows, iOS, macOS
Physical properties
Width

7 cm
Depth

7 cm
Height

12 cm
Color

White
Weight

349 g
Mounting possible
Water-resistant
Power supply type

Grid current
Smart Home options
Controlled via app
Controlled via Android app
Controlled via Apple app
Controlled via Windows app
Compatible with smartphone / apps
Smart home platform

Amazon Alexa, Google Assistant, Homey
Privacy and security properties
Internet connection required
Manufacturer account required
Multi-factor authentication
Log in with fingerprint on your phone
Log in with Face ID on your phone
Usage possible without cloud environment manufacturer
Support for future updates
Personal information required
Type of information required

Personal information
Introduction year and updates
Guaranteed support with updates

24 months after release date
Year introduced

2015
Introduction month

July
Product
Product number

794570
Manufacturer code

DS218+
Brand

Synology
Warranty

2 years
Warranty type

Carry-in warranty
Old product returned for free
Memory properties
Number of hard drive bays

2
Internal RAM

2 GB
Total number of RAM slots

2
Integrated hard drive
Suitable for hard drive size

3.5-inch HDD
Cache memory

0 MB
SATA connector type

S-ATA (III)
RAID

JBOD, RAID 0, RAID 1, Synology Hybrid RAID
Functions
NAS functions

Backup server, Download server, FTP server, Media server, Photo server, Surveillance station, VPN server, Web server
NAS application center
DLNA
UPnP AV support
FTP server
On/off switch
Kensington lock
Apple Time Machine support
Chromecast support
Maximum number of simultaneous users

More than 10
Number of IP camera licenses included

2
Plex support
Plex support type

4K (Ultra HD) (2160p), Full HD (1080p), HD Ready (720p), SD (480p)
Automatic switch on/off
Suitable for IFTTT
Recommended for use

Making a backup, Media streaming, Save photos and videos
Connectors and connections
LACP Link aggregation
iSCSI support
Thunderbolt connector
Number of female standard USB-A ports

3
Female standard USB-A port version

3.0
Connection type

Wired
Ethernet speed

Gigabit Ethernet (1000Mbps)
Number of ethernet ports

1
Processor properties
Processor

Intel Celeron
Processor brand

Intel
Processor family

Celeron
Processor code name

Celeron
Processor cores

Dual-core (2)
Clock speed

2 GHz
Turbo speed

2,5 GHz
Physical properties
Depth

23,2 cm
Width

10,35 cm
Height

16,5 cm
Type NAS

Upright
Color

Black
Weight

1,3 kg
---