iRobot Roomba i7 Robot Vacuum + iRobot Braava M6138 Mopping Robot
In the version

: i7 | Black | With Braava M6138 mopping robot
In the version

: i7 | Black | With Braava M6138 mopping robot
In the version
i7 | Black | With Braava M6138 mopping robot
Can be picked up even faster
---
Product information
Pros and cons
According to our robot vacuum expert
Thanks to the adjustable time schedule, you can easily coordinate the robot vacuum and mopping robot.

Thanks to the systematic cleaning route and advanced lasers, this robot vacuum doesn't skip anything.

When the battery runs out, the mopping robot returns itself to the docking station to recharge.

Unlike the i7+, this robot vacuum doesn't empty its dust cup itself at the charging dock.

If you have very dark floors at home, the robot mop won't work as well.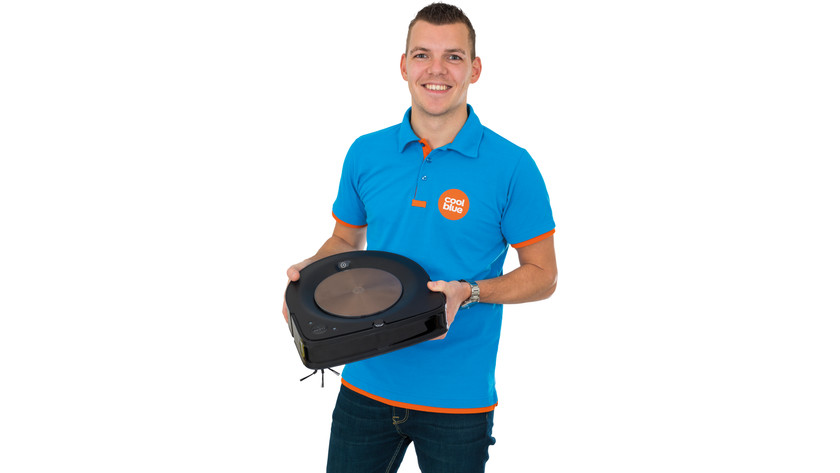 ---
Product description
With the iRobot Roomba i7 Robot Vacuum + iRobot Braava M6138 Mopping Robot, you won't have to do any cleaning or mopping yourself. You can control both robots via an app on your phone. You can also set up cleaning schedules via the app, even when you're not at home. The mopping robot gets to work after the robot vacuum has done its job. You don't have to do anything yourself, thanks to the Imprint Link Technology from iRobot.
iRobot Roomba i7
The iRobot Roomba i7 with high suction power rides around your home systematically, so it doesn't skip any areas. Compared to the Roomba 600 series, this robot has 10x more suction power. That means even fine dust ends up in the dust collector.
iRobot Braava M6138
The iRobot Braava M6138 mops your floors systematically and fast. The robot cleans the floor wet or dry and moves across furniture or other obstacles smoothly. Turn on the robot, attach the cloth for wet or dry cleaning, fill the water tank, and it starts working. Or use the timer so it does its work at night. Thanks to the low 35dB noise level, you can let the robot work at night while you're sleeping.
iRobot Home app
An important advantage of the iRobot Home app is that you can personalize each cleaning job. You can set up cleaning schedules for each room in your home. The Robot Status Card shows the estimated and spent cleaning time. You can also pause the robot or locate it when it's stuck.
---
Reviews
| | | | |
| --- | --- | --- | --- |
| 5 stars | | | |
| 4 stars | | | |
| 3 stars | | | |
| 2 stars | | | |
| 1 star | | | |
Most helpful reviews
De iRobot stofzuiger is een geweldig product en erg gebruiks

Hendrik | 19 April 2019 | In the version: i7 + | With reservoir emptying station | Gray

Vuilcontainer niet snel vol

Vandaag werd mijn iRobot in een hele grote doos afgeleverd. Erin de Robotstofzuiger, een zgn. Clean Base om automatisch het vuil af te voeren uit de Robotstofzuiger en een aantal accessoires en reserve onderdelen. Alles ziet er mooi en cool uit.
Het product is eenvoudig in gebruik te nemen. Eerst zoeken we een geschikt plekje voor de iRobot en sluiten de Clean Base aan op de stroom met de Robotstofzuiger op de daarvoor bestemde plek. De batterijen zijn als service reeds half vol, maar het kan geen kwaad even een uurtje te wachten tot ze helemaal vol zijn.
Ondertussen heb ik de app gedownload op de telefoon en deze verbonden met de iRobot en de laatste software updates geïnstalleerd. Dat verliep alles probleemloos.
De volgende stap is het maken van de digitale plattegrond van ons appartement. Het gaat om een oppervlakte van ongeveer 90m2. We houden niet van vieze vloeren en ook niet van de terugkerende kosten van een hulp in de huishouding. Vandaar de keuze voor deze stofzuiger met een internet aansluiting voor de gewenste flexibiliteit en de mogelijkheid alles aan onze persoonlijke voorkeuren aan te passen. Daar komen we gelukkig helemaal aan onze trekken, zoals blijkt.
Voor het maken van de plattegrond met behulp van de zgn. Smartmapping Technologie hebben we de Robotstofzuiger twee keer zijn daarvoor bestemde trainingspak laten uitvoeren. 90% van de oppervlakte was daarmee in kaart gebracht, voldoende voor het echte werk. Interessant is nog dat ons appartement 4,5 kamers heeft, maar dat we de plattegrond in 9 delen ingedeeld hebben. Dit is echt heel handig want je kunt de Robotstofzuiger bijv. opdracht geven alleen te zuigen in bepaalde delen of vaker bijvoorbeeld te zuigen in delen die snel vuil worden. Erg efficiënt. Wat ons ook erg aanspreekt is de bediening in afstand. Ben je bijvoorbeeld een paar dagen weg, kun je de iRobot op afstand via internet zijn opdrachten geven, die hij dan feilloos uitvoert. De vuilafvoer van de Robotstofzuiger naar de Clean Base zorgt er voor dat het Robotstofzuiger nooit vol komt te zitten met vuil. Helemaal top.
We zijn nu enige tijd actief met de iRobot en zijn heel erg tevreden en nauwelijks werkzaamheden van onze kant. De vloeren zijn echt schoner dan voorheen en we plannen de activiteit op momenten dat wij er geen last van hebben o.a. bijv. als we afwezig zijn. En aan al onze wensen van flexibiliteit van inzet en gebruiksgemak wordt voldaan. Een zeer aan te raden product.

Hendrik | 19 April 2019 | In the version: i7 + | With reservoir emptying station | Gray

Keeps 95% of the floor clean.

joos Helberg | 18 September 2019 | In the version: i7 | Gray

learning ability wrt rooms and sub-rooms

needs power after 70 minutes

needs the lights to be on

Great for big surfaces and will navigate around small obstacles seamlessly.
You need to move the furniture around a bit in order to cover all space.

joos Helberg | 18 September 2019 | In the version: i7 | Gray

Is niet zijn geld waard er zijn veel betere alternatieven.

W. J. Hut | 4 April 2021 | In the version: i7 | Gray

Blijft veel rommel op de vloer liggen

Botst bijna overal tegen aan

In hey donker kan hij niet/slecht zijn weg vinden.

Werkgebieden functie werkt niet naar behoren.

Neemt hoekjes kansen Ed slecht mee.

Op de gladde pvc vloer is dit geen aanrader. Zuigkracht is te klein en de borstels raken de vloer niet. Hierdoor wordt het niet goed schoon. Ook botst hij nog steeds tegen elke plint poot of ander object aan.

W. J. Hut | 4 April 2021 | In the version: i7 | Gray

Cleaner home with less effort

Praktische

A. B. | 29 November 2020 | In the version: i7 | Gray

Excellent robot

Because it does what it says.

Jessica Ricci | 27 April 2021 | In the version: i7 | Gray

itp good

doing a good job

Krzysztof Kanicki | 19 August 2020 | In the version: i7 | Gray

Amazing!

Is worth every penny.

Deisy Escobar | 19 March 2021 | In the version: i7 + | With reservoir emptying station | Gray

Mooi en degelijk apparaat, met zeer veel opties.

Heel stil tov oudere roomba

Kleiner toc een oude roomba

Handige iphone app voor bediening

Roomba, is voor mij de porche onder de robot stofzuigers

Lars Tigchelaar | 15 August 2020 | In the version: i7 | Gray

Great assistant for our home

Does not require babysitting

Great at assisting the cleaning of floors, with a large dog who sheds a lot of hair. It runs on an hour routine daily, and requires no real babysitting.

Charles Tietze | 3 April 2021 | In the version: i7 + | With reservoir emptying station | Gray

Valuable addition to household appliances.

Good cleaning performance.

Good battery life. Approximately 2 hours plus for 50 square meter area.

Build quality could be better. Score: 7/10

Good cleaning performance.

Ashutosh Agnihotri | 13 May 2021 | In the version: i7 | Gray