JBL Boombox 2 Duo Pack Black
Version
: Black
|
2 speakers
---
Product information
Pros and cons
According to our Bluetooth speaker expert
You can connect the 2 speakers to listen to a stereo sound.

The waterproof design makes the speakers suitable for outdoor use.

Thanks to the 24-hour battery life, you won't be without music soon.

You can only connect these speakers to other JBL speakers that support PartyBoost.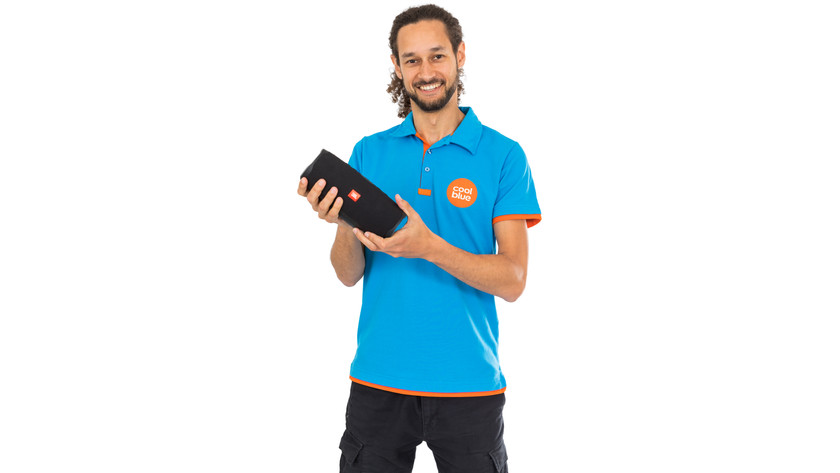 ---
Product description
With the JBL Boombox 2 Duo Pack, you'll have two speakers right away. You can connect them to each other via PartyBoost connect. This way, you can enjoy stereo sound and a high volume. Thanks to the waterproof design, you can safely bring the speakers to the pool or the beach. With a 24-hour battery life, you can party till the morning comes without worrying about the music stopping. Does your phone run out of battery during the night? Thanks to the built-in power bank, you can charge your phone via the USB port of the speaker.
Included by default
Manual

(5.23 MB)

Charging cable
Tips for using this product
Read our tips and find out all about how to set up your product and use it the right way.

---
Visit one of our stores, also by appointment
Get advice from an expert

View more Bluetooth speakers in our stores

We have stores in Almere, Amsterdam, Arnhem, The Hague, Eindhoven, Groningen, Haarlem, Leiden, Rotterdam, Rotterdam Alexandrium, Tilburg, and Utrecht
---
Reviews
| | | | |
| --- | --- | --- | --- |
| 5 stars | | | |
| 4 stars | | | |
| 3 stars | | | |
| 2 stars | | | |
| 1 star | | | |
Most helpful reviews
lord songpearlie

Elisha van Eijk | 19 April 2021 | In the version: Black | 1 speaker | Automatically translated from Dutch

have fun with your friends

being able to give a great concert for the neighbors

the box is very easy to use and really gives a nice atmosphere with the sound in the room

Elisha van Eijk | 19 April 2021 | In the version: Black | 1 speaker | Automatically translated from Dutch

awesome

kevin maes | 29 December 2020 | In the version: Black | 1 speaker | Automatically translated from Dutch

the sound is crystal clear

Attention a very large box so it takes up space

the couple of older devices from jbl that doesn't work

attention he leaves a lot of bass there less the sound

I mainly bought it to take with me on campsites perfect for that

kevin maes | 29 December 2020 | In the version: Black | 1 speaker | Automatically translated from Dutch

Top speaker!

Mitchel Jacobs | 31 March 2021 | In the version: Black | 1 speaker | Automatically translated from Dutch

Battery lasts a long time

Can be nice and loud and still clear

Because it has a beautiful sound and you could easily use it in a big villa.

Mitchel Jacobs | 31 March 2021 | In the version: Black | 1 speaker | Automatically translated from Dutch

A party or not, you'll enjoy it a lot.

I have been using the jbl boombox for about 10 days now. The reason I started using this box is that I like to make music, listen, in whatever way I am involved with music. It is therefore ideal that this box can be taken along and has a reasonable capacity. Water resistance was also a plus for me because I will also use the box outside a lot and then be less dependent on the weather conditions. I think the box looks nice, not too noticeable, and it also feels nice. In terms of design, I would have preferred to see the handle differently, but this aesthetic flaw is made up for by the practicality of the handle (in terms of width, grip, etc.). I have already used the box extensively in various situations, sports both indoors and outdoors and when doing odd jobs. However, also at quieter moments such as relaxing in the sun, doing nothing in the house and to fall asleep with. Despite the fact that I haven't really had to use the box outside in bad weather yet, the water resistance has already been of value. I didn't have to worry when my son decided to "attack" the speaker with his water pistol, and I didn't have to explicitly take the box into account during my cooldown during exercise. It provides a lot of convenience. The only thing that can be said about the commissioning is that it is very simple and efficient. You connect the speaker to your phone via Bluetooth. If you would like to use the jblconnect app or party boost, your GPS must be turned on, but this is all self-explanatory. It is unclear to me what it is needed for, but when asking for the location, it is indicated that they do nothing with that data. I have not used Party Boost myself (I have 1 speaker) but I have not yet run out of power. It is also nice that you can make 2 Bluetooth connections. This allows you to easily switch the playlist and keep it diverse in a group. You can also vary battery consumption by varying. However, you can also charge the phone via the box, of course less quickly than via the socket, but a nice side effect.
The sound has not disappointed me for a portable box. Although it is not hi-fi, it is very much. In general I have used the box in rooms of around 80m2 and smaller which were well filled by the sound. A disadvantage of the full sound is the listening fatigue that you run into with certain genres. An equalizer could have been a handy addition for this. Furthermore, it is of course not necessary but a .touchpad and some optional light effect would have been nice. All in all I am very satisfied with the product.

Raiday1 | 1 June 2020 | In the version: Black | 1 speaker | Automatically translated from Dutch

Tip

Delivered quickly

Rene Zwikker | 4 April 2021 | In the version: Black | 1 speaker | Automatically translated from Dutch

great product

The sound is great and easy to carry!

Djim de Wit | 10 August 2020 | In the version: Multicolored | 1 speaker | Automatically translated from Dutch

For garden and hall very suitable for parties.

Multiple jbl boxes can be played together if you use a downloadable app

Can handle very good heavy bass and music as well as speech is very clearly audible from medium volume to high volume.

Very good party boxes especially for dance music and guitar rock where a lot of bass must be present.

Bluetooth connection goes very far in open space. Walking around with music on your smartphone in your inside pocket is no problem in a large garden.

No connection provided to read SD card or USB stick. For some users who do not have or cannot operate a Bluetooth device, this is a disadvantage

At a low volume are silent passages in eg; classical music can hardly be heard.

Less suitable for indoors and are eg; Bose speakers better at low volume.

The sound coming from one box is directed forward. So if you stand at the back of the speaker, a lot of the music played is lost. Only the basses are everywhere.

Since the box is more suitable for a somewhat higher volume, you must have neighbors who also like to hear your music.

Very good build quality, nice design, can handle very heavy bass. If you want to increase the bass tones by means of an equalizer, that is no problem for this not too large speaker. This will not work with other speakers that are smaller or even of the same size.

willem coremans | 28 November 2020 | In the version: Multicolored | 1 speaker | Automatically translated from Dutch

Fantastic speaker

It is perfect for both indoor and outdoor use. The beautiful design of the handle makes it easy to carry

Ruben van Stenis | 4 May 2021 | In the version: Black | 1 speaker | Automatically translated from Dutch

Simply top company, and top JBL Boombox 2

Arranging tones via app is not possible

Just great great speaker!!

Frederic De Carne | 19 August 2020 | In the version: Black | 1 speaker | Automatically translated from Dutch

Exist purchase of the year!

Battery lasts a long time

Nice design, good sound and very user-friendly!

Britt van Boldrik | 20 May 2021 | In the version: Black | 1 speaker | Automatically translated from Dutch
Specifications
Product
Product number

863064
Manufacturer code

JBLBOOMBOX2BLKEU
Brand

JBL