Google Nest Protect V2 Battery 4-Pack
Available for pickup even sooner
---
Product information
Pros and cons
According to our smoke detector expert
Via the Nest app of the smoke detectors, you're always aware of the possible fire hazard in your home.

The combination detector detects both odorless carbon monoxide gas and smoke.

Connect the smoke detectors to other smart devices and let them work together.

It's not possible to connect the smoke detectors to mains power.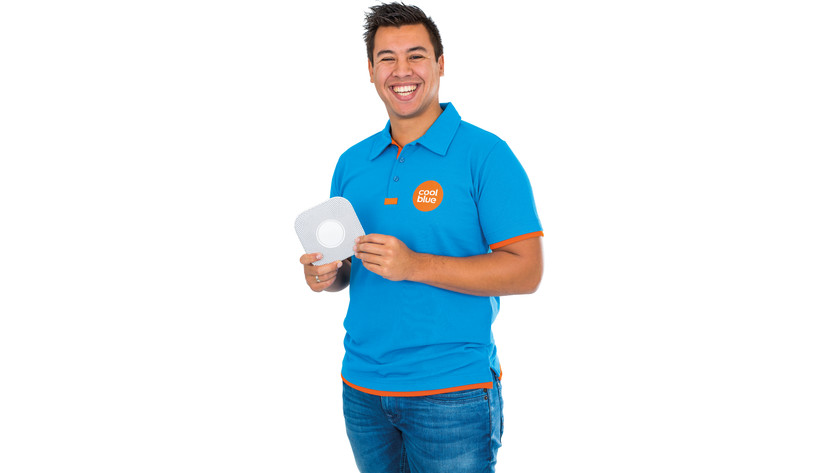 ---
Product description
With this Google Nest Protect V2 Battery 4-Pack, you'll always be aware of smoke development or carbon monoxide in your home. The pack contains 4 detectors that you mount all over the house. You can link them to the Nest app on your smartphone or tablet. In case of detection, the Nest Protect alerts you via a voice alarm with a volume of 70dB. A voice tells you exactly where in the house the danger is. The app also keeps you informed of a low battery and sensor malfunctions. Green lights turn on when the motion sensor detects movement in the dark. Each Google Nest Protect V2 runs on 6 AA batteries (included).
Included by default
Manual

(2.53 MB)

Battery (6x)
Screw (4x)
Mounting support
Introductory guide
Tips for using this product
Read our tips and find out all about how to set up your product and use it the right way.

---
Reviews
| | | | |
| --- | --- | --- | --- |
| 5 stars | | | |
| 4 stars | | | |
| 3 stars | | | |
| 2 stars | | | |
| 1 star | | | |
Most helpful reviews
Google Nest Protect: smart, loud and clear!

Dylan. Smart home specialist. | 6 March 2020 | In the version: 1 | Battery | Automatically translated from Dutch

Combination of voice prompts, colors and app

Linkable to smart devices

Reports smoke development and carbon monoxide

Some extra features add little

The Google Nest Protect V2 has a design that fits in with other Nest products: sleek and stylish. The design is special for a smoke detector. I immediately notice the holes in the housing and it has an LED ring that communicates with the help of colors.

Easy installation
You can easily install the Nest Protect V2: make a plate on the ceiling and click the smoke detector into place. I have both the battery version and the wired version. The wired version requires power, so you connect it to the mains. This is also easy to do with 2 left hands. My only regret is that my smoke detector is not parallel to the walls. When I click it on the attachment of my old ceiling lamp, I can no longer turn it. So now it hangs a bit diagonally relative to the wall. Once installed, you can easily connect the smoke detector to the Nest app. Here I set a location per smoke detector (including 'attic').

Loud and clear
Once you've heard the Nest Protect alarm, you'll never want to hear it again. It is extremely loud, it really hurts your ears. At the slightest smoke development, I now immediately open windows and doors, to prevent the noise. The smoke detector gives a voice warning and a notification via the app before the siren sounds. This way I can first check what is going on and do something about it. The communication with voice is therefore a handy feature, which warns before the alarm goes off and tells you whether the smoke has gone. In addition, I immediately hear where the smoke is in the house.

Notifications in different ways
Nest Protect communicates through voice prompts, push notifications, and the LED ring. This reduces the chance that I will miss a notification, even if I am not at home. In the app I see that the smoke detector regularly tests itself with a monthly sound check. The LED ring indicates all kinds of things with different colors. Because the smoke detector also talks and has an app, I don't actually use that feature. It also has a night mode, where the light turns on when the Nest Protect detects movement. Because of the smart lamps in my house, I don't really need this feature.

Integration in your smart home
I love that the smoke detector works with my other smart devices. For example, it's handy that my Nest thermostat switches off if the Nest Protect detects carbon monoxide. I also connect it to my Hue lamps, so that they flash when the smoke detector goes off. It is strange that you only use these tricks in emergency situations. Because there has been no fire or smoke in my house, I have not yet seen these smart couplings in practice after testing.

Dylan. Smart home specialist. | 6 March 2020 | In the version: 1 | Battery | Automatically translated from Dutch

Beautiful, (too) pricey but not suitable for all situations

Arjan van der Oest | 17 November 2015 | In the version: 1 | Grid current | Automatically translated from Dutch

Subtle in case of false alarm

Not suitable without junction box!!

Full of anticipation, I bought a Nest Protect to replace the first of my existing Ei.146 smoke detectors. Since this is also equipped with 230V (new-build home) and because I don't feel like regularly replacing 6 (expensive, Nest recommends a specific type) AA batteries, I chose the Wired version.

However, what is my surprise: in contrast to other wired systems, it is not simply possible to directly screw the 230 volts into the device. Nest supplies a plug on a piece of cable that must be connected to the existing cables with (supplied, that in turn) welding caps. Well, that's not the worst either (although I don't have a junction box in the ceiling so certainly no room for welding caps, but that could be solved with some soldering and insulating tape), were it not for the fact that you plug the plug AROUND the way in the Nest should stick out and that the plug then sticks out almost an inch from the base. So if you don't have a junction box under the Nest (for me, only a PVC pipe comes out of the concrete ceiling with three cables in it), then it is physically impossible to get the Nest against the ceiling. The mounting ring that Nest provides is only a few millimeters thick and does not give you the space you need.

Fortunately, the people at Coolblue solve this neatly by taking the device back, via a free answering number (despite the fact that I had picked it up in a store). So even if a purchase is disappointing, you are at the right place with Coolblue and that is a very reassuring thought.

Arjan van der Oest | 17 November 2015 | In the version: 1 | Grid current | Automatically translated from Dutch

Works great in places where you need extra vigilance

Bjorn | 3 December 2015 | In the version: 1 | Battery | Automatically translated from Dutch

check for battery every night

Bought for the kitchen. Yes. the kitchen indeed. This Nest is built with its advanced technology in such a way that it doesn't see my steam from the boiled potatoes as a fire. However, my smoking kettle (fire in the contact points) he saw neatly as smoke. And first shout through the house: Attention: smoke development in the kitchen! Then your phone vibrates and you know exactly where to go. With the app turned off the notification after the kettle was turned off. In the event of a larger fire or CO notification, I expect it to beep immediately. Didn't have it so couldn't test. Works great in places where you need extra vigilance. Top!

Bjorn | 3 December 2015 | In the version: 1 | Battery | Automatically translated from Dutch

No Push messages in case of fire with Iphone 6S (latest IOS)

I posted the google nest protect a month ago. Everything ran by itself: at that moment you think that everything is working properly. Someone asked me yesterday to smoke in my house to test if I receive a fire notification. We've made smoke so that the alarm goes off. However, you will not receive a message or push message on your iPhone. Everything is indeed set correctly both in iPhone and in the NEST app. We tested this with the iPhone 6S latest IOS on both 4G and WiFi. So we tested 2 independent installations without getting a single message. If you start the nest app, you will see that there is a fire, but if your iPhone is on, without going into the NEST app, you won't know anything. Also in the message history of the NEST there is no mention of a fire alarm. So when you're not there, you don't see your house burning down. I recommend that everyone try this out. This is really dangerous and in the interest of everyone who purchases this successful product.

Evert Vandeberg | 19 December 2019 | In the version: 5 | Battery | Automatically translated from Dutch

Nice product, feels safe

Gives a very safe feeling

Personally, I chose the Nest because I wanted to create a safe feeling in our home. I think it's a big advantage that they can communicate with each other (I have two) and that in the future they can talk to my Nest Thermostat and turn off my heater in the event of an emergency.

Packing & Product:

Nest Protect is very neatly packed complete with manuals. The moment you have the product in your hands you know what you paid for ;)
The Nest Protect is much heavier than the regular 'smoke detector' but feels very 'high-end'. You have a quality product in your hands.

Edit

I bought two Nests, one for downstairs and one for upstairs on the landing. The one on the landing was no problem; is a wooden ceiling (towards the attic) and easily screwed the mounting bracket to the ceiling. Then turn the Nest into place and you're done.
At the Nest in my living room, I needed coarser artillery; the ceiling there has reinforced concrete, something you can't just drill into. Since I only had a drill of 8mm, I had to use different screws in my living room than the supplied ones. Well, no problem.

Note: Plugs are not included!

Use v.d. app

Once the Nests were up, I went through the process on the App. Very easy (and that's how it should be). You will hear a very clear female voice that will test the device. Neatly counts down from 10 to 0 before emitting the test sound for fire and carbon monoxide. It is very deafening, so it will wake you up.
If you have more than one Nest, you will also hear communication with each other during the test phase.

When you turn off the light in the evening, the Nest lights up Green. This means that everything is still working properly. You can choose to activate the lightpath. This means that when the Nest 'senses' you are nearby when it's dark, it will light up and illuminate your 'path' so you won't trip. This has three positions; Off, Medium Light & Bright Light. Fun.

Conclusion:
Although Nest is very pricey for a smoke detector, I see it differently. I have invested in the safety of my family. I really should have bought three; one more for the top, I'm sure it will come. As I see it, the Nest only has to save me once, although I hope it won't ever happen ;)

Moreover, I just love beautiful products that work together with my smartphone.

Mark van Iterson | 9 September 2015 | In the version: 1 | Battery | Automatically translated from Dutch

Quality, beautiful, connectable and easy!

It costs a bit, but it's a nice device, and much smaller than you might think. It's great that it can be controlled remotely via an app, and the smoke detector is super easy to connect to, for example, a smart thermostat and Hue lamps. As an example: I have linked the above systems in such a way that when carbon monoxide is detected, for example, that the nest protect via IFTTT instructs my thermostat to switch off the central heating boiler (no more carbon monoxide, and in the meantime set all my Hue lamps to Red light to to warn me Or when there's a fire he puts all the hue lights on full power so I have the best chance of seeing where I can best flee.

So gadget and useful in 1, perfect combination!

Jan-Willem | 12 February 2016 | In the version: 1 | Battery | Automatically translated from Dutch

Recommended

Light path is ideal in the dark

Detectors are connected to each other

Notifications on your phone

Does not react to steam from, for example, the bathroom. So no false reports!

Ideal product! A smoke detector, a carbon monoxide detector and night lighting (if you set it that way) in one. You can set it up the way you want and it is very easy to use via the app. We highly recommend it when it comes to indoor safety!

Annemarie | 29 September 2015 | In the version: 1 | Grid current | Automatically translated from Dutch

Smart device, pricey, but of such good quality!

It's nice to have such a product that you unpack and take you completely into the installation. Both the booklet and the product itself contain instructions on what to do. As if that were not enough, you are also taken step by step in the process by means of pictures in the app.

Hanging is normally a problem. You always need more than expected, such as a drill, etc. Not with the Nest. It takes extremely good screws that were very easy to turn even in my sensitive 1930s wall without anything crumbling from the wall. I want to be able to buy these screws somewhere! No plug or drill needed. Ideal. Assembling the Nest is child's play afterwards.

Connecting the Nest is then child's play. The instructions in the app are clear and lead you step by step to a final result.

One of the options that you can then check is the night watch, the Nest lights up when you walk by, which can be set in 3 brightness levels. Handy for the kids at night.

In short, smart and fine product. Worth the money.

Tim Aelen | 7 November 2019 | In the version: 1 | Battery | Automatically translated from Dutch

nice device, nice app but pricey

Larger than a standard fire detector

device knows when you are home

After seeing a house burn down near us, we decided to purchase this Nest Protect.

Specially chosen for the mains version because we still had an unused junction box in the living room. Connection is a breeze with the included clamps and cable.
The mounting ring has several connection points, including some holes that fit exactly on the standard junction box. So you don't have to drill new holes in the ceiling.

Make sure you read the manual first and that you have everything you need ready. (such as your wifi password). If you do, the installation will be ready in 15 minutes.

Wi-Fi tips:
Nest Protect only supports
802.11 b/g/n, 802.11 ac does not work.

If you have a firewall running at home that blocks traffic from inside to outside your network, you should check in advance whether these ports are open:
80 (usually open)
443 (usually open)
9543
11095
1935

At night, the Nest gives off a soft white light as you walk past which is just enough so that you don't bump anywhere (very handy)

My only regret is that I feel the Nest Protect can do more.
Since it contains a motion detector, the Nest App could, for example, send a push message when someone comes in.

It is a lot of money for a smoke / carbon monoxide detector, but if you have seen someone's house burn down close by, you will soon forget that.

Yvette N. | 5 November 2016 | In the version: 1 | Grid current | Automatically translated from Dutch

For us a perfect product and highly recommended.

Measures both carbon monoxide and smoke detector

Automatically lights up your walkway at night as you walk past it. Perfect feature!

You can place, pair and read/operate multiple from smartphone/iPad

No negatives seen so far.

We have had this Nest Protect (2 pieces) for a few months now and are very pleased with it. Very understandable operation and operation from your smartphone or tablet. Does everything you expect it to do and then has that extra function of illuminating your walkway when you walk into your home in the dark.

Frans Seveke | 1 December 2016 | In the version: 1 | Battery | Automatically translated from Dutch