Philips Avance Airfryer XXL HD9650/90 + Pizza Kit
---
Product information
Pros and cons
According to our deep fryer expert
With the included pizza kit, you can also prepare pizzas in the airfryer.

Thanks to the Twin TurboStar technology, you don't have to preheat the airfryer and fat is filtered from the air.

With this airfryer, you can also defrost food thanks to the minimum temperature of 40°C.

With a cord length of 0.8 meter, this deep fryer has to be placed nearby a power socket.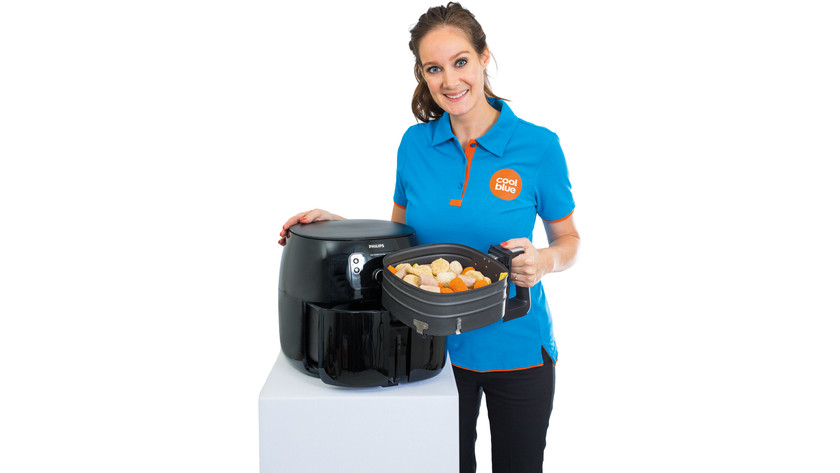 ---
Product description
With the Philips Avance Airfryer XXL HD9650/90 Black + Pizza Kit, you can make your own pizzas thanks to the included pizza kit. You can prepare both fresh and frozen pizzas on the plate. The airfryer has a large capacity, so it's easy to prepare dishes for the whole family. With a capacity of 1.4kg, there's enough room for a whole chicken or a (savory) pie. In addition, you can roast meat and prepare fresh fries for 4 to 5 people in the airfryer. Preheating is no longer necessary, thanks to the Twin-Turbostar technology. The star-shaped element at the bottom and the double bottom filters grease particles from the circulating air. This way, this airfryer extracts even more grease from your meal than other airfryers. You can easily clean the removable parts in the dishwasher.
Included by default
Philips Avance Airfryer XXL HD9650/90
Tips for using this product
Read our tips and find out all about how to set up your product and use it the right way.

---
Reviews
| | | | |
| --- | --- | --- | --- |
| 5 stars | | | |
| 4 stars | | | |
| 3 stars | | | |
| 2 stars | | | |
| 1 star | | | |
Most helpful reviews
Easy and quick preparation and easy to clean

Annemieke Kuil | 22 August 2019 | In the version: Grills meat, fish, and vegetables as well | Automatically translated from Dutch

preparing larger quantities at once

more accessories should be included

longer baking time compared to the Airfryer XL

I have been an airfryer fan for several years and it was time for a new one. Because of the very good experiences with the Philips Airfryer XL, we have now opted for the XXL and we do not regret it. The Airfryer is too beautiful a device to just bake fries, see it as a super fast mini oven. We use the Airfryer, among other things, for baking bread rolls (ready in about 7 minutes without preheating!) baking hamburgers or chicken legs (do not use oil or butter!), preparing stuffed peppers, making savory tarts and even "cooking" eggs (eggs without water just in the basket and then 12 minutes at 120 degrees). And that's just a small summary of what this device can do. You don't use oil or butter for frying, which makes the device easy to clean. And once in a while a bowl of lemon water in the fryer for extra cleaning and the pan is really easy to keep clean. Small disadvantage, but also understandable, the baking times have really become longer with this new model compared to the XL, but it can really do a lot more. Another big advantage is that you put something in the airfryer and only have to look at it when the product is ready. If you fry a hamburger in the frying pan, you really can't run away to do something else quickly. What I do regret is that you have to buy all kinds of accessories separately and you do need them, but they are quite pricey. The rack is especially recommended because you can stack food in your airfryer with it and therefore store a lot more. The dividing wall that is new with this series of Airfryers can also be called really handy. Finally, I would like to advise you to choose the Avance series, it is more expensive than the Viva series, but you have more options to accurately choose the number of degrees and you can see on the display how long your baking time is left. Furthermore, the Avance has a possibility to keep your food warm for 30 minutes, but I have never tried that myself. I hope you have benefited from my review and I hope you enjoy your airfryer!

Annemieke Kuil | 22 August 2019 | In the version: Grills meat, fish, and vegetables as well | Automatically translated from Dutch

Good product, so far delivers what it promises!

Michael | 1 December 2017 | In the version: Basic model | Automatically translated from Dutch

I'm over!

I wanted a deep fryer and had already done some research on the CoolBleu site for it.

Only the "never-ending story", whether or not flour, rice or coconut oil (frying responsibly at different temperatures) and a nice fries from the fryer at family home, ultimately made the decision for me to go for the Philips XXL Airfryer.

I have a small family. But would like to have the possibility to bake for several eaters.

In terms of baking, I first put a chicken, just over a kilo, in the Airfryer. Rub the chicken with some herbs beforehand and put it in the basket of the Airfryer. You can easily set the program and time on the Airfryer without preheating. The result was good, the chicken skin was crispy and tasted good.

Later in the week, separately from each other, I put the AH ribbed fries, Dobber Airfryer cheese soufflés, Mora Airfryer frikadellen and chicken corns in the XXL. It was also easy to prepare and the food tasted good. Both the fries and the snacks had a brown crispy jacket.

A chicken roulade has now also seen the inside of the Airfryer. The method of preparation of the packaging for the oven was used and this too had a delicious brown skin and tasted, just like the chicken, good.

The dishwasher-safe parts have seen the dishwasher after the chicken and roulade have been prepared. But it is also not a great effort to wash by hand, for the fries and snacks.

The Airfryer is large and makes the sound that I can best describe as the sound of my extractor hood, position 1 and that is one with a motor. You can hear it, but personally, in an open kitchen, I don't find this really bothersome.

Like many, I think the Airfryer is pricey. But on the other hand, I did buy a kind of small (XXL) convection oven that also adds something to a healthier result when baking fries or snack.

Of course the delivery of CoolBlue was as agreed. But a consumer can also expect this from a store / shop with this name.

Lots of baking fun, for those who purchase an Airfryer and for the doubter category, which I normally also fall under, don't hesitate too long.

Michael | 1 December 2017 | In the version: Basic model | Automatically translated from Dutch

With the Airfryer XXL you can cook easily and quickly!

Carla Dieteren | 21 August 2018 | In the version: Basic model | Automatically translated from Dutch

My family consists of 4 people. This Airfryer XXL is therefore very practical. I use it almost daily for baking meat, fish, vegetables, sandwiches, croissants, fries, snacks, mini pizza, lasagna (tray of 450-500 gr).
I'm very happy with it.
When cleaning the basket and drip tray, I first let both soak in soapy water for a while and then you wipe it clean.

Carla Dieteren | 21 August 2018 | In the version: Basic model | Automatically translated from Dutch

Super ideal when you are in a hurry and want to enjoy health

Easy to disassemble parts for cleaning

Cord easy to store in the trunk

Can go in a lot at once and nice and crispy

I like it very much, it can hold a large amount without the dish becoming soggy.
Cord easy to store. Easy cleaning of parts and dishwasher safe. Food is tasty and cooked quickly

Baldede | 6 February 2019 | In the version: Basic model | Automatically translated from Dutch

Well-functioning device, but cleaning is a chore.

Gets up to temperature quickly

Difficult to clean by hand: the basket is difficult to clean and the plastic inlay is not grease-free

Control panel stopped working

The first copy only lasted 4 months. Then the ministry stopped.
Well received under warranty and new.

Dave Schwarz | 31 October 2018 | In the version: Basic model | Automatically translated from Dutch

Very satisfied so far

No hassle with frying fat

Results are better from the oven.

Bas van Tetering | 10 August 2018 | In the version: Basic model | Automatically translated from Dutch

Great device to keep clean!

Tefal layer damaged quickly

I'm still experimenting with the times, but I'm sure it will be fine! The Tefal layer does damage quickly if you remove the box when cleaning, which is a shame!

Ans Hommersom | 3 June 2019 | In the version: Grills meat, fish, and vegetables as well | Automatically translated from Dutch

Happy with the purchase

Products ready fairly quickly

Lots of accessories for sale

I've only had the airfryer for a week so can't comment on durability.
The taste of the products that come out is fair to good. However, you should not expect the same taste as products from the chip pan.
Want to do more with it than just chips and snacks: because I've only had it for a week, I don't have any experience with it yet.

J.I.G. Boerakker | 1 June 2019 | In the version: Grills meat, fish, and vegetables as well | Automatically translated from Dutch

Fast and healthier baking and frying!

little to no baking odors

create your own baking programs

settings weight to be baked due to time

The fritex was only exchanged for this airfryer last week. We don't regret it for a second. The choice for the XXL avance was mainly based on the fact that you can fry larger volumes of chips in it. We were pleasantly surprised that half a kilo of frozen chips were ready in just 9 minutes. My parents have an older and smaller model and a portion takes about 20 minutes there. So baking for several people is not an issue. Serving the first portion and baking the next one goes smoothly, without your guests really having to wait. Baking bread rolls is also very fast, and everything without preheating.
The baking heat is well kept in the appliance, the outside only becomes lukewarm with the exception of 1 place at the back at the top. This is where the air outlet is located where the hot air is looking for a way out, so be aware of this. It is not a light device, so moving it in your closet after use is less convenient. Handles would be welcome. All parts of the baking basket and accessories are easily removable for cleaning. Personally, I clean them with the scottex, as the little grease on it and in it is easily removable. According to the manufacturer, everything is dishwasher safe, but personal experiences with other non-stick pans teach me that this is relative, and that the dishwasher products are quite corrosive in the medium term for this non-stick technology. That is why I prefer to wash it by hand and, in some cases of extreme grease deposits, to clean the parts in the dishwasher. We haven't done meat preparations and such yet, but that will certainly be tested in the coming weeks.
A strange observation is that our chosen appliance with grill plate instead of baking basket does not include skewers, whereas with another appliance, where you choose the grill plate as an accessory set, skewers are included. All in all, a super device that accelerates the end of conventional frying and that I can recommend to anyone who wants to eat some more fries or croquettes without feeling guilty.

Mike Goethals | 26 December 2019 | In the version: Grills meat, fish, and vegetables as well | Automatically translated from Dutch

I think it's a great device

Compared to the old one, this one is much better

It works perfectly, picked up in Rotterdam

kiela | 2 November 2019 | In the version: Bakes savory or sweet dishes as well | Automatically translated from Dutch
Specifications
Product
Product number

789904
Manufacturer code

HD9650/90
Brand

Philips
Warranty

2 years
Warranty type

Carry-in warranty
Old product returned for free
Physical properties
Power

2225 W
Frying system

Hot air
Airfryer technology

Twin Turbo Star
Load capacity

1,4 kg
Capacity expressed in number of people

4 to 5 people
Material

Plastic
Plastic type

Plastic
Handle material

Plastic