Help with choosing a blender
With a blender, you can mix and mash different ingredients into smoothies, milkshakes, cocktails, baby food, sauces, or soup. On this page, I explain the differences between all types of blenders and what each type of blender is suitable for. This way, you can easily choose a blender that suits your needs.
---
Choosing a blender
There are quite a few things to keep in mind when choosing a blender. We're happy to help you get the right blender for you.* Do you want to take smoothies with you?* Do you also want to mix hard ingredients, such as nuts or ice cubes?* Do you consider the preservation of vitamins important?* Do you also want to make soup with your blender?* Do you want to make recipes with the blender from an app?
Blender to go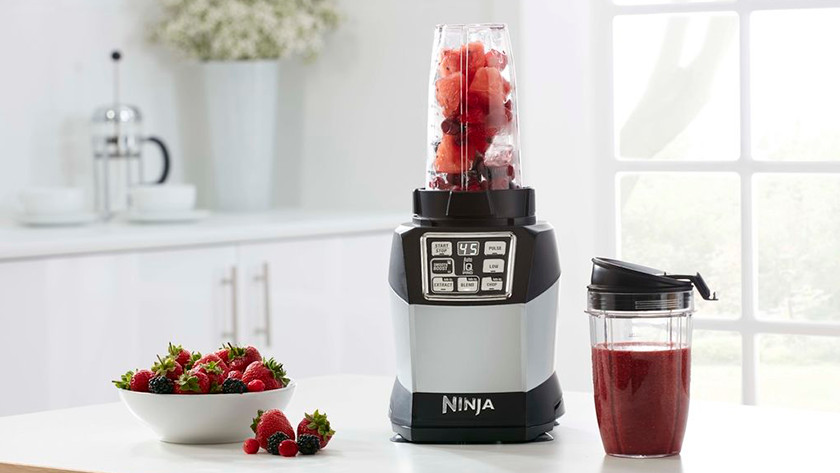 Do you mainly use the blender for making smoothies and are you often on the road? We recommend a blender to go. The mixing cup also serves as a drinking cup. After mixing, you can simply twist the lid on the cup and leave the house with your fresh smoothie. A blender to go is very easy to use. You can fill the mixing cup with ingredients and twist it on the blender. By holding down the cup, the blender will start mixing.
Power blender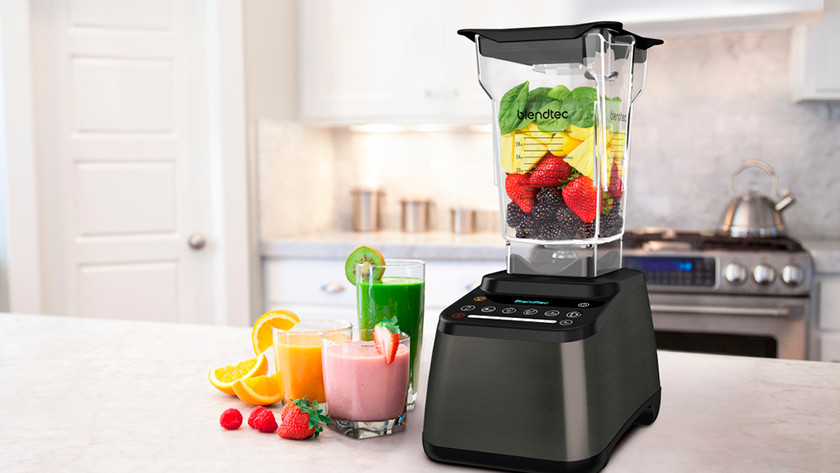 A power blender has 1200 watts of power or more, and a Tritan mixing jug. Thanks to the powerful motor you can also mix hard ingredients like nuts, frozen fruit, and ice cubes. This blender is also suitable for professional and frequent use. The sturdy Tritan mixing jug can stand tearing and cracking. This makes a power blender last long. Use the highest setting to also heat ingredients while mixing. This way, you can make a fresh pasta sauce or soup.
Smoothie maker
A smoothie maker is suitable making smoothies or dips every now and then. Smoothie makers usually have a large pitcher. The pitcher is made of plastic or glass. You can mix large quantities at once in it. Carefully think about what ingredients you want to mix with your blender, because a smoothie maker isn't always suitable for crushing ice or hot ingredients.
Blender for everyday use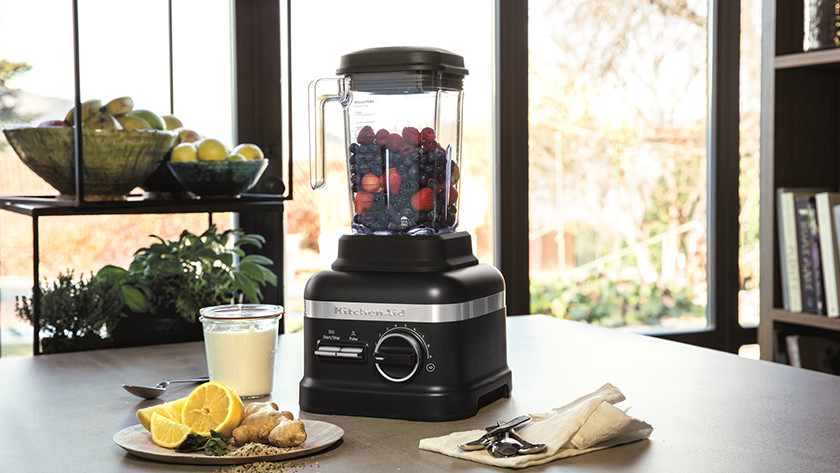 If you want to use your blender for several different preparations, a general model is the right choice. You can use this model to make the tastiest fresh smoothies and sauces. In addition, you can use it for crushing ice cubes, if it's powerful enough. These blenders tackle both cold and hot ingredients. In short, this blender is useful at any time of the day.
Vacuum blender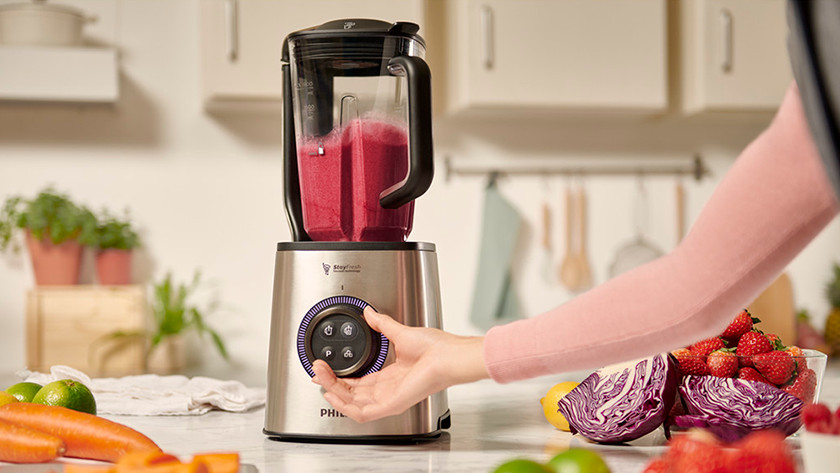 Do you like making healthy smoothies with a lot of vitamins and a smooth texture? A vacuum blender is convenient. It allows you to blend fruit and vegetables without oxygen getting in. This prevents the ingredients from oxidizing, and losing vitamins and minerals because of this. Before blending, the blender first sucks all the air out of the pitcher. This stretches the ingredients. This makes the cutting easier and more even. Also, the smoothie stays fresh longer, since the color and structure remain the same for a longer period of time.
Soup maker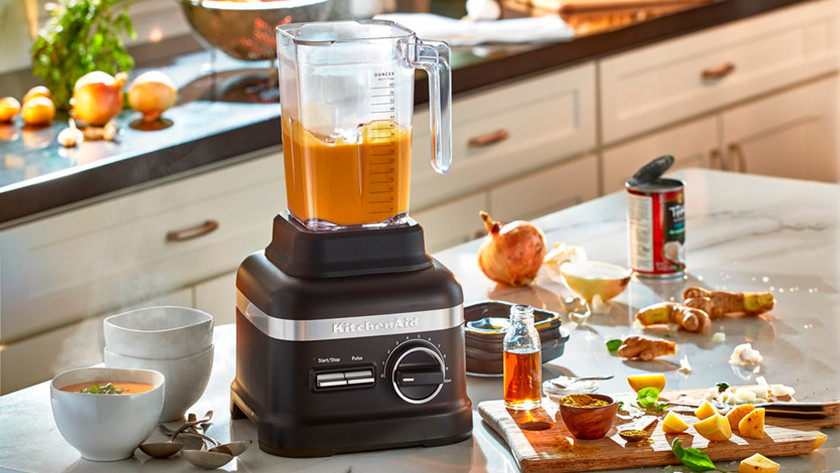 Do you only use your blender for making soup? In this case, we recommend a soup maker. Fill the blender with cold ingredients and prepare a hot soup within 30 minutes. Soup makers have a cooking element that boils the soup while mashing it. Some soup makers have a double walled pitcher. This keeps the soup warm for a longer when you place the pitcher on the table.
Smart blender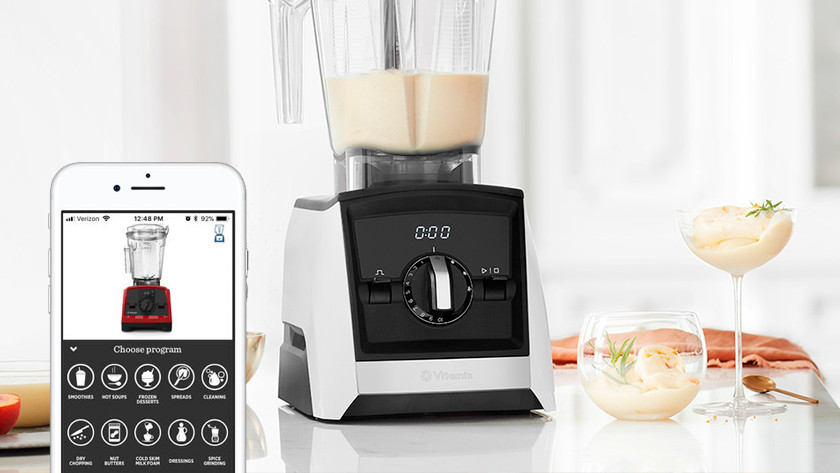 A smart blender has a built-in Bluetooth connection. This way, you can operate the blender from a distance with your smartphone. You can choose from different programs if you download the accompanying app. Use it for making smoothies, peanut butter, or spreads. Follow the recipe using your smartphone or tablet and add the right ingredients. The blender delivers the desired end result.
A blender as smoothie maker
Use a blender to mix soft and products containing moisture, such as fruit or vegetables, into a puree. This makes it easy to make fresh smoothies or milkshakes. Is this sufficient for you? Then a so-called smoothie maker is a good choice. Do you use your blender daily? Or do you want to use it to cook all sorts of different dishes with? Choose a blender that suits your personal preferences.
Did this help you?