How do you choose a fully automatic espresso machine?
You can use every fully automatic coffee machine to make a cup of freshly ground coffee at the touch of a button. But there are also a number of differences between the models. For example, the way you make a cappuccino or how easily it is to maintain the machine. The lifespan also differs and depends on the build quality. In this article, we'll help you to choose the best fully automatic machine.
---
Make cappuccinos
Fully automatic with milk reservoir
Make a cappuccino or latte macchiato with one push of a button with a fully automatic machine that has a milk reservoir. The milk reservoir is integrated in the machine, so it won't take up any extra space on your countertop. Cleaning the milk system will take some time. For example, it's necessary to rinse the milk outlet and the milk reservoir after each use. You also need to clean the integrated milk system with a cleaning agent every week.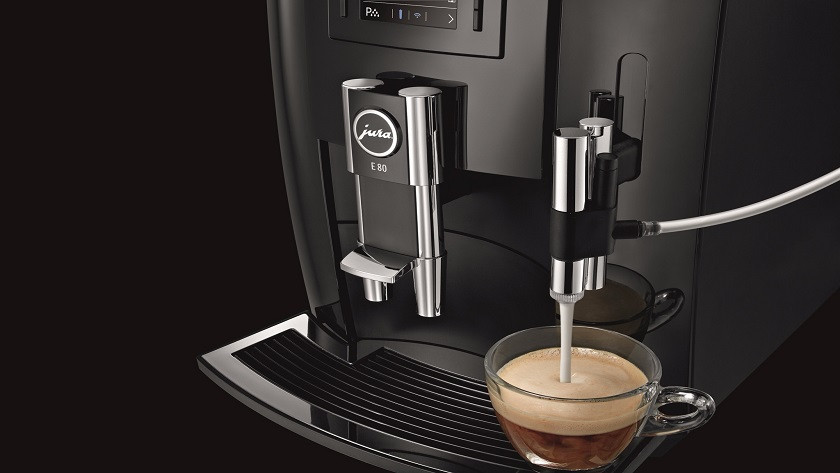 Fully automatic with milk tube
With a fully automatic machine with milk wand, you can can easily make milk specialties. Put the milk wand in a milk carton or milk container. Press the cappuccino or latte macchiato button and the machine will start working. It's a bit easier to clean than a milk container. Rinse the milk hose after use and rinse the milk system weekly with a cleaner.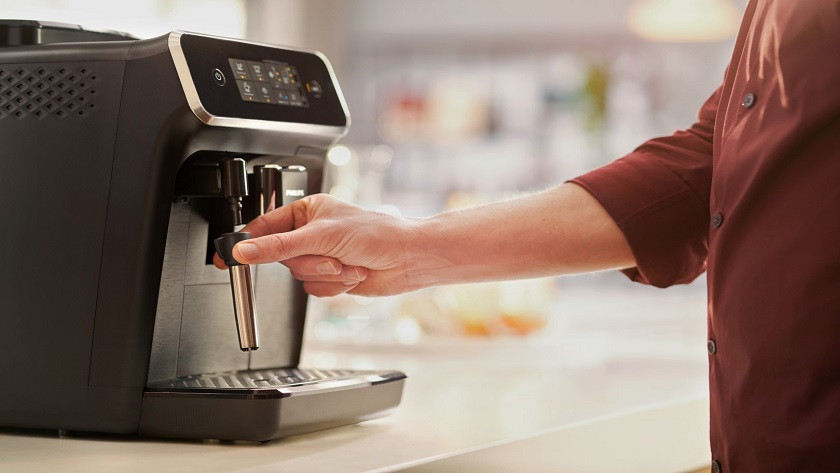 Fully automatic with manual steam wand
Frothing milk with a steam wand requires some practice. You manually froth the milk using a pitcher and pour it into your cup afterwards. It takes a while to figure out how to create the best milk foam. The advantage of frothing milk with a steam wand is that you don't have a lot to clean afterwards. You rinse the steam wand by briefly turning it on, and you can easily wipe the exterior clean with a wet cloth.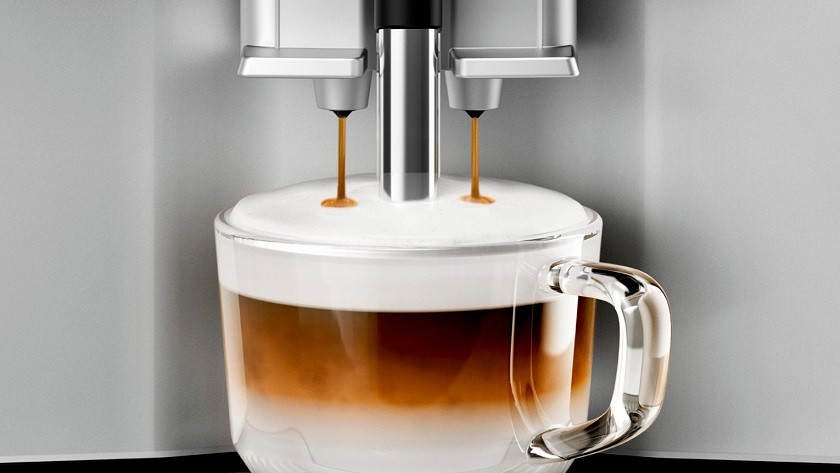 Fully automatic with automatic steam wand
Frothing milk with an automatic steam wand is very easy. You pour the desired amount of milk into your cup and the steam wand froths the milk in the cup. This way, the cleanup doesn't take a lot of effort. The steam wand rinses automatically and you can wipe the exterior clean with a wet cloth.
Long lifespan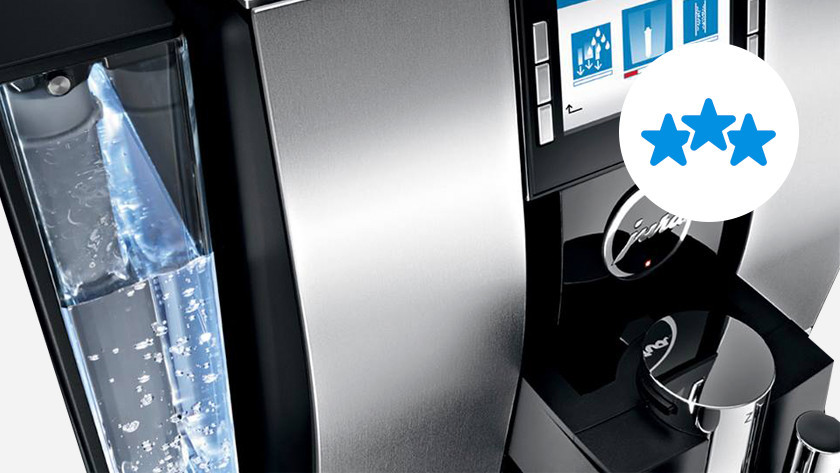 Fully automatic coffee machines with a long service life have a high-end build quality. We look at the robustness of the materials used. For example, a stainless steel casing is more solid than a plastic one. A thermoblock warms up quickly and ensures a constant brewing temperature. Ceramic grinders wear less quickly than steel ones. The brew group of machines with a self-cleaning brew group is thoroughly cleaned with a precisely adjusted water temperature and cleaner. This way, it'll last longer.
Easy to maintain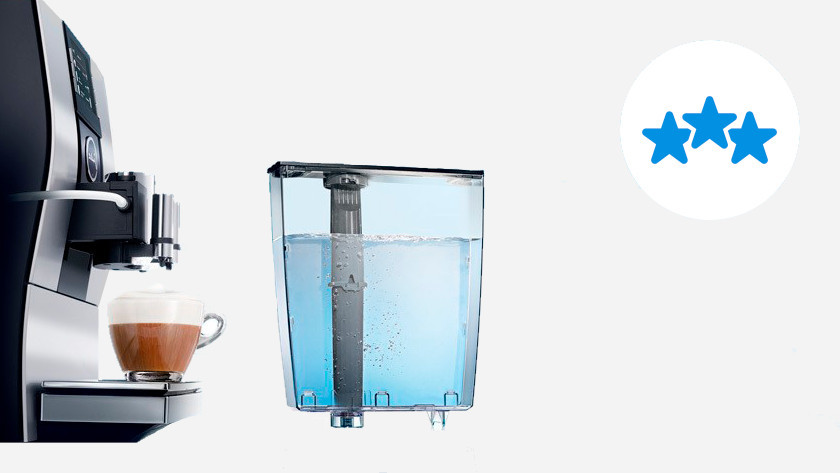 The ease of maintenance differs per machine. With one machine, you can perform more actions than with another machine. Don't want to pick up the manual all the time? You'll need a fully automatic machine with display and maintenance programs. This way, you can easily select the desired maintenance program and you'll receive instructions via the display. Keep in mind that fully automatic espresso machines need some maintenance. You should clean the brew group weekly, the milk system after every use. Don't forget a recurring descaling cycle, either.
Content water tank and bean hopper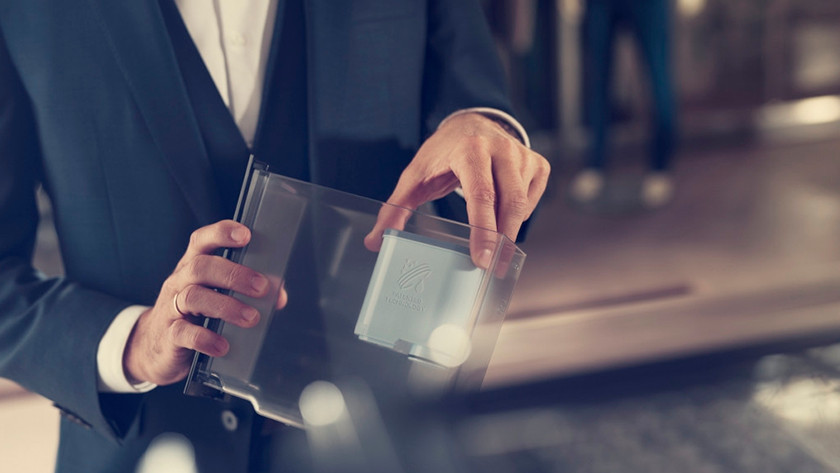 Water tank
The larger the water tank is, the less often you have to refill it. The water tank capacity is usually between 1.1 and 2.4 liters. To make 1 standard sized cup of coffee, you need approximately 0.2 liters of water. It's difficult to say how many cups of coffee you can make. The coffee machine also consumes water when flushing the pipes. A fully automatic machine does this automatically when switching on and off. The water filter you place in the water tank also takes up some space.
Bean reservoir
A large bean hopper won't have to be refilled as often in comparison to a smaller hopper. A bean container has a capacity of 120 to 500 grams. The average capacity for a 2-person household is 250 grams. In this example, the beans should be refilled about once a week and they'll remain nice and fresh. There are also espresso machines available that have two bean hoppers. This way, you can fill the coffee machine with 2 types of beans, and you can switch between different coffee flavors.
Can be operated with an app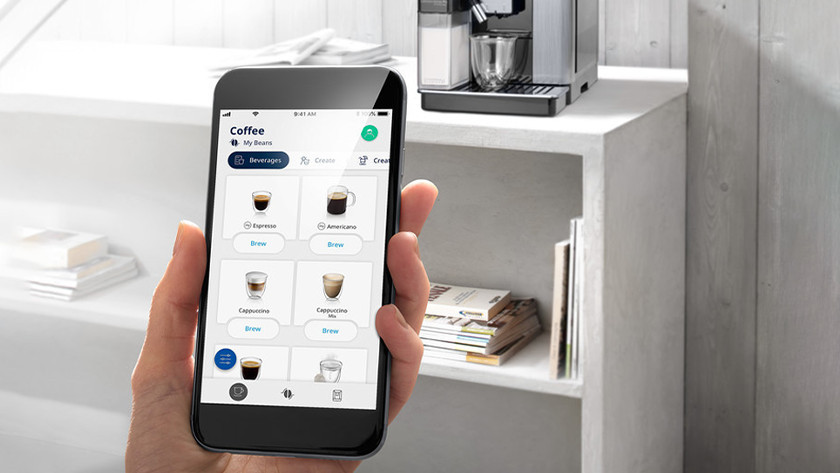 Do you want to make a cup of coffee from your chair, exactly according to your recipe? Choose a fully automatic machine you can operate with an app. You can save the coffee recipes you've put together under your name. But your girlfriend, mother, or grandfather can also make their own profile. Many apps have instructional videos that explain how to clean the device. With some apps, you can make extra coffee specialties, such as a flat white or cortado.
Did this help you?