Advice on sanders
You're looking for a sander, but find it difficult to choose between all those different types. Does it really matter if the sanding pad is round or rectangular? And when do you choose a belt sander? Questions we'll provide an answer to in this article. This way, you can make the right choice to sand that old furniture or window frames in the best possible way and provide a beautiful new paint coat.
---
Choose a sander
Which sander best suits your wishes depends on a number of things. Ask yourself the following questions to choose the best sander for you:
What do you want to sand?
What else should you keep in mind?
Which sandpaper do you need?
1. What do you want to sand?
The most important question to ask yourself when looking for a sander is probably: "What do I want to sand?" Getting that ugly brown paint off of a wooden door is quite a different thing than preparing a rusty cast-iron fence for a new high-gloss coat. We'll list the most important jobs for you and tell you which type of sander is best suited to each.
Different surfaces
Corners and edges
Want to sand a staircase or window frames? You need a sander for small corners. Sanding along baseboards is exactly the kind of job that requires a finer sander as well. The pointed pad of the delta sander is ideal for use in corners. Most delta sanders are compact, lightweight, and can be handled with one hand for increased freedom of movement.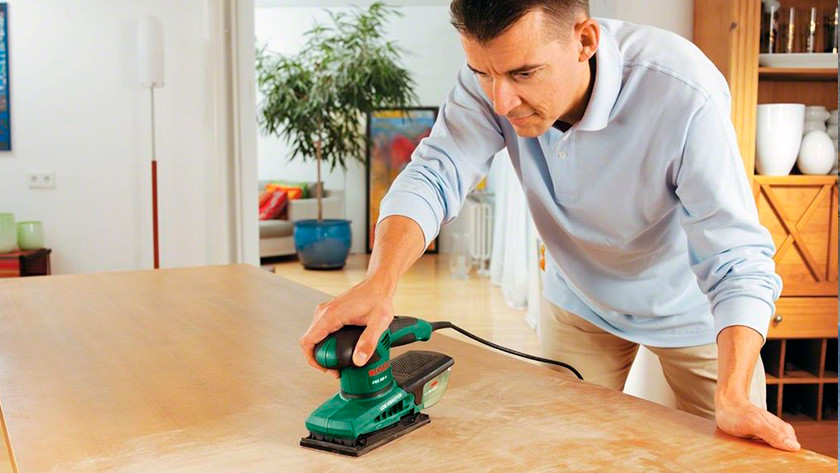 Larger flat parts
With a sheet sander, you can perform many different sanding jobs. As such, it may not surprise you that this type of sander is by far the most frequently used. The rectangular sanding pad is large enough to quickly and efficiently sand tables, cabinets, or other large flat surfaces.
Curved surfaces
The eccentric sander works slightly differently from the delta and sheet sanders. The round sole makes a double sanding movement. In addition to a round movement, it also makes a vibrating (eccentric) movement. This allows you to sand even faster, no marks will stay behind on the surface, and at the same time you'll achieve a very fine finish. The eccentric sander is also very suitable to sand curved surfaces and polish cars or boats.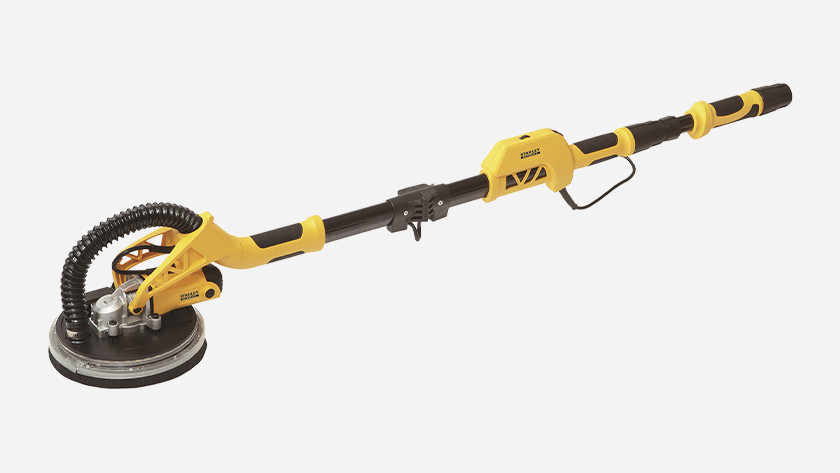 Ceiling, walls, and floors
What you can use a drywall sander for is all in the name. Since it has a long telescopic tube, the sander ideal is for sanding in high places that you can't reach otherwise. Sanding floors is also a lot more comfortable with a drywall sander, because you'll be standing instead of on your knees. The round sanding pad makes this type unsuitable for sanding in corners.
Doors and floors
Choose a belt sander if you really want to advance in terms of sanding. The very high sanding speed makes the belt sander ideal for tough and heavy sanding. You can quickly remove a lot of material by guiding the machine over the surface with the rotating sanding belt. Be extra careful that you don't sand away too much by keeping the belt sander in one place for a long time.
Multi-functional
With a multi-sander, you have multiple sanding options with one machine. This type has interchangeable soles in different sizes and shapes, so you can sand both those difficult-to-reach corners and the larger flat surfaces. Note: the average multi-sander is more suitable for smaller jobs than for the real tough jobs such as sanding floors and walls.
Which sandpaper will you need?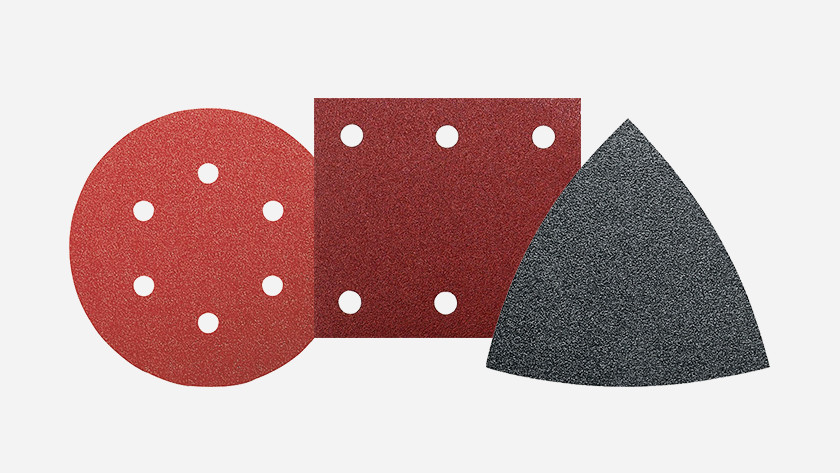 Naturally, you want sandpaper that fits your sander like a glove. Paper that is too small is harmful to the sole of your machine and paper that is too large is inconvenient and not exactly efficient. In addition to the size, take the holes for the dust extraction into account. These have to match your machine so that the sanding dust gets extracted to the highest possible extend. Finally, also keep in mind the grain size:
K40-K80: remove old paint coats
K80-K120: sand new wood
K120-K180: sand existing paint coat
K180-K240: sand between paint layers and varnish layers
Did this help you?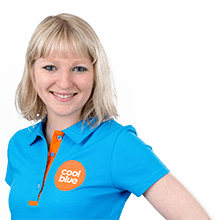 Article by: