Advice on sanders
Sanding might not be the most fun task, and its usefulness is often underestimated. Still, it's a fact that materials that have been sanded and prepared with the right base coat are more wear and weather resistant. They'll also last years longer. You use a sander to sand, of course. Want to know which sander is best for you? I'd gladly help you find the answer to that question.
---
1. What do you want to sand?
The most important question to ask yourself when looking for a sander is probably: "What do I want to sand?" Getting that ugly brown paint off of a wooden door is quite a different thing than preparing a rusty cast-iron fence for a new high-gloss coat. We'll list the most important jobs for you and tell you which type of sander is best suited to each.
Corners and edges
Want to sand a staircase or window frames? You'll need a sander for small corners. Sanding baseboards or sanding along them is exactly the kind of job you'd need a finer sander for, too. A delta sander's pointy sanding pad is ideal for use in corners. Most delta sanders are compact, lightweight, and can be used with one hand for increased freedom of motion. A sheet sander may be less suitable for the more tricky corners, but you'll be able to sand the flat parts of the step, window frame, or baseboard fast and easily with it.
Large flat parts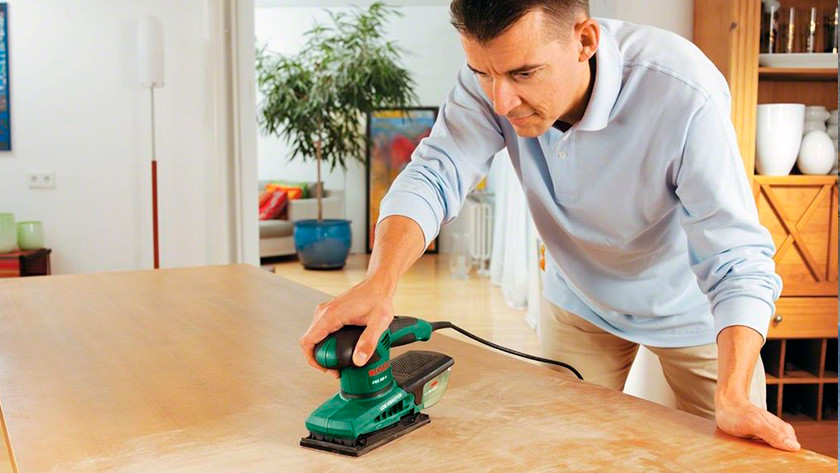 Want to sand your teak or oak wood table or sand the door and paint it? In that case, you'll need something a little more heavy-duty than a delta sander. Sanding a wooden floor (more specifically parquet) requires a machine with a larger sanding surface too. Machines suitable for these kinds of jobs are sheet sanders, eccentric sanders, and belt sanders. Especially the latter 2 types are excellently suited for sanding walls, for example.
One sander for all jobs
A multi-sander is 1 machine for everything, since this type of machine has several exchangeable sanding pads that allow you to do pretty much all jobs. Do note, though: the average multi-sander is more suitable for smaller jobs than for the real heavy-duty stuff such as sanding floors and walls.
2. What else do you pay attention to?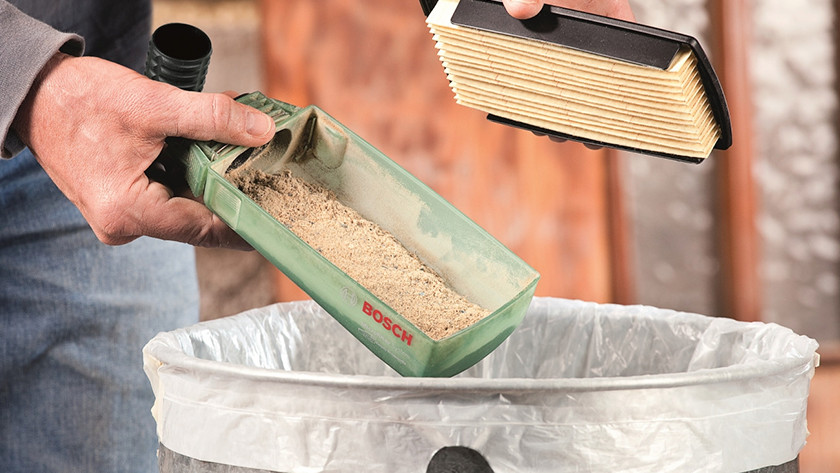 When you've eventually decided what type of sander you need, there's a couple more points left that require attention. Will you choose dust extraction or will you choose a sander with a dust bag or dust cup? If you need a construction vacuum or a vacuum that can handle fine dust, a sander with a vacuum cleaner input will suffice. Don't have a construction vacuum? Use a sander with its own dust collection system. With a palm grip sander, you'll retain optimal control over the movements the sander makes. As the name implies, you operate this type of sander from the palm of your hand. In addition to the direction of sanding, this allows you to perfectly dose the pressure you're exerting as well.
3. Which sandpaper will you need?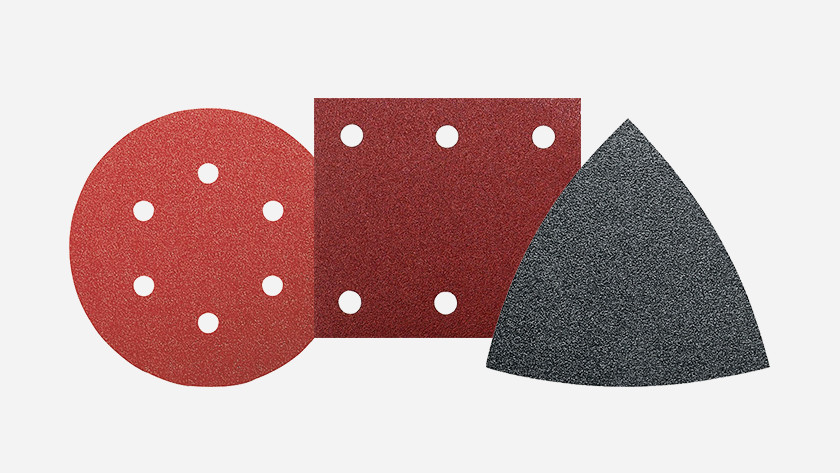 Different kinds of sanders, different kinds of sandpaper. We offer, among other things, delta, sheet, and eccentric sandpaper, as well as sanding belts for belt sanders. Naturally, you'll choose the paper that's the perfect fit for your sander. Paper that's too small can harm your sanding pad and paper that's too big is inconvenient and not exactly efficient. Apart from the size, you should pay attention to the holes for dust extraction. These should match your sander, to ensure the sanding dust gets extracted as much as possible. Finally, when buying sandpaper, make sure to pay attention to the grit size too:
K40-K80: removing old paint coats
K80-K12: sanding new wood
K120-K180: sanding existng paint coat
K180-K240: sanding between paint and varnish coats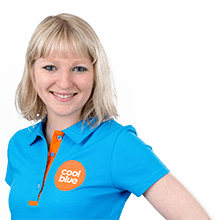 Article by: