Advice on slicers
You're about to buy a food slicer. There are different models available in different price ranges, all suitable for different purposes. We'll gladly help you find the right slicer for you. To do so, it's important to consider how you plan to use the slicer. Using the questions below, will help you with that.
---
1. What will you be using the slicer for?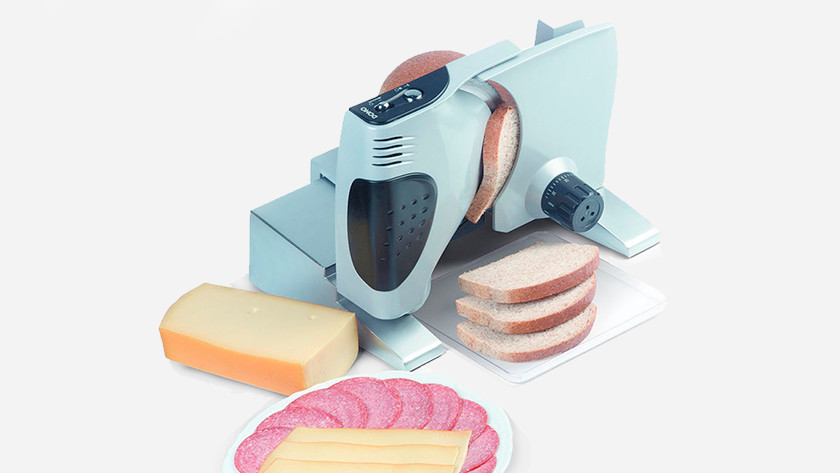 Slicers are sometimes called all-purpose slicers. Which is inaccurate, since not every slicer is equally suitable to slice all types of food. What you'll be using the appliance for, will mainly depend on the type of blade that's included. It's a good idea to consider which foods you want to use the slicer for.
Bread and vegetables
Most home slicers come with a serrated blade. This blade is versatile and suitable for, for instance, bread, vegetables (like cabbage), and certain meats (like sausage). Because most people use a slicer with a serrated blade primarily for bread, it's also called a bread slicer. For delicate meat products, a serrated blade isn't as suitable.
Delicate meat products and cheese
A non-serrated blade can often be found on semi-professional slicers. These are mostly used for delicate meats such as ham and carpaccio. You can slice these meats very thinly with a non-serrated blade. A non-serrated blade is also used for cheese. For young cheeses, it's also important to use a slicer that's sufficiently powerful. Because a lot of people use a slicer with a non-serrated blade primarily for slicing meat, they're also called meat slicers.
A number of models include both a non-serrated blade and a serrated blade, or you can get an additional blade separately as an accessory. These slicers offer you the most versatile use.
Slicers with a serrated blade: for for instance bread, vegetables, and sausage
Slicers with a non-serrated blade: for delicate meats and cheeses
2. How frequently will you be using the slicer?
In addition to the type of blade, there are other considerable differences between slicers. For instance, the price difference depends on the material, quality of the finish, and the power of the motor. When buying a slicer, it's a good idea to consider how often you'll be using the machine, if you'll be slicing for extended periods, or if you'll be processing heavy ingredients like meat.
Material and engine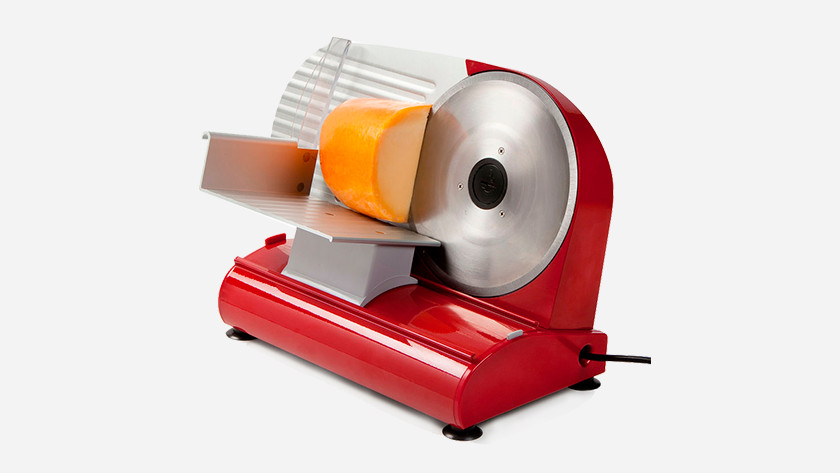 More affordable slicers often have a plastic casing or plastic parts. This makes the machine lighter and easier to more around, but also means it's not as stable on your countertop when you're using it. Plastic parts are also less durable. More expensive slicers have a (full) metal casing, usually aluminum. This ensures extra durability and stability, which is important if you use the slicer frequently and for slicing heavy ingredients like meat. The heavier slicers generally have a more powerful motor. This ensures that the slicers also continue to perform well when used for a long time and on heavy ingredients.
Inclined slide
A number of slicers have an inclined setup or are tiltable, so you can change the angle yourself. Because of the incline, the ingredients will move toward the blade easier along the slide, leading to better results with less effort. This is particularly useful if you use the slicer frequently and for longer times.
3. How large are the products you'll be slicing?
Apart from the type of blade, its size is also important. There are slicers with different diameter blades. Most models for home use have a blade with a diameter of about 17cm. That's enough for some people, but it's important to consider what exactly you're planning to slice. For instance, if you want to slice a thick piece of ham or bread, a larger blade is a good idea. Many (semi-)professional models are therefore equipped with a blade that has a larger diameter than 17cm.
4. What else can you keep in mind?
All slicers are equipped with a leftover collector and a thumb guard. They clamp the product to move it against a blade without endangering your fingers. That makes the slicing a lot easier and safer. The slicing thickness can also be adjusted on all slicers, usually with a convenient dial. The minimum slice thickness is usually 0mm, but the maximum slice thickness can differ. If you're planning to cut thick slices, it's a good idea to pay attention to the maximum slice thickness of the machine.
A number of models are equipped with an extra safety switch that prevents children or a sudden move accidentally switching it on. In addition, there are slicers that have a switch for use for short periods or for longer periods. Some slicers include extra accessories like a collection tray for your slices or a blade sharpener in order to maintain your blade. In some cases, you can buy these handy accessories separately.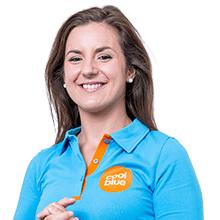 Article by: