Compare the Samsung Galaxy A50 to the Samsung A70
The Samsung Galaxy A50 and Samsung Galaxy A70 are both excellent mid-range models. The Samsung A70 is really a souped-up version of the Samsung A50. It has a bigger screen, a better processor, and a more powerful battery. In this comparison, I'll list the main differences and tell you how you'll notice them in practice.
---
New: the Samsung Galaxy A51 and A71
In the meantime, two new devices have been released: the A51 and the A71. Both devices have an additional camera and a better processor for more power. The notch has disappeared and the selfie camera is now integrated in a small camera hole in the screen. Read our comparison between the A51 and A71 to find out everything about these devices.
Samsung Galaxy A50
128GB storage capacity
|
6.4-inch Full HD screen
|
Android 9.0 Pie
The 6.4-inch sAMOLED screen shows a razor-sharp and colorful image.
The large 4000mAh battery easily lasts an entire day.
With 3 rear cameras, including 1 with a wide-angle lens, you can take sharp pictures.
The A50 is a little slower and smaller than the A70, which is mostly a disadvantage when watch videos and playing games.
Samsung Galaxy A70
128GB storage
|
6.7-inch Full HD+ screen
|
Android 9.0 Pie
You can see every detail of your video or game on the large 6.7-inch sAMOLED screen.
The powerful 4500mAh battery will last 2 days on a single charge.
Thanks to its 6GB of RAM and its powerful processor, the A70 feels fast, even with demanding apps.
If your hands are small, the large A70 is not as easy to hold as the A50.
Compare the Samsung A50 to the A70
| | Samsung Galaxy A50 | Samsung Galaxy A70 |
| --- | --- | --- |
| Screen | 6.4-inch | 6.7-inch |
| Battery | 4000mAh + 15-watt Fast Charge | 4500mAh + 25-watt Fast Charge |
| RAM | 4GB | 6GB |
| Processor | Exynos 9160 (fast) | Snapdragon 675 (faster) |
| Record videos | in Full HD | in 4K and slow motion |
Screen and design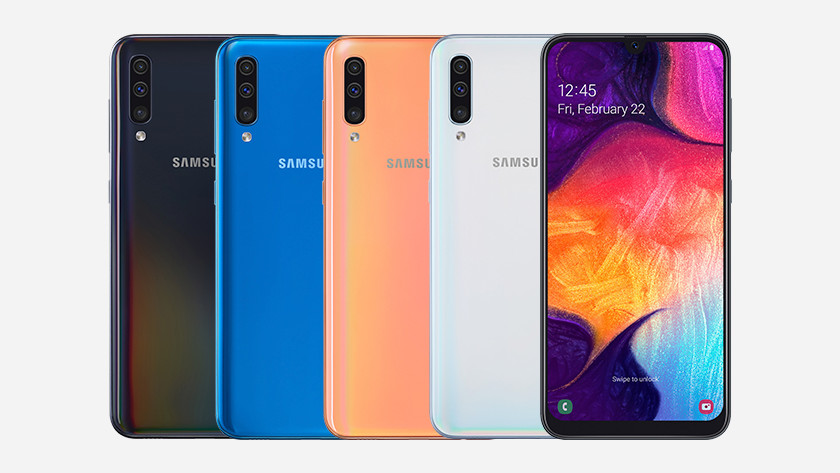 A50: 6.4-inch sAMOLED screen
The Samsung A50's 6.4-inch screen has enough room for videos and games. Thanks to the Full HD resolution, the image is razor-sharp. The A50 has a sAMOLED screen, so the colors are more vivid and the contrast is deeper than with smartphones with an LCD screen. The A50's screen bezels are thin and there's a small notch on top. The fingerprint scanner isn't located on the back, but underneath the screen. As a result, the back not only looks colorful, but sleek too.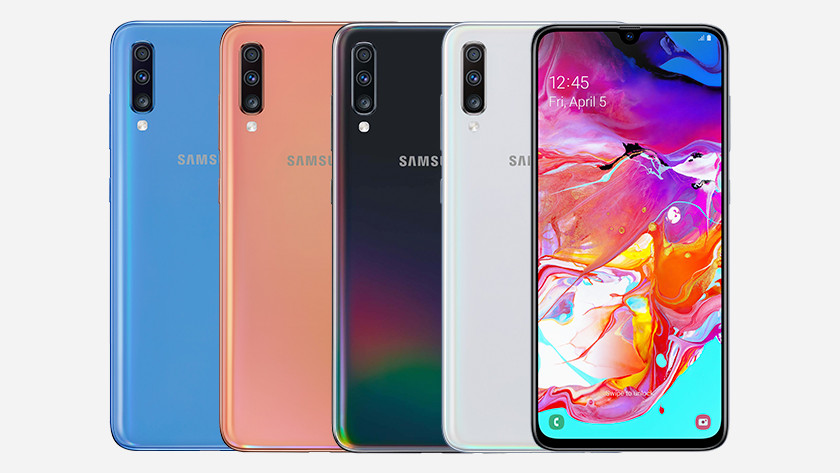 A70: large 6.7-inch sAMOLED screen
If you want to get the most out of videos and games, the Samsung A70 has you covered. You won't miss a single detail of your favorite series on the large 6.7-inch screen. There's enough screen space to play games like Fortnite and Super Mario Run, because that extra space makes sure your fingers don't cover the entire screen. The A70's screen quality is the same as that of the A50, and the fingerprint scanner is also located underneath the screen.
Battery
A50: 4000mAh with 15-watt fast charge
At 4000mAh, the Samsung A50's battery is pretty big. High-end phones like the Samsung S10 and Note 9 also have a battery of about 4000mAh. You'll easily make it through the entire day and the majority of the next day on a single charge. If your A50 does run out of power, your battery will be filled up in 2 hours, thanks to the 15W fast charger.
A70: 4,500 mAh with 25 Watt fast charging
The Samsung A70 has a 4500mAh battery, which is very big for a smartphone. It'll last 2 days on a single charge. On top of that, the A70 is one of the first Samsung phones that supports 25-watt fast charging. That means even this large battery will be filled up in 2 hours. Do you need to leave soon, but your phone's nearly empty? Your battery will be filled by about 33% in half an hour, and you'll be good to go for hours.
Processing power and memory
A50: good mid-range model
In terms of hardware, the Samsung Galaxy A50 is a solid phone. Thanks to its 4GB of RAM, you can quickly switch between apps without any overly long load times. The processor, Samsung's Exynos 9610, is good for this price range. Demanding programs like games and photo editing apps also work well on the A50. With 128GB of memory, you'll probably have more than enough storage space, even when you do a lot of downloading.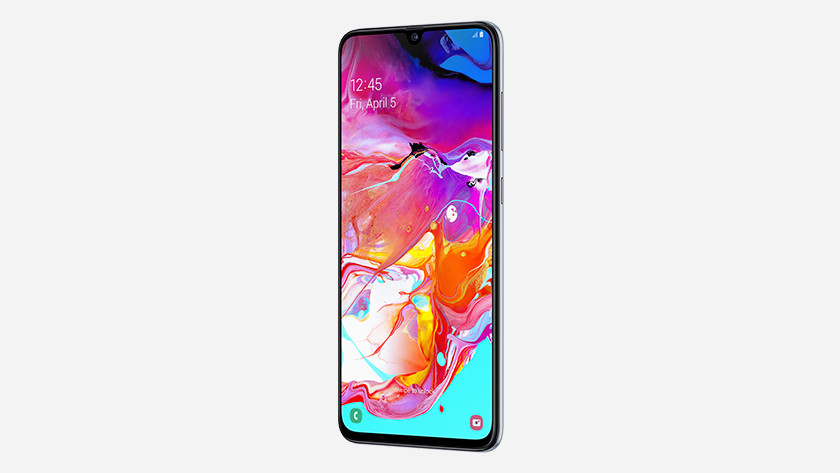 A70: closer to high-end
In terms of performance, the A70 is closer to a high-end model. With 6GB of RAM, you can quickly switch between apps. The Snapdragon 675 processor makes the A70 more powerful than the A50. You mainly notice that from games running a lot more smoothly on the A70. In general, the A70 feels a lot faster than the A50, especially when you use apps that demand a lot from your smartphone. The A70 also has 128GB of storage space.
Camera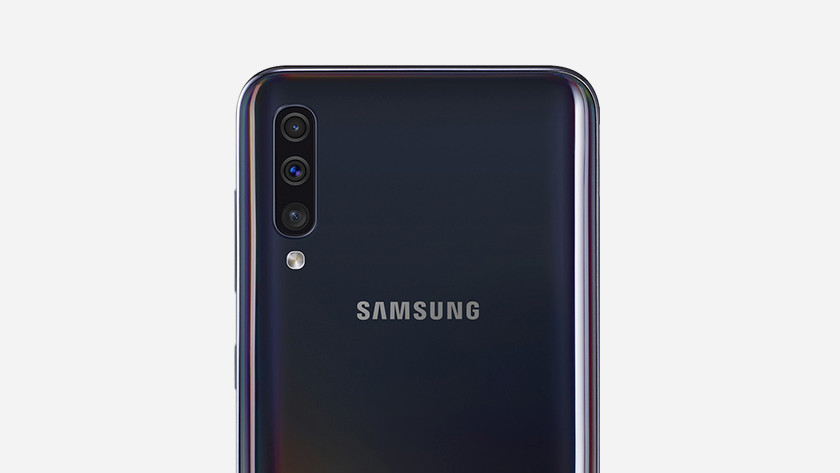 A50: solid camera setup
For a mid-range device, the Samsung A50 has an excellent camera setup. With the 25-megapixel main camera, you can take sharp pictures and record in Full HD. The A50 also has a wide-angle lens (8 megapixels), which you don't see very often in this price range. With that wide-angle lens, you can take impressive pictures of tall buildings or vast landscapes. The third camera is mainly intended for depth estimation. There's a 25-megapixel camera on the front, so you'll also look sharp on selfies.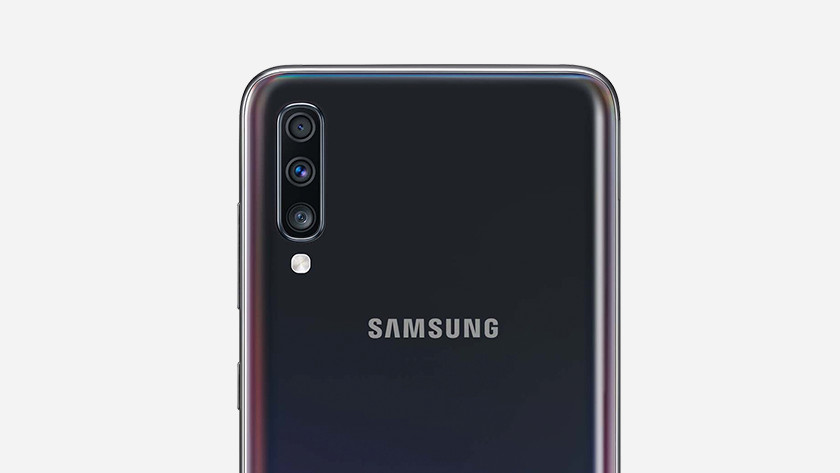 A70: better for videos
The cameras on the Samsung A70 are virtually identical to those on the A50, albeit with a number of improvements. For example, the A70 can record in 4K instead of in Full HD, which is quite an upgrade. On top of that, the A70 can record slow-motion videos, which the A50 can't do at all. So the A70 gives you a lot more video options. The A70 also has some extra megapixels on the front and back, but you don't really notice that in practice.
Conclusion
The Samsung Galaxy A50 is an excellent mid-range model that scores well in terms of screen and camera quality and battery life. Do you watch a lot of videos and/or like to play games on your smartphone? Then the Samsung Galaxy A70's large screen and powerful processor definitely make it good value for money. On top of that, the A70 distinguishes itself by the larger battery and shorter charge time.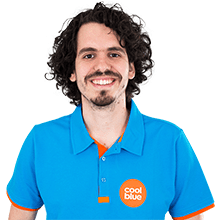 Article by: