Advice on document scanners
A document scanner is designed to quickly and easily create multiple scans at a time. The biggest difference with a flatbed scanner is that you can not scan thick documents and that a document scanner has an ADF (automatic document feeder). It is possible that you use your document scanner intensively every day, but also that you use it once a week or a month, but then for several hours in a row. On the basis of the questions below on this page, you know what you need to take into account when purchasing a document scanner.
---
What are you going to scan?
Each document scanner can scan A4 paper. Depending on the scanner, you can also scan the following formats: A3, A5, A6, A8, B5, business cards, 8x13, 10x15, 13x18, negatives and photos. Not all scanners can scan double-sided (also called "duplex"). Are you looking for a scanner that can do this? Pay attention to this in the specifications.
How much will you scan?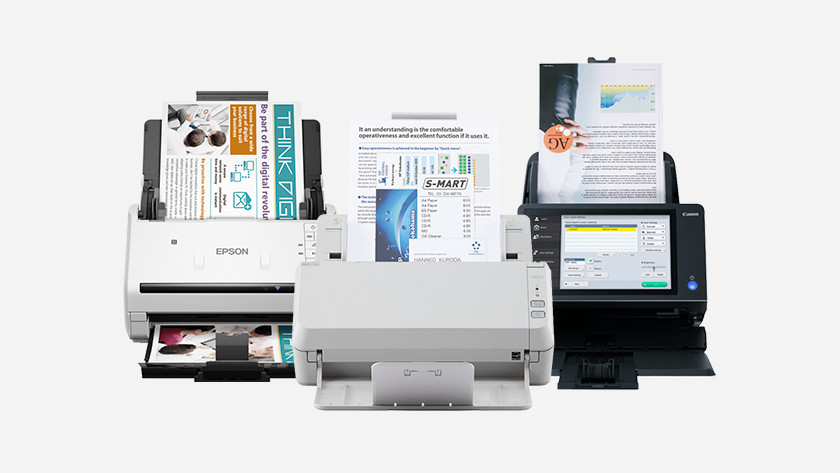 Pay close attention to how much you want to scan. The more sheets of paper you want to scan one after the other, the easier it is that you have a large ADF. Suppose you want to scan 50 to 100 sheets of paper daily and the capacity of the ADF of your scanner is 25 sheets: you then have to refill it up to 4 times. However, if this is 400 sheets per day, this will become even more annoying and you can better look at a capacity of 50 or 100 sheets in the ADF. So pay attention to how many sheets you want to scan for each scan task. Another important factor in the amount you want to scan is scanner speed. If you want to scan 600 pages at a speed of 10 pages per minute, you are working for at least an hour. Scan your 25 pages per minute, then this is less than half an hour and you scan 60 pages per minute then you are finished after 10 minutes. So pay attention to the speed with which you want to scan, which directly affects how long you are at the scanner.
Advice on maintenance and warranty
** Do I need to maintain something on the scanner? ** | Document Scanners contain so-called "feed rollers" or "rollers" that wear out slowly. Most roles need to be replaced between 10,000 scans and 50,000 scans. You can compare this with emptying a cartridge from a printer or wearing out the tires of a car. New roles can be bought separately.
** Can I also extend the standard warranty? ** | Yes. You can also extend the warranty. By default, you get a 24-month 'carry-in' guarantee for a scanner and in an exceptional case you get 12 months "on-site" and 12 months "carry-in". Carry-in means that you have to send the scanner back (at Coolblue this is free) and that the problem is solved for you if this is covered by the warranty. But if you have just bought a scanner of € 1000, for example, we understand that you want some extra security. That is why you can extend your warranty to for example 3 or 5 years and you can also purchase an extra service package. Please contact our business department for this.
Frequently asked questions
** What is OCR? ** | OCR software, also called "OCR", is an abbreviation for Optical Character Recognition software. Freely translated means text recognition software. When you have made a scan, the software recognizes the text in a very large number of fonts. OCR software is included with many scanners in the standard software. Note: In the budget scanners this is often a cheap package and it does not always work flawlessly. There is also OCR software that recognizes handwritten text.
** What is ADF? ** | ADF is an abbreviation for Auto Document Feeder and this is an automatic document feeder. It is a kind of tray in which you put the sheets of paper ready for scanning. Scanners with an ADF therefore have space for several sheets of paper. This means that you can prepare multiple documents in the scanner, which then picks up and scans the scanner one by one in turn.