Announced: Apple AirTag
On 20 April 2021, Apple announced a new product, the Apple AirTag. With this smart tracker, you can find your lost valuables easily. You attach this small accessory to your keys, bag, or even your cat's collar. Want to know how this new product works? You can read all about the Apple AirTag in this article.
---
Availability
From April 23, you can pre-order your Apple AirTag. If you place your order within the pre-order period, you'll receive your Apple AirTag before 30 April. From 30 April, the tracker will also be available for regular sales. Keep an eye on our update page for the latest news.
What's the Apple AirTag?
The Apple AirTag is a small waterproof tracker that you attach to a valuable object, like your keys or bag. Via a wireless connection with your iPhone, the AirTag ensures that you always know where you can find the object. When you loose your belongings, you can find their location in the Find My app. In addition, you hear a sound when you're near the object. That way, you'll know where it is more quickly.
Accurate location determination
The Apple AirTag exchanges information with your iPhone or Apple devices from other people near you via Bluetooth. This works the same way as Find My iPhone, so all your data stays protected. Thanks to the U1 Chip, the AirTag also uses ultra-wideband (UWB) to transmit its location accurately up to 30 centimeters. This technology works with the iPhone 11 or newer devices.
The design
The Apple AirTag is a round tracker the size of a keychain that fits on nearly all valuable belongings you'd rather not lose. You combine it with a loop that's available in different colors. With the loop, you attach your AirTag to the valuable object of your choice. The battery of the Apple AirTag is easy to replace and lasts a year.
Did this help you?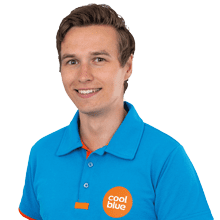 Article by:
Daan
Bluetooth Tracker Expert.