How do I update the firmware of my Thrustmaster racing wheel?
Before you get started with your brand new racing wheel, you'll want to make sure that it has the latest firmware. I'll explain step by step how to do this.
---
Step 1: connect and download software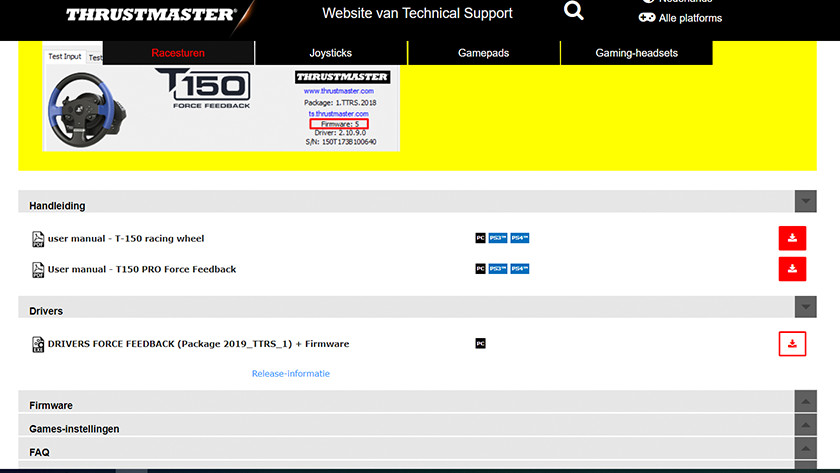 Connect the racing wheel directly to the USB port of your PC or laptop (so not via a USB hub).
Download the latest firmware for your racing wheel. Navigate to the Thrustmaster support page. Enter the name of your racing wheel in the search bar. On the support page you'll find a Drivers tab.
Download the file in this tab and install it (follow the instructions). This installs the drivers and the Thrustmaster Control panel.
Step 2: open the control panel
First of all: restart your PC or laptop after installing the drivers.
Press the Windows key and search for 'Thrustmaster'. This shows a folder called Thrustmaster that contains the control panel and firmware update software.
Click on the control panel. A menu will appear called 'game controllers', where the system recognizes your wheel with the model name of your racing wheel (for example: Thrustmaster T-GT Racing Wheel). At the top right you will find your firmware version.
Step 3: Update firmware
If the firmware number is lower than the most recent firmware (mentioned on the support page of your racing wheel), close the control panel and press the Windows key.
Search for 'firmware update' and click on Thrustmaster Firmware Update. Follow the instructions on the screen.
Note! During this process you should absolutely not disconnect the racing wheel from your PC or the power supply. The Mode light will switch off during the process and switch on when it's ready.
Optional: step 4
There, now your steering wheel is equipped with the latest firmware. If you want, you can also choose to calibrate your steering wheel. I'll explain this to you step by step in a separate article.